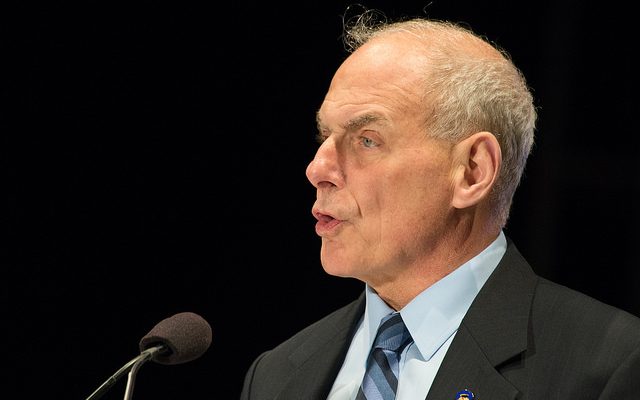 Image Courtesy of Office of Public Affairs : License (CC BY 2.0)
Politics
John Kelly: From General to DHS to the White House
By
|
Back in December, Law Street Media explained who then-Secretary of Homeland Security nominee John Kelly was. Only a few months after the inauguration, Kelly has since shifted jobs and replaced Reince Priebus as the chief of staff under President Donald Trump.
Kelly wasted no time making moves on his first day in office, firing Anthony Scaramucci from his communications director post after only 10 days on the job. He was reportedly outraged by Scaramucci's profanity-laced interview with the New Yorker and found it embarrassing for the president, according to the Washington Post.
The ousting signaled that Trump may be willing to give more power to Kelly than Priebus had during his entire six-month stint in the White House.
"General Kelly has the full authority to operate within the White House, and all staff will report to him," said White House press secretary Sarah Huckabee Sanders.
Trump's chief of staff change is yet another example of him doing the same thing he had previously criticized Obama for doing. While Obama had three chiefs of staff during his eight years, Trump is already on his second in just six months.
3 Chief of Staffs in less than 3 years of being President: Part of the reason why @BarackObama can't manage to pass his agenda.

— Donald J. Trump (@realDonaldTrump) January 10, 2012
Kelly is known in the political world for his no-nonsense approach to leadership. The former 45-year military veteran from Boston served in the previous administration as the head of the U.S. Southern Command, a unit that focuses on operations in Latin America and the Caribbean.
His new appointment comes as the White House shifts to push Trump's stagnant agenda, specifically in regards to taxes. The president wants Kelly and other administration officials to help focus lawmakers and citizens on passing tax cuts, which was a key part of his domestic agenda while on the campaign.
According to reports from inside the White House, people are already responding well to Kelly in his new role.
"He's an adult and a disciplinarian," said Barry Bennett, a former Trump campaign adviser, to the Washington Post. "He walks in with respect. I don't think people will go to war with him."
During his brief stint leading Homeland Security, Kelly pursued a couple of projects, including Trump's much discussed border wall with Mexico. Kelly called the proposed wall "essential" and vowed that construction on it would begin "by the end of summer," though that doesn't seem to be happening. He also stressed concerns over potential terrorist attacks on transportation, and said that if people knew the truth they would "never leave the house."
While his position atop the Department of Homeland Security was relatively calm, Kelly is now entering a new, chaotic environment inside the West Wing. With weekly firings, constant leaks to the press, and conflicting statements from officials, Kelly will have his hands full balancing Trump, his aides, and other leaders. As a seasoned veteran, Kelly has experience leading groups, but wrangling this group of Washington outsiders–many of whom have unstable temperaments–will be a whole new challenge.