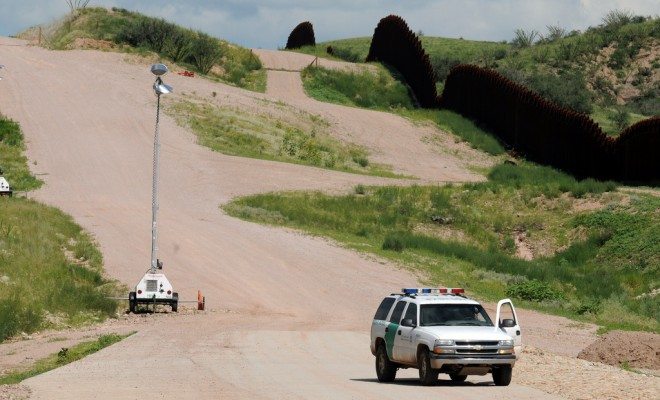 Image courtesy of [Jim Greenhill/U.S. Army via Flickr]
Politics
The New Immigration Crisis: Children Crossing the Border
By
|
Immigration has long been a pressing issue in the United States. The debate has taken a new turn following a drastic increase in unaccompanied children from Central America trying to cross the border illegally. Current facilities for children are not equipped to handle this surge, and immigration courts are already backlogged. Why are children flocking to the United States in the first place, and what is the appropriate action for dealing with the crisis?
---
Who are illegal child migrants?
"Unaccompanied alien children," who are generally defined as any unmarried person under 18 years of age illegally coming to the United States without an adult. The recent surge of child migrants from Guatemala, Honduras, and El Salvador has sparked major concern. Most of the children apprehended range from ages 14 to 17, but more recently the children are even younger. Kids coming to United States by themselves are a particular cause for concern since they are more vulnerable and susceptible to harm. Oftentimes, these children are trying to find family members that currently reside in the United States. Honduras' President Juan Orlando Hernández described the children fleeing to the United States as war refugees, and the Obama administration has recently termed the escalating situation to be an "urgent humanitarian crisis."
---
Where are the child migrants coming from?
Children from Guatemala, Honduras, and El Salvador account for more than 90 percent of those now in government shelters. Children from Mexico continue to illegally enter the United States, but apprehended children from Mexico are immediately returned to Mexico rather than housed in shelters. The problem now is how to shelter all the children coming from Central America. The graph below shows the scope of the growing problem in the past few years:
According to Border Patrol statistics and a UNHCR Report, the United States saw a 92 percent increase in child migrants ages 18 and under from a year ago, and a fivefold increase since 2011. In the 2011 fiscal year , roughly 4,059 kids from Guatemala, Honduras, and El Salvador entered the United States unaccompanied. By 2013 fiscal year, that number rose to 21,537 kids. This year, 52,000 children were apprehended at the southwest border from October 1, 2013 to June 15, 2014. The Obama administration anticipates that number to rise to 90,000 before the end of the fiscal year in September. Next year's estimates show the number of children illegally entering the United States from Central America could soar to as much as 130,000. Last year, fewer than 2,000 of these children were returned to their home countries.
---
Why are they coming?
A variety of factors contribute to children seeking to enter the United States, and debate surrounds exactly what has driven the children to cross the border.
Violence
Many say civil unrest and gang activity; drug-fueled violence in Central America has led to an influx of children coming to the United States. Parents may feel that the children are not safe at home, more likely to join gangs, or  be subjected to violence. Others have family already in the United States that they are trying to reach. When interviewed, many children cited violence as reasons for leaving their country rather than any knowledge of U.S. immigration policy.
Lax Immigration Policy
Others, including Congressman Bob Goodlatte and House Speaker John Boehner, say that children are coming with the belief that the United States will not push deportation. Some interview-based studies cite that many women who entered the country with children believed the law would allow them to secure a "permiso", or pass to stay in the county indefinitely. Conservatives blame the 2012 Deferred Action on Childhood Arrivals Policy (DACA), which exempts many undocumented immigrants brought to the country as children from deportation for two-year renewable periods. Recently the White House is trying to make clear that children who have recently crossed the border illegally are not eligible for legal status under the DACA program, since it only applies to immigrants who arrived in 2007 or earlier. Immigrants would not even qualify for the Senate's recent immigration plan, where the eligibility cutoff was the end of 2011. On June 20, 2014, Vice-President Joe Biden traveled to Guatemala to meet with Central American governmental leaders in an effort to secure their support in dispelling rumors that those who cross the U.S. border illegally would not be deported. Whether or not immigrants are influenced by DACA remains contested, but there is little dispute that those in Central America believe unaccompanied children are more likely to be allowed to stay in the United States.
---
What does the United States do with the children?
Border officials are overwhelmed since the United States lacks appropriate facilities for the surge of children being apprehended. Children crossing the border are treated differently than adults and are not placed in immigration detention, but in shelters. The laws for processing unaccompanied, illegal children differ from those of adults due to the 2002 Homeland Security Act and the 2008 Trafficking Victims Protection Reauthorization Act. The Act was designed to protect children and address concerns involving human trafficking for vulnerable, unaccompanied children. All unaccompanied child migrants not from Mexico have to be screened, housed, and then transferred to the care of the Office of Refugee Resettlement (ORR) under the Department of Health and Human Services (HHS).
Border facilities have been struggling to supply enough food, beds, and sanitary facilities for the incoming children. Watch the strain on these facilities below:
By law, children can only be held at border facilities for 72 hours before they are transferred to the care of ORR. Due to the recent surge, many children have been held for longer than 72 hours. Border officials are caring for the children rather than spending time apprehending those crossing the border. Many agree the situation is far from ideal. Various reports of abuse in the system have surfaced, and children complain of being denied medical care or being kept in ice-cold holding cells.
ORR is tasked with administering long-term shelters and finding relatives of the children in the United States. Roughly 100 permanent shelters exist and all are currently filled to capacity. Authorities have been forced to open three temporary shelters at military bases in Texas, Oklahoma, and California (CNN). According to Vox, for some 90 percent of children, a relative can be found. Others remain in long-term care or foster homes until their case works its way through the immigration courts. It is possible some of the children could qualify for asylum or some sort of humanitarian protection. However, the minors lack legal representation which would help them obtain such protection, since unaccompanied children are not granted counsel in court proceedings. Many of the released children fail to even show up for their court date. The Department of Homeland Security released a helpful infographic to convey the entire process.
---
What has the United States done to deal with the problem?
The United States now faces two major issues:
What to do with the thousands of children who are need to be sheltered?
What to do to stem the future tide of unaccompanied child migrants from Central America?
Solution to the Current Problem
Aside from creating more temporary shelters, President Obama has called for a response through a new Unified Coordination Group. The Group was created to leverage federal resources to provide humanitarian relief using branches of the Department of Human Services and the Federal Emergency Management Agency (FEMA). The President announced a "surge" of immigration officials at the border and sent more immigration judges to Texas to help with backlogged cases.
Preventing future problems
The more difficult issue is how to prevent an influx of children going forward. Biden's meeting in Guatemala was aimed at preventing false rumors about U.S. immigration policy to make clear that children crossing the border illegally will be deported. Watch for more on Biden's visit below:
The United States also plans to aid Central American countries to prevent drugs, gangs, and violence while improving security. So far, the United States has announced over $80 million in aid to Guatemala, Honduras, and El Salvador. Legislation providing $2.28 billion in funds to handle the food, housing, and transportation of illegal children has advanced in Congress – an increase of $1.4 billion from the Obama administration's original funding request.
---
Are there any other solutions?
If billions of dollars are provided to federal agencies and more immigration judges are sent to the Southwest, it is likely to reduce the strain of the current crisis. Some still call for stronger legislation regarding child immigration, but it would be difficult to pass a law specifically hard on children. Others in Central America shift the blame to the United States for lax drug policy which fuels the drug trade and generates violence. Some, such as Department of Homeland Security Secretary Jeh Johnson, suggest the United States should launch a campaign in Central America to warn of the dangers of illegal immigration. The problem, as with any refugee situation, is that such campaigns have little effect if the dangers children are trying to evade are much greater than any posed by the United States. Providing aid to Central American countries to assist with safety, security, and aid for at-risk youth all provide a good starting place. However, the United States must first resolve what to do with all of the children already in the country.
---
Resources
Primary
State Department: Trafficking Victims Protection Reauthorization Act of 2008
White House: Unaccompanied Children from Central America
US Customs and Border Protections: Southwest Border Unaccompanied Alien Children
Additional
The New York Times: As Child Migrants Flood to Border, U.S. Presses Latin America to Act
Vox: Thousands of Children are Fleeing Central America to Texas – Alone
UNHCR: Children on the Run: UNHCR Report
Mother Jones: Why are More and More Children Walking Across the Border?
US News: Obama Calls Spike in Unaccompanied Children Crossing the Border
LA Times: Enforcement Alone Can't Stop Surge in Child Migrants
CBS: Thousands of Illegal Immigrant Children Will be able to Attend Public Schools
KIND: A Treacherous Journey: Child Migrants Navigating the U.S. Immigration System
CNN: Daniel's Journey: How Thousands of Children are Creating a Crisis in America
Huffington Post: These are the Real Reasons Behind our Humanitarian Crisis
AP: Obama: Child Migrants 'Urgent Humanitarian Issue'