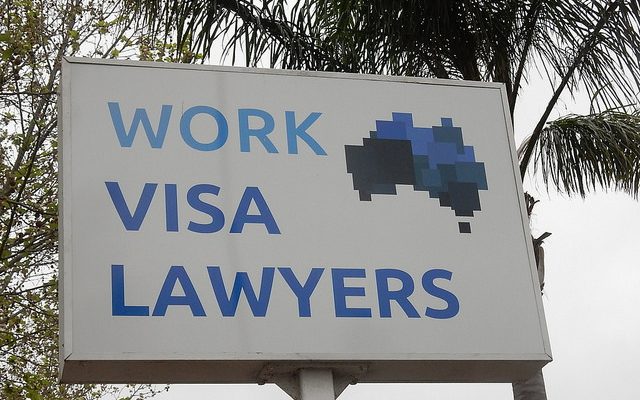 "Work Visa Lawyers" Courtesy of Michael Coghlan; License CC BY-SA 2.0
World
Computer-Based Oral English Test Fails Irish Vet in Australia
By
|
There is no such thing as a perfect immigration policy. Even ones that have received praise from leaders of other countries have their cracks. Australia recently took note of a flaw in its system when an automated computer program determined that an Irish vet's oral English fluency was not up to the standards of Australia's immigration department, putting her residency in the country at risk.
Louise Kennedy has been working as an horse veterinarian on the Sunshine Coast in Queensland for the past two years. She is a native English speaker and has two university degrees in history and politics–both obtained in English. As her skilled workers visa was coming to an end, Kennedy decided to apply for permanent residency on the grounds that there is a shortage of her profession in the country.
Part of the process of applying for an Australian residency visa is a mandatory English proficiency test–administered by Pearson–with both a written and spoken portion. Kennedy got through the writing and reading portions rather easily, but it was during the oral portion that her troubles began.
The test utilizes an automated question system that asks applicants a series of questions on a monitor and records their vocal responses. The recordings are then analyzed by a system and a score is generated. Despite the fact that Kennedy has been speaking English her whole life, she scored a 74 on the oral section when the Australian government requires a 79 or higher to pass. Needless to say, she was shocked.
"There's obviously a flaw in their computer software, when a person with perfect oral fluency cannot get enough points," she said to The Guardian.
Anyone who has had their frustrations using voice-operated "intelligent assistants"–like Siri, Cortana, or Alexa–knows that there are still limits to what voice-analyzing technologies can do, especially when someone's accent differs from the majority of the population. However, Pearson representatives stood by their programs saying the real problem was that the immigration department set the bar very high for people seeking permanent residency, according to Sasha Hampton, head of English for Pearson Asia Pacific.
Even with the Pearson test being as supposedly good as it is, Kennedy was given the opportunity to retake the test because there appeared to be construction noises that were audible in the background of her recording. Unfortunately, time became a bit of an issue. Her current visa would have expired in the timeframe it would take for all of the paperwork to be completed, even if she was recognized as a fluent English speaker by the testing company. Kennedy now has to resort to applying for a more expensive spouse visa.
"Because I'm married to an Aussie I luckily have a back-up visa to go to but there is a $3,000 cost over the skilled immigrant visa which we weren't banking on 12 weeks before having our first baby," she told the Ireland Independent.
This comes within days of Donald Trump announcing a move toward re-hauling the current immigration system into a skills and merits-based one. Though Australia's system has been criticized for its inability to accurately determine the country's employment needs, and is getting revamped to meet the demands of far-right politicians who want to ban Muslims from entering the country, Trump Administration officials have offered nothing but praise for the model and hope to enact a similar version in the U.S.