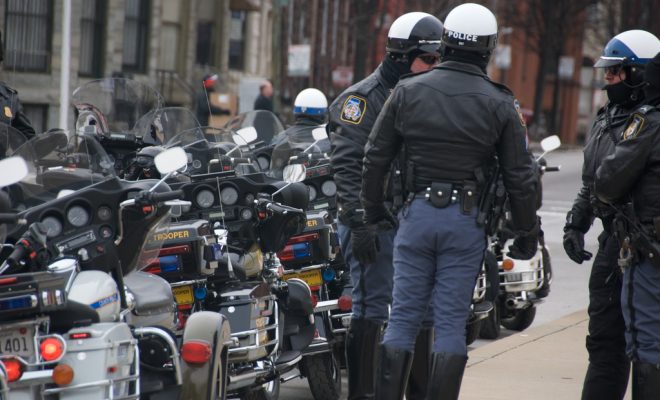 "Baltimore County" Courtesy of Elliott Plack; License: 

(CC BY-SA 2.0)
Politics
DOJ Denies More Crime-Fighting Resources for Four Sanctuary Cities
By
|
The Justice Department sent letters to a handful of so-called "sanctuary cities" on Thursday, denying them crime-fighting resources until they increase compliance with federal immigration authorities. The letters were in response to requests to take part in the DOJ's Public Safety Partnerships (PSP) initiative, which would provide additional federal resources to jurisdictions with higher than average crime rates.
The letters, sent to the police chiefs of Baltimore, Albuquerque, and Stockton and San Bernardino in California, said:
Your jurisdiction has expressed interest in receiving assistance through the PSP program. Based on our review, we have concluded that your jurisdiction has levels of violence that exceed the national average, that your jurisdiction is ready to receive the intensive assistance the Department is prepared to provide, and that your jurisdiction is taking steps to reduce its violent crime.
But those four jurisdictions are all sanctuary cities, meaning their officers do not fully cooperate with federal authorities to enforce national immigration laws. So before those cities can participate in the PSP program, they must give federal authorities access to jails. They also must "honor a written request from [Department of Homeland Security] to hold a foreign national for up to 48 hours beyond the scheduled release date," according to the letters. The cities must show proof of compliance by August 18.
The letters mark the second time in a week that Attorney General Jeff Sessions has threatened to withhold funds from sanctuary cities. Last week, he said cities must comply with federal authorities seeking detainees held on immigration violations–or else they would not receive federal grants. But federal judges have recently ruled that withholding grants from cities that limit compliance on immigration matters is illegal.
Announced in June, the PSP is a "training and technical assistance program designed to enhance the capacity of local jurisdictions to address violent crime in their communities," according to a statement from Sessions that accompanied the letters. Twelve locations have been selected for the program so far.
Sessions, in a statement on Thursday, said sanctuary cities "make all of us less safe." He added: "The Department of Justice is committed to supporting our law enforcement at every level, and that's why we're asking 'sanctuary' jurisdictions to stop making their jobs harder."
Of the requests to the sanctuary cities looking to take part in the PSP initiative, Sessions said: "By taking simple, common-sense considerations into account, we are encouraging every jurisdiction in this country to cooperate with federal law enforcement."