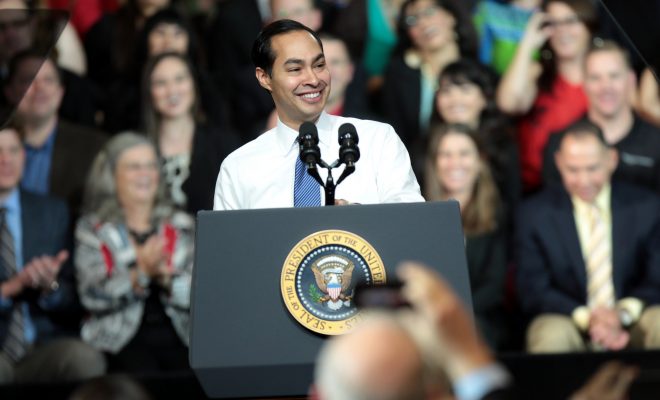 Image courtesy of [Gage Skidmore via Flickr]
Politics
Is Julian Castro's National Democratic Star Still on the Rise?
By
|
Julian Castro has long been promoted as one of the rising celebrities of the Democratic party. Formerly the Mayor of San Antonio, now the Secretary of the Department of Housing and Urban Development, his name has definitely been floated by those who are familiar with the who's who of the Democratic party, but hasn't quite hit the national stage yet. It leads to a lot of questions: who is Julian Castro? How did he end up leading the Department of Housing and Urban Development? And what is that department doing under his leadership?
---
How did Castro become HUD secretary?
On Friday May 23, 2014, President Obama nominated Mayor of San Antonio Julián Castro to replace Shaun Donovan as secretary of the Department of Housing and Urban Development (HUD). Donovan, who had held the post since January 2009, became Secretary of the Office of Management and Budget, as Sylvia Matthew Burnwell moved on to head the Department of Health and Human Services, a position from which Secretary Kathleen Sebelius had recently resigned following the botched roll-out of HealthCare.gov. Julián Castro, 39, who had served three terms as Mayor of San Antonio,  faced the daunting Senate confirmation process and passed. Castro is the second former Mayor of San Antonio to direct HUD, after Henry Cisneros who was appointed by Bill Clinton in 1993.
Catro's Qualifications
Since declining President Obama's offer to lead the Department of Transportation in 2012, the top HUD job became a prime opportunity for Castro to gain national-policy experience. And as a Latino on the national stage, Castro could potentially appeal to a growing Hispanic voting base, shoring up the Latino vote for Democrats in future elections. "Having his understanding of the needs of the Hispanic community—having a cultural affinity about that—will lend quite a bit of depth to his policy and understanding of the role," said Javier Palomarez, CEO of the U.S. Hispanic Chamber of Commerce.
Indeed HUD plays an increasingly vital role for underrepresented populations, as Latinos and the black community continue to bear the brunt of inequitable urban 'revitalization' across America. "We are in a century of cities," Mayor Castro explained on Friday May 23, following the announcement of his nomination. "America's cities are growing again and housing is at the top of the agenda." He vowed to "do housing right," implying a change from previous HUD policies, which primarily entailed large grants to cities spawning private investment and exorbitant costs of living without protections for the poor.
Castro's track record is good, but not without blemishes. One instance of 'revitalization' in San Antonio under the Castro administration took place in the city's historically impoverished Eastside neighborhood, once the heart of the city's black community. In 2012 Castro successfully wrangled a $30 million HUD grant with which he demolished the Wheatly Courts Public Housing Project, and redeveloped the area for moderate-income families and market-rate households. With renovation costs exceeding $1 million, the program didn't adhere to the affordability requirements. In January 2014, President Obama subsequently selected San Antonio's Eastside as one of his first five anti-poverty "Promise Zones."
Similarly, through city fee wavers and tax abatements, Castro revitalized San Antonio's downtown district, drawing 11.5 million visitors and generating $3.1 billion annually. Since 2010, developers have completed or are building 2,700 housing units within five square miles in the downtown area, though few low-income families could afford such prime real estate and have been subsequently pushed to periphery of the city center. Indeed, San Antonio ranks forty-second in City Lab's report of the most gentrified cities in America, and seven percent of San Antonio's low-price tracts have been gentrified over the last year.
What were the concerns over Castro's nomination?
Aside from Castro's history of questionable urban policy, he lacked actual executive leadership experience. Unlike the strong-mayor governments of Chicago or New York, San Antonio's is a council-manager system: a council is elected to serve as legislative branch and it appoints a manager to serve as the executive who has the authority to execute laws and the administration of the city government. The Mayoralty is merely a ceremonial post, a figurehead, and has no real power over the council. Castro was elected to city council in 2001 at the age of 26–the youngest in history–serving two consecutive terms. During his tenure on the city council, he successfully curbed urban sprawl by defeating plans for a PGA-approved golf coarse and suburban development outside the city in 2005; he has no executive experience in the city government, though, which could be problematic.
Castro did a "fantastic job" revitalizing San Antonio by "planning thousands of housing units downtown, attracting hundreds of millions of dollars of investment," President Obama reasoned during his announcement of Castro's appointment. In reality, though, Castro's mayoral tenure was less than laudable, specifically pertaining to the urban minorities whom he supposedly seeks to help. In 2008, congress approved an $8.6 million HUD grant to San Antonio as part of the National Neighborhood Stabilization Program (NSP) as a means to ameliorate the escalating rate of foreclosures at the height of the 2008 financial crisis. With the grant, the program stipulated, cities must buy, refurbish, and resell homes left vacant after eviction; a 2012 HUD Inspector General report concluded, however, that between 2009 and 2011, $1.1 million was allocated to houses that were then sold at market-rate and not reserved for low-income families as the HUD program demanded. It is fair to say that the HUD grant package was awarded before Castro came to office, but the infections to the program nonetheless took place under his leadership.
---
So, how has the HUD fared under Castro?
So far, so good, but given that Castro has only been in the job a few months, there's still a lot that needs to happen before anything resembling a final judgment can be made. However, Castro and his administration have absolutely had notable success–for example, the Federal Housing Administration (FHA) is no longer in debt after the severe problems it experienced during the 2008 financial crisis. Although that won't automatically lower loans for people seeking them from the FHA, it's certainly a step in the right direction. Overhauling struggling institutions like Freddie Mac and Fannie Mae have also taken top priority for Castro. Overall, it seems like he's finding his place at HUD.
---
Conclusion
Calling Castro a rising Democratic star probably isn't too far from the truth, but it's still tough to predict who will fight their way onto the political landscape in years to come. After all, President Obama's rise was almost meteoric–most people did not know who he was just a few years before he accepted the nomination for President from the Democratic Party. Whether or not Castro will end up living up to his potential can only be told by time.
---
Resources
Primary 
Federal Reserve Bank of Cleveland: Gentrification and Financial Health Report 2013
U.S. Department of Housing and Urban Development: Office of Inspector General, Memorandum NO: 2012-FW1804
White House: President Obama Nominates Julián Castro as Next HUD Secretary, and Shaun Donovan as OMB Director
Additional
Latin Post: Julián Castro HUD Secretary Nomination Endorsed by National Association of Hispanic Real Estate Professionals
Inman: National Association of Hispanic Real Estate Professionals backs Julián Castro to lead HUD
Bloomberg: Castro Move to HUD Sets Up Possible VP Selection in 2016
Politico: For Julián Castro, Plenty of Challenges at HUD
Politico: Julián Castro's San Antonio Misused HUD money
Washington Post: Julián Castro Nominated as HUD secretary
Monitor: Commentary: Should Julián Castro Go to DC to Head HUD?
New Republic: Why Would Obama Put a Rising Democratic Star Into a Cabinet Backwater?
CityLab: Why Julián Castro's Record as a Mayor of San Antonio Doesn't Necessarily Tell Us Much About Hist Future at HUD 
NPR: Obama Taps San Antonio Mayor Julián Castro For HUD Secretary
LA Times: Obama Picks San Antonio Mayor Julian Castro to be Housing Secretary
Washington Examiner: Barack Obama Names Julián Castro for HUD, Shaun Donovan for OMB
Washington Examiner: If Chosen For HUD, Julian Castro's Work, Big Payday Could Face Scrutiny