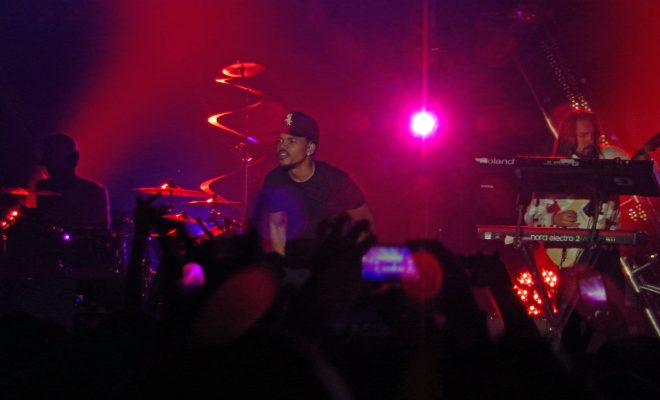 Image Courtesy of swimfinfan; License: (CC by SA 2.0)
Fashion
Chance the Rapper Models a New Line of Obama Appreciation Gear
By
|
There's no doubt that there are a lot of celebrities who are missing President Barack Obama: his effortless cool drew big names to the White House during his 8-year tenure. Now Chance the Rapper, the 23-year old hip-hop star, has taken his Obama appreciation to the next level, modeling for a new fashion line  named "Thank You Obama."
I'm a model now. #ThankUObama droppin in like 15 minutes. ThankUObama.us pic.twitter.com/Y7jOHKzRam

— Lil Chano From 79th (@chancetherapper) February 2, 2017
The line, from Chicago designer Joe Freshgoods, includes hoodies and tees showing appreciation for the Obama family. In addition to "Thank You Obama" and "Thank You Michelle" clothing, the line also includes a "Malia" t-shirt that includes the message "We all smoke, it's OK" (a reference to a video of the Obama daughter that sparked some controversy).
Freshgoods wrote about his motivation to start the line on the site:
With this project I wanted to timestamp a period in my life where I felt like I can do whatever I wanted to do and be whatever I wanted to be. The night Obama won his first term gave me so much hope, especially & most importantly as a black man. I decided to make a collection saying "thank you" and give me something to smile at every now and then when I look in the closet.
The ties between Chance and the former president run pretty deep: Chance's father, Ken Williams-Bennett, served as Obama's state director when he was a senator. And it appears Obama is a fan, as he cited Chance as one of the "top rappers in the game" in an interview last October. The fellow Chicago native was also tapped to perform at the White House Tree Lighting Ceremony this past December, and was an attendee at Obama's goodbye party.
If you're looking for a fashionable way to show off your gratitude to the former First Family, you can check out the line at thankuobama.us.