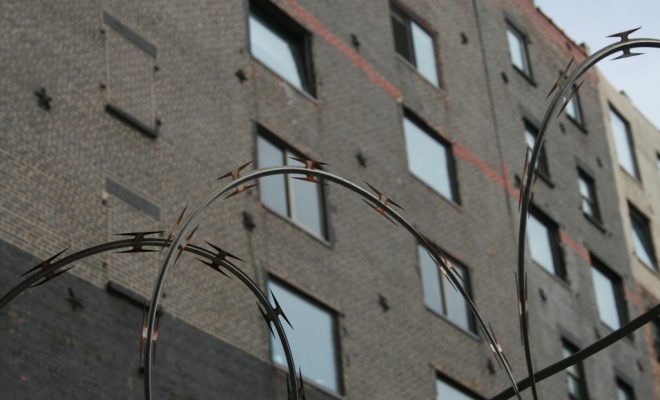 Image courtesy of [Esteban Chiner via Flickr]
Politics
Bipartisan Criminal Justice Reform: Can it Succeed?
By
|
Criminal justice reform in the United States is long overdue as prisons are overcrowded, racial profiling remains a problem, and rehabilitation practices are often overshadowed by questionable "tough on crime" policies. After high-profile incidents of police brutality began circulating media outlets, the push for criminal justice reform has become greater than ever. Recently, both Republicans and Democrats decided to work together to transform the American criminal justice system, announcing the creation of a bipartisan coalition that would partner with non-governmental organizations and advocacy groups to craft and implement reform. The media called this left and right-wing union an "unlikely alliance," emphasizing ideological and political differences between the two parties, and highlighting the fact that bipartisanship doesn't happen very often on Capitol Hill. The question remains whether this bipartisan coalition can transform American criminal justice practices into a more fair, unbiased, and swift system? Read on to learn more about the current bipartisan efforts to reform the criminal justice system in America.
---
How is bipartisan criminal justice reform coming along?
The Coalition for Public Safety
One of the first  tangible results of this consensus culminated in the creation of the Coalition for Public Safety, introduced on February 19, 2015. It's a bipartisan coalition of funders and advocacy groups that will work on reforming the current criminal justice system and hopes to find solutions to the most pressing issues in the realm of current practices. The coalition is funded by both conservative and liberal groups such as Koch Industries, the Ford Foundation and the John D. and Catherine T. MacArthur Foundation. In addition, both right and left-wing organizations such as FreedomWorks, Americans for Tax Reform, the ACLU, and the Center for American Progress will partner with the Coalition to work at all levels of the government (local, state, and federal) to overhaul ineffective criminal justice policies. The initial funding is $5 million, and will be used to launch a campaign to tackle prison overpopulation, mandatory sentencing practices, reduce recidivism, and address many other issues endemic to the American criminal justice system.
The Coalition for Public Safety emphasizes a smarter, fairer, and more cost-effective criminal justice system. It identifies five main goals:
Reduce our jail and prison populations and associated costs; end the systemic problems of overcriminalization and overincarceration — particularly of low-income communities and communities of color; ensure swift and fair outcomes for both the accused and the victim; and make communities safe by reducing recidivism and breaking down barriers faced by those returning home after detention or incarceration.
The overall plan of the Coalition is to replicate state practices that have proven to be successful in dealing with specific issues of the criminal justice system on the federal level. As the Coalition is diverse in its political affiliations, the plan is to divide spheres of influence between conservatives and liberals while lobbying for reform.
Koch Industries and other organizations on the right will try to persuade Republicans, while the Center for American Progress and other liberal think-tanks will work on convincing Democrats to engage in meaningful dialogue about criminal justice reform. Other organizations such as the ACLU will lobby at the state level to include criminal justice reform issues on state ballots in 2016.
The Bipartisan Summit for Criminal Justice
Another early milestone of the criminal justice reform movement was the Bipartisan Summit for Criminal Justice held in Washington D.C. on March 26, 2015.
The summit brought together lawmakers, advocates, religious groups, and criminal justice leaders, totaling 600 people. There were 90 speakers who shared their experiences and proposed possible solutions to fix the American criminal justice system. Newt Gingrich and Van Jones hosted the event, putting their differences aside. Among the most prominent speakers and participants were Attorney General Eric Holder, Mark Holden (senior counsel for Koch Industries), David Simon ("The Wire" creator), Labor Secretary Tom Perez, Georgia Governor Nathan Deal, Piper Kerman (author of "Orange is the New Black") and Senator Cory Booker. Non-profit organizations that advocate for justice were present  as well.
So, it's clear that criminal justice reform is gaining momentum, but why did both parties come on board in the first place?
---
 Why are both parties on board with criminal justice reform?
Players across the political spectrum have begun to form a bipartisan consensus, but do they care about the same things? Both conservatives and liberals have agreed that criminal justice reform is necessary, however, their reasons for engaging in the initial dialogue seem rather different.
Conservatives are particularly worried about the high costs of maintaining the prison complex as it operates right now. Financially speaking, criminal justice spending is soaring. Some conservatives also cite religious arguments as a reason to give second chances to those who acted wrongly. This philosophy is in accordance with Christian tradition. In this view, prison reform requires rehabilitation, not just incarceration.
Democrats tend to be more concerned with minority rights and the personal freedoms of American citizens that are being diminished by the current criminal justice system. They propose well-funded social programs in impoverished and vulnerable communities instead of an aggressive expansion of the prison complex.
---
Why does America need criminal justice reform?
(Un)Fairness of the Current System
The American criminal justice system has multiple issues with which to contend. One of the biggest is the disproportionate incarceration of Black and Latino youth and men. In addition, 60 percent of those who await trial, meaning they have not yet been formally convicted of any crime, are housed in detention facilities for months. The majority are lower income individuals who cannot afford to make bail. These holdings lead to many issues for these individuals, including loss of employment, housing, and even family.
In addition, civil asset forfeiture practices are often viewed as unfair as property can be confiscated at the pre-trial stage, without a formal conviction. In some cases, family members can suffer property seizure due to the actions of their children or other close family members.
Overall, the prison population is soaring with non-violent offenders, who are incarcerated for drug crimes, including simple possession or selling a small amount of marijuana.
It's Too Expensive
The criminal justice system, particularly prison complexes, drain taxpayers' money. On average, it costs $80 billion a year to maintain the American correctional system, not counting other criminal justice agencies and courts. As 86 percent of all prisoners are housed in state, not federal, correction facilities, state governments spend large sums of money on incarceration, leaving fewer resources for education, mental health, and social services. In addition, it costs around $88,000 a year to house a young offender in a juvenile facility. Juveniles in particular have more developmental and educational needs which have to be addressed by the prison facility where they are housed.
Recently, costs associated with police misconduct, such as fees and settlements, are also soaring as more incidents are published and openly discussed.
It Doesn't Solve Problems
The current criminal justice system incarcerates violent and non-violent offenders alike without any consideration for the mental health, drug, or alcohol issues these people may face. Moreover, it doesn't provide tools for those who have been released from prison to reintegrate back into society. Formerly incarcerated individuals are largely disenfranchised through laws restricting Pell Grants, voting, certain types of employment, and housing.
Overall, left and right-wing politicians have gotten it right: current criminal justice system is costly, ineffective, and unfair in many ways, and it needs fixing. Watch the video below to learn more about reasons why America needs a comprehensive criminal justice reform:
---
Are there any signs of progress?
This new wave of bipartisan criminal justice reform is still in its infancy, but signs of progress in changing ineffective criminal justice practices are seen in both state and federal initiatives.
State Practices
Many states have already enacted innovative programs to overhaul civil assets forfeiture practices and restore voting rights to those who bear the stigma of a criminal conviction. For example:
State Representative David Simpson (R) introduced a bill that could potentially prohibit civil asset forfeiture without formal conviction in Texas. State Senator Nathan Dahm (R) proposed similar legislature in Oklahoma.
Many states have enacted so-called "Ban the Box" laws that prohibit asking about criminal convictions in employment applications. Currently, "Ban the Box" laws have been successfully implemented in states such as Colorado, Connecticut, Georgia, Hawaii, Maryland, Massachusetts, Minnesota and New Mexico. In addition, individual jurisdictions in various states have begun to use this practice.
Watch the video below to learn more about "Ban the Box" movement:
Federal Initiatives
On a federal level, Senator Rand Paul, a Republican from Kentucky, is one of the most vocal proponents of criminal justice reform:
Paul and Tim Walberg (R) from Michigan introduced the Fifth Amendment Integrity Restoration (FAIR) Act, that raises the burden of proof on the government for asset seizure.
Rand Paul and Senator Harry Reid, the Senate Minority Leader, re-introduced the Civil Rights Voting Restoration Act of 2015 as a bipartisan effort to restore voting rights to non-violent formerly incarcerated individuals.
Rand Paul, Brian Schatz (D) from Hawaii, and two U.S Representatives, Corrine Brown from Florida and Keith Ellison from Minnesota introduced the Police Creating Accountability by Making Effective Recording Available (Police CAMERA) Act of 2015 that creates a pilot grant program for police departments across the country who are willing to use body cameras.
In addition, education reform is being worked on, and the Comprehensive Justice and Mental Health Act is on its way. Both pieces of legislation are important components of re-designing the American criminal justice system by breaking the school-to-prison pipeline, and increasing access to treatment for mentally-ill people in the criminal justice system.
---
What are the concerns over bipartisan criminal justice reform?
Not everybody believes in the future of bipartisanship, as history has consistently proven that consensus could be compromised at any stage of the process. For example, a recent human trafficking bill with bipartisan support was filibustered over anti-abortion language, and, consequently, died in the chamber. Doubts remain that bipartisanship could be successful as Congress starts its legislative process. Such concerns are voiced due to the profound differences in the two parties' ideologies, as well as their social and economic views.
These differences also incite worries over the redistribution of prison money. Liberals generally seem to hope that after reform, money that was formerly used for incarceration will be released for education and social services. However, conservatives mostly remain silent on this issue, postponing the discussion for a later date.
Some critics on the left believe that bipartisan criminal justice reform was "right-wing" from the beginning, initiated by the Koch brothers, and then marketed as a "bipartisan" effort. In this view, the movement serves the conservative agenda by pushing the expansion of for-profit community correctional facilities, including the consolidation of medical treatment programs within prison complexes. The rationale is as follows: if non-violent offenders are released to community corrections rather than to prison confinement, it will produce a new source of revenue for private companies that provide treatment for addiction and other medical and mental health issues. The money will be channeled through non-profit organizations that are free to sub-contract their services.
In addition, the Coalition has heavy representation of conservative think-tanks and  prominent liberal groups, but it doesn't include grassroots community and advocacy groups that could bring the voices of poor communities of color to the table.
Another point of criticism is centered on the notion that the Coalition doesn't ask the right questions and completely ignores the issue of structural racism that fuels the community-to-corrections pipeline. It acknowledges "over-criminalization" and "over-incarceration" of individuals from these communities, but doesn't address the underlying reasons for it.
---
Conclusion
Criminal justice reform is inevitable as there are multiple concerns about the current criminal justice system. However, will it produce the intended changes and improve the American criminal justice system? The Coalition has all the tools to initiate reform, but political differences and personal motivations of certain players can easily change the course of reform at any given moment. It's a shaky "unlikely alliance," but it's certainly better than nothing at all.
---
Resources
Primary
LegiScan: Bill Text: TX HB3171 | 2015-2016 | 84th Legislature | Introduced
LegiScan: Bill Text: OK SB621 | 2015 | Regular Session | Introduced
Rand Paul: Sens. Paul, Schatz & Reps. Brown, Ellison Introduce Bipartisan Legislation To Help Expand Use of Police Body Cameras
Rand Paul: Sen. Paul Introduces Civil Rights Voting Restoration Act
The U.S. Department of Justice: Attorney General Prohibits Federal Agency Adoptions of Assets Seized by State and Local Law Enforcement Agencies Except Where Needed to Protect Public Safety
Additional
#cut 50: A Bipartisan Summit on Criminal Justice Reform
Huffington Post Politics: Georgia Governor Signs 'Ban The Box' Order Helping Ex-Offenders Get Jobs
National Journal: This May Be the Year Crime Finally Stops Being a Wedge Issue
NBCNews: Editorial: Could Criminal Justice Reform Create Bipartisanship?
Politico: Fixing Justice in America
Southern Coalition for Social Justice: Ban the Box Community Initiative Guide
The Daily Caller: Red State Forfeiture Bills Signal Bipartisan Push For Justice Reform
Truth Out: "Bipartisan" Criminal Justice Reform: A Misguided Merger
Truth Out: Smoke and Mirrors: Essential Questions About "Prison Reform"
Truth Out: Confidence Men and "Prison Reform"
U.S. News: Lawmakers Outline Path Forward on Criminal Justice Reform
U.S. News: Democrats Block Human Trafficking Bill Over Abortion Language
Justice Policy Institute: The Costs of Confinement: Why Good Juvenile Justice Policies. Make Good Fiscal Sense May 2009
Vera Institute of Justice: The Price of Prisons. What Incarceration Costs Taxpayers