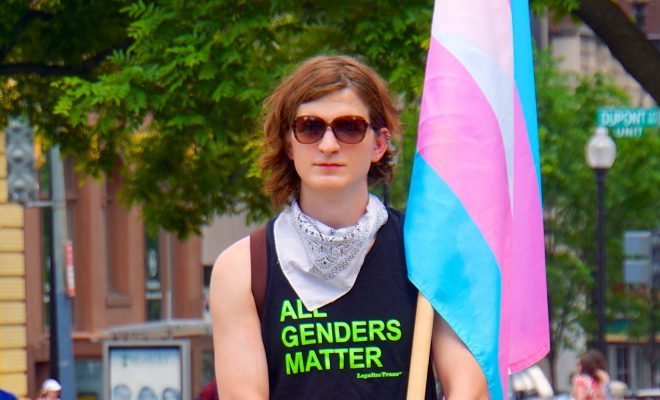 Image courtesy of [Ted Eytan via Flickr]
Law
The Transgender Murder Crisis: Why Were There So Many Killings in 2015?
By
|
The year 2015 will be marked by many advances for the transgender community, both in the media (hello Caitlyn Jenner) and in legislatures across the United States and the world. All in all, 2015 was a year when transgender rights came further into the forefront of our daily lives and vocabulary. But there was a dark side to 2015 as well. Somehow, even though trans rights were gaining ground, it was still the year with the most trans murders on record. Read on to learn about the transgender murder crisis in 2015.
---
Why Are Trans People Getting Murdered?
Many of the trans people who were murdered in 2015 were victims of hate crimes. Even worse, the majority were perpetrated against transgender women of color.
Hate crimes, specifically those against people identifying with a certain gender, have occurred for years. But these crimes came into the spotlight in 2009 when Congress passed the Matthew Shepard Act, which added gender identity to the list of possible motivations for hate crimes. The act also requires the FBI to track statistics on gender identity-motivated hate crimes, but those statistics rely on voluntary reporting from law enforcement agencies and many believe that they are grossly underestimated. These crimes may be undercounted because police officers may not report the murders of trans people as hate crimes–or treat these murders like hate crimes–because their gender is often misidentified.
Who are the victims?
Some of the victims, such as Mercedes Williamson and Keyshia Blige, were killed by strangers in the typical sense of a hate crime–people who didn't want someone different, or outside of their norm, in their community. There is also a subset of these murders that were committed by loved ones. Around half of the transgender murders in 2015 were committed by people who knew their victims. Two examples include Yazmin Vash Payne, who was killed by her boyfriend after an argument, and Bri Golec, who was stabbed to death by her father.
---
How Many Trans Murders Were There in 2015?
According to the Human Rights campaign, there were at least 21 murders specifically of trans individuals in the United States in the first 10 months of 2015. But these are only the murders that were reported and identified by that group, and only includes part of the year. Other counts put that statistic higher, but the fact of the matter is that based on the available data, we do not know how many trans murders occured. Even then, the 21 identified by the Human Rights campaign marks a notable increase from previous years. In 2013, there were at least 19 murders of trans people and in 2014, there were at least 13.
The true number is almost certainly higher. There have been many articles in the last couple of months detailing the attacks and profiling the victims of these attacks, which flips the normal crime story on its head (since most crime stories talk only about the perpetrator rather than the victims). These profiles and articles were mainly released before November 20, which is the Transgender Day of Remembrance in the United States. There were also protests surrounding the Day of Remembrance where people lay in the streets, feigning death in order to draw attention to this seemingly invisible problem.
Official hate crime statistics from the FBI for the 2015 calendar year won't be released until later in the year, but that only includes incidents identified as hate crimes and are widely regarded as an undercount of the actual number.
Why the FBI Stats are Lacking
According to the hate crime statistics released by the FBI last November for the 2014 calendar year, there were only 109 gender-identity motivated hate crimes, of which only 23 fit into the FBI's violent crime category. However, the FBI's hate crime numbers are thought to be considerably lower than the actual number of offenses. This is because the statistics are voluntarily submitted by law enforcement agencies, many of which reported zero hate crimes in 2014. The Human Rights Campaign even identified crimes that should have been considered hate crimes but were not appropriately reported. In fact, the FBI's 2014 statistics indicate that of the 4,048 total hate crimes classified as "crimes against persons," only four were murders, and that includes all potential bias motivations, not just gender identity.
While each jurisdiction has its own reasons for the differing data submissions to the FBI, problems with the statistics could be due to the fact that these crimes may look like accidents. Also, murders aren't typically considered hate crimes when they are committed by a family member, friend, or partner. Police may also have trouble identifying victims as transgender in the first place, making it harder for data to be accurately gathered–many of the victims identified by the Human Rights Campaign weren't identified as transgender by the police or media. For these reasons, among others, these murders aren't being thought of or investigated as hate crimes and are not being reported to the FBI as such.
There is little that the FBI can do about this–it relies entirely on information provided by law enforcement across the country. So it doesn't matter how many protests take place–as long as law enforcement doesn't consider these murders to be hate crimes, they will not be included in the FBI's statistical reports. However, this also provides a glimmer of hope for the trans and LGBTQ community at large. The number of crimes that are classified as hate crimes is getting larger each year, including the number of hate crimes motivated by a person's gender identity. In fact, 2014's number is triple the amount of reported hate crimes motivated by gender identity in 2013. The rate of murders against transgender people may not change that much from year-to-year, instead, they may be getting reported more regularly. Therefore, there is hope that the statistics that the FBI releases may be much closer to accurate in the future.
---
What Can Be Done?
There are several things that can be done to decrease the number of transgender murders in the future. The first is already underway–the FBI has begun keeping track of statistics for hate crimes involving gender identity. The FBI only started gathering statistics on gender identity motivated hate crimes five years ago. There is a lot of room for growth in how the FBI gathers the information for these statistics, but improvement has so far been made each year. Hopefully, these hate crime statistics will give the country–including law enforcement and legislators–an idea of what is happening in the United States and what else needs to be done to protect transgender people. Congress recently created a Transgender Equality Task Force to help identify issues that transgender people face, which according to advocates should include tracking incidents of violence.
Allies and education are other key ways to prevent the murders of transgender people in the future. When any marginalized group of people has allies on their side, it is easier to fight back. Allies, in this case, are people who do not identify as transgender but who support the causes important to transgender people, such as safe spaces and the legal right to be recognized as an individual's identified gender. Education about what it is like to be transgender is another small thing that can go a long way. Both trans people and allies can work to educate people throughout the country, hopefully helping develop a broader sense of understanding of what it is like to be transgender and what kinds of rights transgender people are still fighting for.
A Look at the Numbers
There is some good news: trans support in the United States is increasing. In April 2015, the Human Rights Campaign noted that the number of people who say they know a transgender person is up 5 percent from the previous year, and 66 percent of those people look favorably on their transgender acquaintances. The percentage of people who were polled by YouGov as saying that they believe being transgender is immoral is down to 31 percent. While it's still unclear what the actual transgender population is in the United States–FiveThirtyEight postulates that many of the people who claim to not know any transgender people likely do–each person's choice on how broadly to share their personal life differs.
All of these statistics show a changing tide in the fight for transgender rights, and also show that younger generations are even more likely to support transgender rights and fight for an end to violence against the trans population.
---
Conclusion
In 2015, there were at least 21 transgender women who were the victims of murders across the United States. 2015 also marked the highest number of murders against transgender people on record. These murders were committed by both strangers and loved ones of the victims, and they have been classified as hate crimes by activists and by the people who were close to the victims. But until law enforcement consistently reports on the set of criteria that would classify transgender murders as hate crimes, the statistics that the FBI is required to release each year will fall short of being accurate. While we do not yet have reliable statistics about murders and hate crimes against transgender people, as awareness increases that will likely improve. While there are many ways to support transgender people–including activism–the most effective way to shrink the number of murders in the future is to compile and release accurate statistics that would show these crimes for what they are. Until then, these sad and gruesome crimes will continue to occur, and transgender people will continue to be victimized.
---
Resources
Primary
The Federal Bureau of Investigation: FBI Releases 2014 Hate Crimes Statistics
The Federal Bureau of Investigation: Matthew Shepard/James Byrd Jr., Hate Crimes Prevention Act of 2009 Brochure
Additional
The New York Times: Obama Calls for End to 'Conversion' Therapies for Gay and Transgender Youth
Vanity Fair: Caitlyn Jenner: The Full Story
Rolling Stone: The 5 Best and Worst Trans Moments of 2015
Slate: Five Things Trans People Teach Us All About Ourselves
Huffington Post: Lives Guided By Fear: In Honor of the Transgender Day of Remembrance
Human Rights Campaign: Addressing Anti-Transgender Violence: Exploring Realities, Challenges, and Solutions for Policymakers and Community Advocates
Huffington Post: What Does Transgender Day of Remembrance Mean to the Trans Community?
Broadly: 'He's Not Done Killing Her': Why So Many Trans Women Were Murdered in 2015
Broadly: A Crisis of Violence: Transgender Murders Increased 84% This Year
Vice: Trans Women of Color Face an Epidemic of Violence and Murder
Fusion: 20 Trans People Were Murdered This Year. This is What Happened.
Mother Jones: It's Incredibly Scary to Be a Transgender Woman of Color Right Now
Time: Why Transgender People Are Being Murdered at a Historic Rate
Rolling Stone: More Trans People Have Been Killed in 2015 Than Ever Before
Crime Museum: History of Hate Crime
The Williams Institute: Suicide Attempts Among Transgender and Gender Non-Conforming Adults
USA Today: Transgender People Face an Alarmingly High Risk of Suicide
Think Progress: As 2015 Sees a Record Number of Documented Transgender Murders, a Glimmer of Hope
Human Rights Campaign: Survey Shows Striking Increase in Americans Who Know and Support Transgender People
YouGov: One-third Think it is Morally Wrong to be Transgender
FiveThirtyEight: Most Americans Say They Don't Know a Transgender Person – But Many of Them Probably Do
Huffington Post: The Kids Are All Right with Transgender Rights