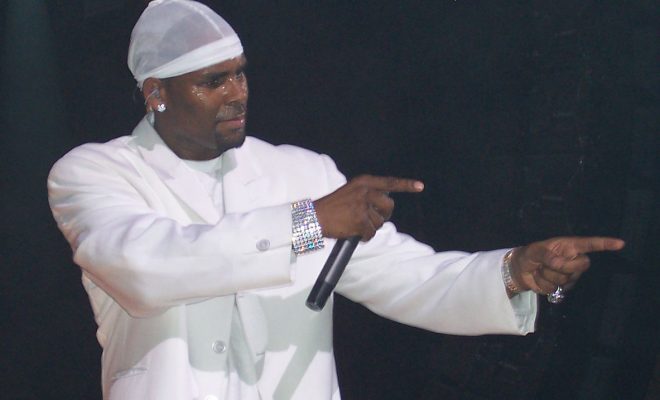 Image Courtesy of Nicholas Ballasy; License: public domain
Society and Culture
R. Kelly is Reportedly Controlling a "Cult" of Young Women
By
|
R. Kelly, the R&B singer known for his outlandish, sometimes criminal behavior, is again embroiled in controversy. On Monday, BuzzFeed News reported that the 50-year-old is manipulating a group of young women, controlling everyday aspects of their lives as they stay at one of his properties, apparently by their own free will.
The report features testimony from the parents of some of these women, as well as three former members of Kelly's entourage who corroborated the details. After luring young, attractive women into his inner circle by inviting them backstage and flying them out to concerts, Kelly would convince them to live in one of his properties in Atlanta or Chicago.
"Puppet Master"
According to the report, Kelly "controls every aspect of their lives: dictating what they eat, how they dress, when they bathe, when they sleep, and how they engage in sexual encounters that he records." 
The famous artist, who recorded "I Believe I Can Fly" for the Space Jam soundtrack, purportedly uses his lavish lifestyle to attract women before using his verbal skills to convince them to stay with him, according to Cheryl Mack, Kelly's former personal assistant.
"[Kelly] is a master at mind control. … He is a puppet master," Mack told BuzzFeed.
One issue with police intervention is that the law allows consenting adults to participate in any relationship they wish, even when it is nontraditional. So when police in Illinois and Georgia performed welfare checks over the past year, no charges were filed. Instead, one 19-year-old aspiring singer staying at Kelly's mansion in Atlanta, told authorities that she was "fine and did not want to be bothered."
Some of the parents have spoken with FBI detectives but the bureau could not comment on the investigation to the public.
Mack, along with other former entourage members, said they wish they had documentation to prove their claims. They said Kelly controlled their cell phone usage and barred them from taking pictures of him or his homes. Kelly reportedly has the women call him "Daddy" while he calls them "babies." He also has them request permission to contact other people besides himself.
For example, the parents of the 19-year-old singer, who last saw their daughter on Dec. 1, 2016, have only received two texts from their daughter since then. The first, sent on Christmas Day said, "I hate Christmas has to be this way this year." The other came on Mother's Day: "Happy Mother's Day from me and Rob," it said, referring to Kelly's given name of Robert.
Kelly's lawyer, Linda Mensch, defended her client's actions and asked for privacy when BuzzFeed approached her with the allegations. In an email to BuzzFeed, she wrote:
We can only wonder why folks would persist in defaming a great artist who loves his fans, works 24/7, and takes care of all of the people in his life. He works hard to become the best person and artist he can be. It is interesting that stories and tales debunked many years ago turn up when his goal is to stop the violence; put down the guns; and embrace peace and love. I suppose that is the price of fame. Like all of us, Mr. Kelly deserves a personal life. Please respect that.
Criminal Past
Kelly is no stranger to criminal activity and sexual misconduct. In addition to being charged with assault and battery multiple times, Kelly has been accused of sexual relations with underage girls. He settled a dozen or more cases outside of court.
Here is one example of his clear indifference to age-related consent laws:
R Kelly said this but we still bumped "I Believe I Can Fly" at every Kindergarten graduation

— 🎹 (@Dr_Sweets23) July 17, 2017
Kelly is perhaps most infamous for a 2002 video which featured him having sex with, and urinating on, an underage girl. During a raid on his property, police found images of the girl on a camera hidden inside Kelly's duffle bag. Since those images were ruled ineligible in court, Kelly was ultimately found not guilty on 14 child pornography charges. But the stain on his fame and public perception has never disappeared.
And while it's not criminal, Kelly created the 33-part, 133-minute music video series titled "Trapped in the Closet," which features a cheating husband, a bisexual pastor, and plenty of gun violence.
"Robert is the Devil"
According to Kelly's former partners, the women staying at Kelly's home, or in his Chicago recording studio last summer, include a songwriter, a singer, and a model. There is also a woman known as the "den mother" who teaches newcomers "how Kelly liked to be pleasured sexually," according to BuzzFeed. All of the women are between the ages of 18 to 31.
Kelly reportedly keeps a black SUV stationed outside each of his properties with a "burly driver" to keep a watchful eye. This is just part of the psychological warfare Kelly wages against his "babies."
Kelly makes the women wear jogging suits to minimize their attractiveness to other men, Mack said. If the women break one of his rules, Kelly is known to physically and emotionally abuse the women, according to Mack and fellow insider Kitti Jones. Jones said Kelly once pushed her against a tree and slapped her after she was too friendly with a male cashier at a Subway sandwich shop.
"R. Kelly is the sweetest person you will ever want to meet," Asante McGee, another former Kelly insider said. "But Robert is the devil."
Kelly wasn't perceived positively by the public even before this report, but these allegations carry new weight. Every few years Kelly seems to get himself into legal trouble, so this is no surprise, but it is a horrifying portrait of a formerly well-liked artist.