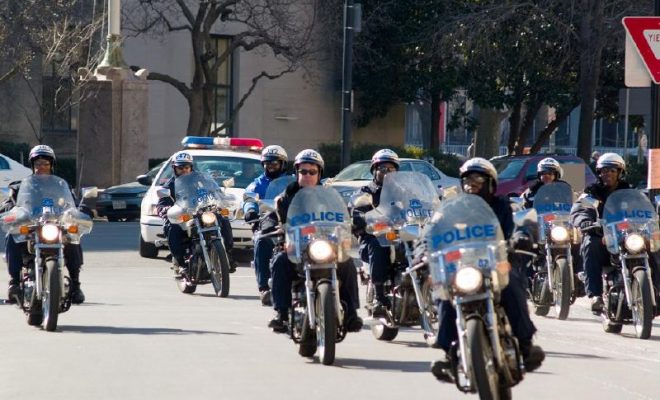 Image courtesy of [Andy Grant via Flickr]
Law
The Militarization of American Police: How Far is Too Far?
By
|
There has been a lot of talk lately about police brutality in connection with the killings of unarmed Black men. As a result of these discussions, the issue of police militarization has also become a hotly contested topic. Do we need highly militarized police forces in our communities? What are the issues behind government-sponsored militarization practices? Read on to learn about the history of police militarization, the main issues, and the current efforts to demilitarize.
---
How have our police become militarized?
The Third Amendment to the U.S. Constitution states:
No Soldier shall, in time of peace be quartered in any house, without the consent of the Owner, nor in time of war, but in a manner to be prescribed by law.
Thus, the distinction between police officers and soldiers was stipulated in the Bill of Rights. This fundamental principle was further codified in the Posse Comitatus Act of 1878 that limits the power of the government to operate military forces inside its borders. It was clear from the beginning that the police should maintain peace inside the country, while military troops protect U.S. interests outside the borders.
During the Prohibition Era, criminal syndicates became involved in the  manufacturing and distribution of alcohol in the United States. At that time, the police also became more militarized, deploying armored cars and automatic weapons to counteract illegal alcohol "bootlegging."
During the race riots of the 1950s-60s, police militarization continued. The Watts Riots of 1965 played a crucial role when SWAT teams were deployed to combat the violence. The upturn in the usage of battlefield weapons can be traced to this period as well.
The 1970-80s were marked by the rise of drug trafficking and the inception of the Medellin Cartel, one of the most powerful international narcotic rings. At the same time, street gangs began to hold considerable weapons arsenals, resulting in shoot outs and gun violence in some inner-city neighborhoods. As drug traffickers and local gangsters were heavily weaponized, police continued militarizing their departments as well.
But the most profound transformation came with the inception of the War on Drugs, initiated by President Richard Nixon in the early 1970s. During this time, the federal government started its long-term attempts at militarization and weaponization of local law enforcement agencies, primarily to enforce drug laws. Thus, the practice of transferring the army's military equipment to police departments was born. The 1981 Military Cooperation with Civilian Law Enforcement Agencies Act established close ties between the U.S. military and police by allowing military forces to aid police departments in drug and counterterrorism operations as well as in cases of civil disturbances. It's widely believed that the War on Drugs introduced the large scale militarization of police departments, shifting the government focus from the civil unrest of the 1960s toward drug enforcement.
In 1997, the Clinton Administration created the 1033 Program, authorized by the National Defense Authorization Act. This initiative legitimized transfers of surplus military equipment from the Department of Defense (DoD) to police departments across the country to aid local law enforcement agencies in their anti-drug operations. Most of the transferable equipment came from U.S. involvement in wars, including operations in Iraq and Afghanistan. To utilize this surplus of military equipment, it was further distributed to police departments across the country, and led to police agencies even obtaining mine-resistant ambush protected (MRAP) vehicles.
After 9/11, the militarization of police departments accelerated as the Patriot Act of 2001 came into play. Since 2003, militarization has become large scale, with the federal government giving grants as well as military gear, mainly through the Department of Homeland Security (DHS).
Besides federal programs, the militarization of police was achieved through the expansion of companies that build military gear and sell it directly to police departments or the federal government. As of now, many  police departments are highly militarized with MRAT vehicles, SWAT teams, and military-grade gear, often originally intended for use in the battlefield.
---
How militarized is the American police force?
As was discussed above, the militarization of American police is channeled mainly through the Department of Defense (DoD) and the Department of Homeland Security (DHS). The numbers are staggering. In 1990, police departments received just $1 million worth of military equipment, but in 2013 this number reached $450 million.  By 2005, more than 17,000 police departments received military gear from the DoD. In the same vein, from 2002 until 2011, DHS dispensed $35 billion in grants to state and local police departments.
American police forces have sniper rifles, armored vehicles, and all sorts of heavy weaponry. According to the American Civil Liberties Union, at least 63 police departments received 15,054 pieces of personal protective equipment, and around 500 police departments obtained MRAP vehicles, all through government-sponsored initiatives, including the DoD's 1033 program.
In addition, the use of Special Weapons and Tactics (SWAT) teams has greatly increased throughout the last decades. In 1980, SWAT teams were utilized only 3,000 times–now they are deployed on a regular basis, around 50,000 times a year. By 2007, more than 80 percent of police departments in large cities with populations higher than 25,000 had SWAT teams.
---
What are the issues against militarized police forces?
There is no doubt that police officers should be well equipped to protect peace and security in American communities. The question is whether the current level of police militarization makes our communities safer and more secure or harms the very people police departments are trying to protect. Here are some of the arguments against police militarization.
It's Unnecessary
Police militarization is unnecessary, especially when talking about small cities that have hardly any crime. There are a myriad of towns that have few murders but huge arsenals of military-grade gear and SWAT teams. For example, there were only three murders in Keene, a small town in New Hampshire, from 1999 till 2012, but its police department has spent $286,000 on an armored personnel carrier, in addition to spendings on other military gear. Federal programs provide incentives for law enforcement to obtain military equipment, even when it's not needed.
It's Dangerous
Highly militarized and well trained SWAT teams were designed for deployment in dangerous situations, for example, hostage situations or mass shoot-outs. Now, SWAT teams are used in routine drug enforcement operations. Overall, 79 percent of SWAT teams are deployed to execute search warrants, while only seven percent are used in high-risk situations.
SWAT teams often force their way inside a house, use violent tactics that may inflict bodily harm or property damage to homeowners, and scare children who may suffer psychological damage after the experience. In fact, 65 percent of such teams forced their way into people's homes, relying on "no-knock" warrants. SWAT teams are also employed to counteract illegal gambling, underage drinking, and other low level non-life threatening crimes.
It Incites Violence
According to multiple psychological studies, paramilitary police forces can incite violence in communities. It's called the "weapons effect," meaning that people feel the threat of violence and get ready to fight back when they encounter military-like weapons and large machinery. Simply put, the mere presence of paramilitary police forces can escalate situations and produce tensions between police and community members that could be avoided if police would engage with people in a friendly way. In 2014 alone, 623 Americans were killed by the police.
Asset Forfeiture
Some argue that asset forfeiture is one of the primary ways used to fund police militarization. Many law enforcement agencies use money obtained through asset forfeiture to buy military gear, machinery, and other military-grade equipment. In 1986, the Federal Asset Forfeiture Fund controlled $93.7 million; in 2012 the fund held $6 billion. There is an ongoing debate over whether or not asset forfeiture laws are discriminatory and unfair, with many lawmakers and politicians casting their support for changes in the matter. At the core of asset forfeiture laws is the principle that any property involved in committing a crime can be seized by the government, even if a person is not convicted or even charged with a crime. This argument holds that law enforcement chooses to raid homes to seize a house, or bust drug deals during monetary transactions to seize the cash. Such practices often happen in communities of color and focus on drug-related crimes. A 2013 investigative piece by New Yorker reporter Sarah Stillman provides that:
Thousands of police departments nationwide have recently acquired stun grenades, armored tanks, counterattack vehicles, and other paramilitary equipment, much of it purchased with asset-forfeiture funds.
No Public Oversight
Militarization of the police came into being without any public oversight. There were no public debates in this regard, and no agency was empowered to monitor military equipment transfers. The lack of transparency is evident in the inadequacy and sometimes even complete absence of records that document and track police militarization. The ACLU reports on the omission of information, deficiency in reporting, and nonexistence of government monitoring, all regarding the amount of military gear and its usage.
Communities of Color
SWAT team deployment and the overall militarization of the police increased while violent crime fell. It also coincided with the inception of the "War of Drugs," which disproportionally targeted communities of color by raiding low-income communities and public housing in the search for drugs. According to the ACLU, 61 percent of SWAT raids were executed in minority communities, and 68 percent of those were drug related. At the same time, white people were usually targeted by SWAT teams only in serious and life-threatening situations, not drug raids. A similar argument is explained in a highly acclaimed book by Michele Alexander "The New Jim Crow: Mass Incarceration in the Age of Colorblindness," where she talks about marginalization of Black communities and the creation of a new caste-like system based on race. According to her argument, the War on Drugs was waged to marginalize Black communities by disproportionately incarcerating young Black men. In this regard, the militarization of police was a necessary step to enforce punitive drug laws.
Police Imagery
When police officers are riding in MRAT vehicles and wearing highly militarized gear, some worry it sends the wrong message to communities. Police encounters can be highly traumatic experiences for anybody, but especially for communities of color that are often policed more aggressively. Instead of patrolling by foot and engaging with the community members, police officers use military-grade gear and painted camouflage vehicles. Thus, police officers are perceived more as soldiers fighting an enemy. As a result, the relationships between communities and police departments have become hostile. Community members are scared of the police and often don't want to cooperate or even interact with law enforcement.
Big Business
For American companies that produce military equipment and gear, the militarization of police is a big business. Companies like Lockheed Martin and Blackhawk Industries sell their military equipment to police departments, or donate money to those politicians who favor further militarization of law enforcement. For example, politicians who voted against Representative Alan Grayson's (D-FL) efforts aimed at limiting police militarization received on average a 73 percent increase in defense industry donations than those who supported his efforts. Besides the selling of equipment, military contractors sponsor training sessions for SWAT teams and other events to promote their products and sell them to police departments across the United States.
---
Current Efforts to Demilitarize Police Departments
Police militarization went largely unchallenged for decades. Only recent events, such as protests in Ferguson, Missouri, were able to shed some light on the issue of ongoing police militarization. When protests in Ferguson erupted, police met protesters with armored cars and military gear designed for battlefields. As the media was covering the events, millions of Americans were able to see the aggressive and intimidating images of highly armored police from Ferguson.
The #BlackLivesMatter movement also added fuel to the fire by demanding government to stop transferring military gear to local law enforcement agencies, and start dismantling the existing arsenals.
Eventually, the Obama Administration delivered a long-awaited response. A new policy focuses on the 1033 Program by regulating military equipment transfers, overseeing and monitoring the usage of military equipment, and reshaping police practices toward community-oriented approaches. For example, armored and weaponized vehicles as well as grenade launchers will be forbidden for transfer. Other transferable equipment will be regulated with restrictions and certain conditions for transfer. Essentially, a police department will have to justify the need for military equipment by presenting arguments and explaining precisely why and for what purposes it will be used. In addition, a new federal agency will be empowered with monitoring military equipment transfers and even conducting local compliance reviews if needed. The new policy also mentions community-based policing as a desired form of conducting police business. Police departments will have to engage with residents more, nurture trust, and build relationships with local leaders and youth in order to receive federal grants in the first place.
---
Conclusion
As the United States has the highest per capita gun ownership in the Western world, it's assumed that police departments should also be highly militarized. But militarization has many issues and unintended consequences that cannot be ignored. Instead of weaponizing police officers, law enforcement officials should focus on engaging with residents and building meaningful relationships, not casting fear and intimidation with MRAT vehicles and heavy weaponry. It's not only about limiting the 1033 Program, but reforming asset forfeiture laws, limiting aggressive drug enforcement in low-income communities, and providing clear guidelines regarding when SWAT teams are appropriate for deployment. It's paramount that local activists and elected officials continue to demand accountability from police departments, and push the current efforts even further.
---
Resources
Washington Post: Obama Moves to Demilitarize America's Police
Washington Post: Demilitarizing the Police is Not an Option. What is?
Pacific Standard: The Psychological Reason Local Police Don't Need the Military's Left-Over Weapons
Huffington Post: President Adopts Amendment Against Police Militarization
Economist: Disarming Warrior Cops
Economist: How America's Police Became So Heavily Armed
International Business Times: Police Militarization History Stretches Back to Civil Rights Movement
American Civil Liberties Union: War Comes Home: The Excessive Militarization of American Policing
Alternet: 11 Shocking Facts About America's Militarized Police Forces
National Gang Center Bulletin: History of Street Gangs in the United States