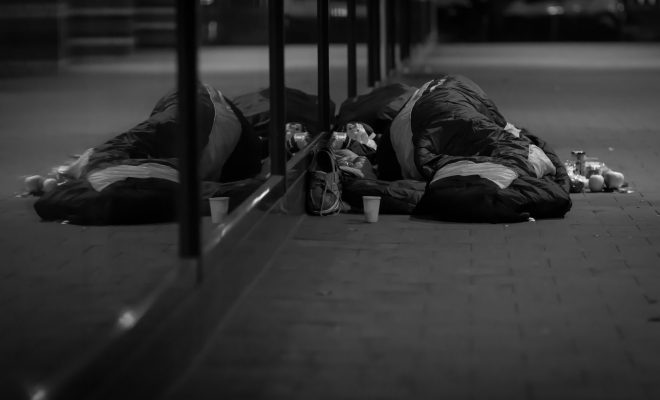 Image courtesy of [Marc Brüneke via Flickr]
Law
The Costs of Criminalizing Homelessness
By
|
Trying to get by without a reliable place to stay is difficult. But it becomes nearly impossible when trying to live in a city where it is illegal to sleep in parks, to store belongings, or to stand outside buildings. This is exactly what homeless people are up against in many cities across America. Cities are increasingly turning to laws that criminalize homeless populations by outlawing fundamental human behaviors. With laws banning sleeping and camping in public, where should the homeless turn?
---
What are the statistics on homelessness?
Homelessness has been a problem for decades, but the root causes of the issue are complex. Homelessness is incredibly difficult to measure, especially since many people are forced into homelessness for only a temporary period of time. According to a one-night head count by the U.S. Department of Housing and Urban Development, more than 610,000 Americans were homeless in January 2013. Sixty-five percent of the nation's homeless were staying in shelters that night. This means more than one-third were living in unsheltered locations — under bridges, in cars, parks, or abandoned buildings. Nearly a quarter of the homeless were children under the age of 18.
---
What have cities been doing?
Cities are increasingly passing laws that essentially make it illegal to be homeless. Most of these laws are designed for safety reasons rather than to put more homeless people in jail, but the effects can still be harmful. Numerous U.S. cities have public designs hostile to the homeless, such as benches with a mysterious third bar in the middle to prevent lying down and sleeping. Most cities have unevenly enforced loitering laws as well as laws prohibiting begging.
The National Law Center on Homelessness and Poverty released a report on July 16, 2014, tracking the laws of 187 American. Some of its findings:
57 percent of cities prohibit camping in particular public places — "camping" encompasses a wide array of living arrangements
27 percent of cities prohibit sleeping in particular public places and 18 percent of cities impose a city-wide ban on sleeping in public
76 percent of cities prohibit begging in particular public places
65 percent of cities prohibit loitering in specific public places
9 percent of cities prohibit sharing food with homeless people
74 percent of homeless people do not know a place where it is safe and legal for them to sleep
The problem is that these laws have increased in recent years. Since 2011,
Citywide bans on camping in public have increased by 60 percent.
Citywide bans on loitering, loafing, and vagrancy have increased by 35 percent.
Citywide bans on sitting or lying down in particular public places have increased by 43 percent.
Bans on sleeping in vehicles have increased by 119 percent.
Watch the video below for more information on the measures taken against the homeless in Clearwater, Florida:
---
Are these laws constitutional?
City bans targeting the homeless population raise a number of legal questions. While the laws are often ruled unconstitutional, they still thrive in most U.S. cities. Most people take issue with the fact that these laws are discriminatory in targeting the homeless population. Some argue that an activity like begging should be protected as free speech. A similar argument is made that the homeless should be afforded freedom from cruel and unusual punishment and should have the right to due process of law. The U.N. Human Rights Committee found criminalization of homelessness violated the International Covenant on Civil and Political Rights. Other significant rulings:
In April 2006, the Ninth Circuit Court of Appeals ruled that criminalizing behaviors and acts integral to being homeless was a violation of the 8th and 14th Amendments; however, the opinion was vacated when the two parties settled out of court.
In August 2012, a federal judge in Philadelphia ruled that laws that prohibited serving food outside to the homeless were unconstitutional.
On June 19, 2014, a federal appeals court cited issues of discrimination in striking down a Los Angeles law that banned people from living out of their cars.
---
What are the effects of these laws?
Typically the homeless are encouraged to stay in shelters until they can find affordable housing of their own, but oftentimes it is not that easy. Consider a city like Santa Cruz, California, where 83 percent of homeless people are without housing and shelter options, yet the homeless cannot lie down in public or sleep in vehicles. Or consider El Cajon, California, where 52 percent of homeless people have no access to a shelter, but sleeping in public, camping in public, and begging are criminalized.
Watch the video below to learn more about a law banning homelessness in Columbia, North Carolina:
Incarceration
Violators of these rules face fines or incarceration. As many homeless people cannot afford fines, they end up spending time in jail. With no permanent address, no regular transportation access, no place to store personal records, and few to no financial resources, the homeless targeted for criminal behavior have difficulty paying fines. If they can't pay fines they often cannot get probation. This means they are incarcerated more often and for longer periods of time. For the homeless, getting into shelters and finding affordable housing is already difficult. But doing so after a previous arrest becomes nearly impossible.
Suspended Benefits
The homeless are typically eligible for a variety of beneficial federal programs, such as Supplemental Security Income (SSI), Social Security Disability Insurance (SSD), and SNAP (food stamps). Many homeless people are unaware of these programs. Since most of the homeless lack an address and application documentation, they have difficulty applying. SNAP has special procedures that give greater assistance to the homeless, such as providing the, with a representative and mailing benefits to homeless shelters. Most cities recognize the obstacles the homeless face in applying for federal benefits and employ outreach teams to connect homeless people to benefits and services. For example, Denver's "Road Home" plan began in 2005 with the goal of helping homeless people with disabilities. Denver organized all the existing outreach programs in the city and added 20 more outreach workers as well as a program coordinator. In the first 3 years, the program helped 2,000 people in Denver access public benefits and services. Another program in Portland set up training to teach all homeless case workers what major benefit programs are available and how the homeless can apply.
One big problem is that having a criminal record makes people ineligible for certain benefits, such as federal housing subsidies. When disabled individuals are incarcerated, their SSI is suspended. If they are incarcerated for more than a year, SSI benefits are terminated and the person must then submit a new application. The process could take months or even years, meaning an increased chance for homelessness in the meantime.
High Cost
Recent studies show that laws targeting the homeless are not always cost-effective. The Utah Housing and Community Development Division reported that the annual cost of emergency room visits and jail stays for the average homeless person was $16,670. Providing someone an apartment and social worker would only cost $11,000.
A 2013 analysis by the University of New Mexico's Institute for Social Research examined the costs of providing immediate, permanent, supportive housing to the homeless rather than the more typical transitional housing. Albuquerque's "Heading Home" Initiative made extensive use of community partnerships to coordinate housing and services. Overall, the study found that housing the homeless is 31 percent cheaper than keeping them homeless, mainly because housed individuals use emergency services less frequently. Their research showed that simply by providing permanent housing, Albuquerque reduced spending on homeless-related jail costs by 64 percent. The costs of emergency room visits also declined 13 percent, while spending on mental health visits increased 34 percent.
---
Do these laws help protect the homeless?

Very rarely are cities explicitly aiming to make the lives of the homeless even harder by instituting these laws. Many cities see these laws as a way to ensure public safety as well as the safety of the homeless. For instance, laws prohibiting sharing food with the homeless are aimed at protecting the homeless from bad food. Food given illegally could be made with questionable food safety practices or could come from someone with more nefarious intent like poisoning the food. Other cities worry about the effects of public feedings. For instance, a church group may set up in a park next to a school, which would leave many parents upset over the safety of their children. Watch for rationale behind feeding laws below:
Laws outlawing public camping are often a way for the city to push the homeless to stay in safer shelters, especially in dangerously cold weather. Staying in a shelter generally keeps the homeless safe from people who may otherwise harm them on the streets. Shelters can also help cities connect the homeless to other beneficial social service programs. Officials also say these laws help to encourage better pubic hygiene and safety. Other laws target panhandling. Police object to panhandling since it is often done in high-volume, potentially dangerous areas, such as a highway median.
---
So why can't the homeless find a place to stay?
More than 12.8 percent of the nation's supply of low income housing has been permanently lost since 2001. This is largely due to a steady decrease in funding for federal subsidies for standardized housing since the 1970s. There are fewer emergency shelter beds than there are homeless people. The number of shelters in the United States rises each year, but the increased supply of beds does not always correspond to the areas of highest demand. In certain areas where there is a lack of affordable housing, the shelters still do not provide enough beds. Further, waiting lists for subsidized housing in most areas are incredibly long. The city of Los Angeles has only 11,933 shelter beds for a homeless population of 53,798. If cities cannot provide adequate shelter beds, there is no place for the homeless to go but the streets.
Typically shelters are run by non-profit organizations associated with church groups or the federal or state government. Numerous national organizations, such as Salvation Army, United Way, and the National Alliance to End Homelessness, aid in the upkeep of homeless shelters. Most shelters require residents to exit in the morning and go somewhere else for the day before returning at night for a meal and to sleep. Shelters try to offer a variety of services, including job training and rehabilitation programs, but some are criticized for being nothing more than holding facilities. One shelter in Washington, D.C. in particular has dealt with corrupt workers preying on the homeless residents as well as a decaying building, contagious infections, and hazardous bug infestations.
Another significant obstacle is how to find housing for vulnerable populations like the previously incarcerated, the recently hospitalized, and veterans. Once released from jail or prison, many have no place to turn and no money to pay for housing. Those released from hospitals are also more likely to suffer from homelessness and even mental illness.
Housing First models have grown in popularity in recent years as part of the movement to find new ways to help the homeless. One of the first Housing First models was launched in Los Angeles in 1998 by the non-profit PATH Beyond Shelter. The success of the policy led to its spread to a number of U.S. cities. Rather than moving the homeless through different levels of housing, Housing First models move the homeless immediately from the streets or a shelter into their own apartment. The idea is that once housing is obtained, other issues like mental health or addiction can more effectively be addressed. By using a Housing First model, Phoenix became the first city to successfully house all of its chronically homeless veterans.
Watch the video below for more information on the Housing First program:
---
Libraries and the Homeless
With the homeless finding it increasingly difficult to find someplace to sit outside, libraries are a prime spot to spend their days. As social safety nets shrink, libraries have become more vital than ever to homeless populations. Libraries are free, centrally located, provide numerous books and computers, and allow the homeless to escape from snow or scorching temperatures. Increasingly, libraries have added homeless outreach to their array of programs.
Being a de facto gathering place for homeless populations can often deter use by other patrons. Striking the balance between making the homeless feel welcome and making other visitors feel comfortable is tricky. Naturally libraries deal with complaints regarding homeless people being loud, unclean, mentally ill, monopolizing computer time, and bathing in restrooms. Some libraries institute their own rules to mitigate these problems. For example, rules in Washington, D.C. prohibit alcohol, bare feet, carrying more than two bags, sleeping, or an odor that can be detected six feet away.
Watch the video below to see how a library in Burlington, Vermont, deals with the homeless:
Libraries have not turned a blind eye to the needs of the homeless. In response to problems with the homeless population, the city of San Francisco hired a social worker for its main library. The social worker is aided by five peer counselors, all of whom are formerly homeless. The library even implemented a 12-week "vocational rehabilitation" program. Graduates of the program are then hired to work in the system. Other libraries in Washington, D.C. and Philadelphia have since followed suit to hire social workers.
In Greensboro, North Carolina, libraries offer meals, haircuts, blood pressure screening, and job counseling. Libraries in San Jose, California bring library programs, such as computer classes, to homeless shelters. The central library in Philadelphia even features a cafe staffed by the homeless, who then use the job skills gained to secure other employment. The American Library Association calls for even more programming targeting the homeless, recognizing that libraries should provide training to staff and coordinate programs and activities to benefit that population.
Cities need more affordable housing to help the homeless. Ideally they should seek to confront problems of homelessness and provide solutions rather than criminalize homeless behavior. Naturally many communities do not want to have to deal with the homeless in public areas, but criminalization of homeless behavior is costly, unconstitutional, and hinders a person's future ability to secure a permanent place to stay.
---
Resources
Primary
HUD: 2013 Annual Homelessness Assessment Report to Congress
 Additional
No Safe Place: The Criminalization of Homelessness in U.S. Cities
Reuters: U.S. Libraries Become Front Line in Fight Against Homelessness
Huffington Post: More Cities are Basically Making it Illegal to be Homeless
The New York Times: Shunting the Homeless from Sight
USA Today: More Cities Pass Laws that Hurt the Homeless
Wall Street Journal: A Crowdfunding App for the Homeless
Blaze: Top 10 Anti-Homeless Measures Used in the United States
American Library Association: Reducing Homelessness Through Library Engagement
NPR: Urban Libraries Become De Facto Homeless Shelters
MSN: Court Overturns Los Angeles Ban on Living in Cars
ALA Library: Services for the Poor
Arizona Central: Success in Housing for Homeless Veterans in Phoenix
Harvard Civil Rights/Civil Liberties Law Review: Jones v. City of Los Angeles: A Moral Response
NPR: With A Series of Small Bans, Cities Turn Homelessness into a Crime