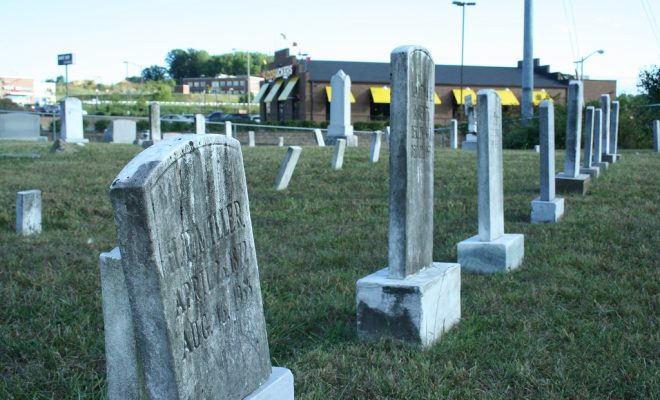 "City Graveyard" courtesy of David Joyce; license: (CC BY-SA 2.0)
Weird News
Family Buries Wrong Person After Coroner Mix-Up
By
|
A man in California thought he was burying his son. Frank J. Kerrigan spent $20,000 on the funeral ceremony and accepted that his son, Frank M. Kerrigan, was gone. But 11 days after the funeral he found out the person in the casket was someone else. Understandably, he was shocked when a friend called and put his son on the line
The Orange County coroner misidentified Kerrigan's son, who is 57 and has a mental illness and is living on the streets. Police said he was identified through fingerprints, and so identification by family members was unnecessary. But the Kerrigan family's attorney said the fingerprint identification failed, so officials instead used an old driver's license photo.
"When somebody tells me my son is dead, when they have fingerprints, I believe them," Kerrigan said.
Apparently the men must have looked very much alike, as the family did not realize the mistake despite having an open casket at the funeral. Now family members are planning to sue the coroner's office, saying that authorities didn't care much about making a positive identification of Kerrigan because he is homeless.
Father buries his son in $20k funeral – then told days later that the coroner made a mistake and his son is ALIVE! https://t.co/Qr0cpWM5La pic.twitter.com/Qzv8hNR2BI

— Daily Mail US (@DailyMail) June 24, 2017
Frank's sister Carole Meikle visited the scene where she believed her brother had died. "It was a very difficult situation for me to stand at a pretty disturbing scene. There was blood and dirty blankets," she said.
It is unclear how the man passed away, but the bloody scene did not match what officials had told the family–that Frank passed away "peacefully." The dead man's identity is unknown.
Frank chose to go back to the streets. But because of the authorities' mistake, federal agencies also think Frank is dead and have stopped providing his disability payments. The family is currently working on straightening the situation out.
The Kerrigans informed the authorities of the mix-up, and the Sheriff's Department extended regrets for "any emotional stress caused as a result of this unfortunate incident. As part of the internal investigation, this incident and all identification policies and procedures will be reviewed to ensure no further misidentifications occur."
A lot of people came from as far as Las Vegas and Washington to attend the funeral, and the dead man was buried close to Frank's mother's grave, in a spot reserved for family members. "We thought we were burying our brother," said Meikle. "Someone else had a beautiful send-off. It's horrific."