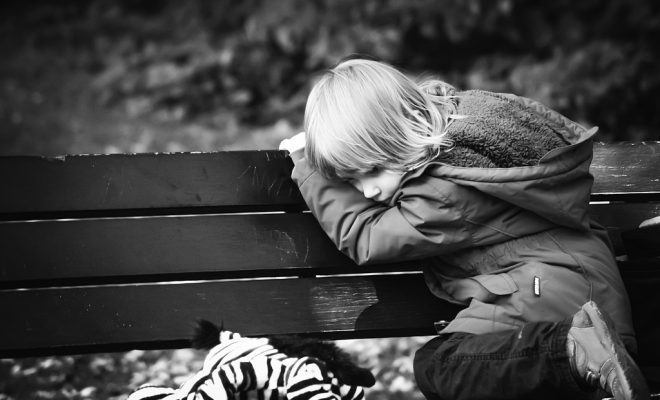 Image courtesy of [U.S. Fotografie via Flickr]
Law
The Child Welfare System: Kids Falling Through the Cracks
By
|
Multiple public and private agencies make up the child welfare systems across the country. Although the primary responsibility falls on the shoulders of state governments, the federal government supports the states through funding, program development, and legislative initiatives. Both state and federal governments are essential to the process. The child welfare system's mission is to create safe and permanent environments for children and to strengthen family units. It is an immense and complex project. So immense and complex, however, that important aspects of child safety fall through the cracks. Oversights are often devastating. Read on to learn more about the challenges that abate the U.S. Child Welfare Systems' mission.
---
Overview of Child Welfare Systems
Child welfare systems generally do the following:
Receive and investigate reports of possible child abuse and neglect, provide services to families that need assistance in the protection and care of their children, arrange for children to live with kin or with foster families when they are not safe at home, and arrange for reunification, adoption, or other permanent family connections for children leaving foster care.
Public and private agencies also work to provide services such as "in-home family preservation services, foster care, residential treatment, mental health care, substance abuse treatment, parenting skills classes, domestic violence services, employment assistance, and financial or housing assistance."
The Children's Bureau, part of the Department of Health and Human Services (HHS), is the primary federal institution working with state and local agencies to implement federal child and family legislation. Collaboratively, they create programs that prevent child abuse and neglect. Such efforts are authorized by the Child Abuse and Treatment Act (CAPTA) of 1974. CAPTA provides "federal funding to states in support of prevention, assessment, investigation, prosecution, and treatment activities" and awards "grants to public agencies and nonprofit organizations for demonstration programs and projects."
The Process
First, a concerned person reports suspected child abuse or neglect. More often than not, this person is a "mandatory reporter," a person required by law to submit a report if he or she suspects child abuse or neglect. Mandatory reporters include individuals who have regular contact with children such as social workers, school personnel, healthcare workers, mental health professionals, child care providers, medical examiners or coroners, and law enforcement officers. Approximately 48 states and other territories have mandatory reporter laws. In many states, every person, regardless of occupation, is legally required to make such a report.
After a report is submitted, it is either "screened in" or "screened out" depending on the amount of information and sufficiency of evidence. If a report is screened in, a Child Protective Services Caseworker will come in and assess the situation. He or she will talk to the child and relatives. If a child is suspected of being in immediate danger, then the child will be brought to a shelter, foster home, or relative's house while the investigation plays out. At the end of the investigation, the case worker will typically either find the case unsubstantiated or substantiated depending on the evidence. The agency can then initiate a court action if it feels the authority of juvenile court is required during the trial in order to remove the child from the home. In substantiated cases where there has been child abuse or neglect, the threat is labeled as low, moderate, or high. Depending on the severity of the case, the caseworker may recommend community-based resources and service systems, or recommend complete removal of the child from the home. Low-risk parents are often provided support or treatment services, while high-risk parents may be indicted on criminal charges.
---
Child Welfare System Challenges
Many of the most severe challenges in the Child Welfare System lie in the Foster Care System. Nearly 400,000 children in the United States are living in the foster care system without permanent families.
Over-Institutionalization of Children
You don't need to be a licensed therapist to know that a positive family dynamic is essential to a child's well being and mental health. Today, a disturbing amount of children in the child welfare system are placed in institutions rather than homes. Approximately 57, 000 children are living in group placements. The Annie E. Casey Foundation, a children's advocacy group, recently published a report on this serious issue, advocating that "secure attachments provided by nurturing caregivers are vital to a child's healthy physical, social, emotional and psychological development throughout his life."
Children in group placements are at greater risk of abuse and arrest. One in seven children in the child welfare system lives in group placements and 40 percent of those children do not have "documented behavioral or medical need that would warrant placement in such a restrictive setting." Young people stay in group placements for an average of eight months, although research recommends a stay of three-to-six months for those who require residential treatment. Kids in group placements also suffer from an inappropriate mixing of ages. According to the Society of Research in Child Development, young adults are more susceptible to peer influence. Younger children can suffer from being placed with older kids with behavioral health problems.
Insufficient Background Checks
A major source of controversy in the child welfare system is adequate background checks performed by case workers. There is an overload of cases of foster parents with a criminal background taking in children. For example, Oklahoma is currently under investigation for child abuse and neglect in its foster care system. A recent report, conducted after the death of a 20-month-old boy in foster care, showed that less than 5 percent of the 125 cases investigated for abuse in Oklahoma contained criminal background checks for foster parents.
Caseloads
Caseworkers across all child welfare systems consistently have extensive caseloads. The more cases, the less time and effort a caseworker can devote to each individual child. It also minimizes the ability for a child and caseworker to develop a meaningful relationship, and caseworkers are sometimes blamed for child abuse or neglect in foster homes under their supervision. For example, Catherine Davis, a family services agency caseworker in New Jersey, was suspended after seven-year-old Faheem Williams was found starved to death in his home. His two brothers were also malnourished and burned. Davis had somewhere between 99 and 107 cases. The Child Welfare League of America recommends that "workers carrying ongoing in-home protective services cases…carry no more than 15-17 families."
Aging Out
When foster children turn 18, they age out of the child welfare system. Many of these children move forward with very little or no support at all. In 2012, 23, 396 foster children aged out of the system. Almost 40 percent were homeless or couch surfing, and 48 percent were unemployed. Fifty percent experienced issues with substance abuse, while 60 percent of the young men had been criminally charged. Nearly a quarter of those aging out did not obtain a high school diploma or GED, and only six percent had graduated with a two or four-year degree.
---
Case Study: Active Class-Action Suit MD. vs Perry
On behalf of the children in the Texas child welfare system, the Children's Rights Law Firm of New York, along with co-counsel Haynes & Boone, Yetter Coleman and Canales & Simonson, filed suit against the state of Texas  for "violations of plaintiff children's constitutional rights, including their right not to be harmed while in state custody and their right to familial association."
M.D. is one representative of the plaintiff children. She entered foster care at the age of eight. Although initially sent to live with relatives, she returned to state custody after sexual abuse occurred in the home. She moved to multiple placements, including group institutions, where her mental health suffered. When the original complaint was filed, M.D. "lived in a restrictive short-term therapeutic placement with no visitors or basic privileges."
The main focus of Children's Rights in this suit is to give children in the Texas welfare care system permanency, whether obtained from reunification with relatives or adoption. Children's Rights primarily looked at cases where the child had been in foster care for a minimum of 12-18 months, as after a year to a year and a half, foster children's success rates plummet. Chances for emotional and psychological distress increase and they often act out and exhibit unruly behavior, severely ruining their chances for adoption/permanency. Children without a permanent home age-out without any kind of safety net.
The suit was filed March 29, 2011 and is currently in progress. Children's Rights is currently in litigation with eight other states as well.
---
Conclusion
Child welfare systems are broken and reform is inevitable. Travesties occur way too often and are not publicized enough. We need to give foster children a fighting chance to survive on their own after 18. That starts with creating a safe and permanent environment for them while in the welfare system. Turning 18, after a lifetime of struggle and little support, does not make an adult. Fortunately, there are multiple advocacy groups across the country on a mission for reform.
---
Sources
Primary
Child Welfare Information Gateway: How the Child Welfare System Works
Additional
Annie E. Casey Foundation: Too Many Kids in U.S. Child Welfare Systems Not Living in Families
Children's Rights: In Oklahoma, Asking a Few Questions Might Have Prevented a Boy's Tragic Death
Child Welfare Information Gateway: Mandatory Reporters of Child Abuse and Neglect
The New York Times: Caseworkers Say Overload Makes it Risky For Children
Society of Research in Child Development: The Detrimental Effects of Group Placements/Services For Youth With Behavioral Health Problems