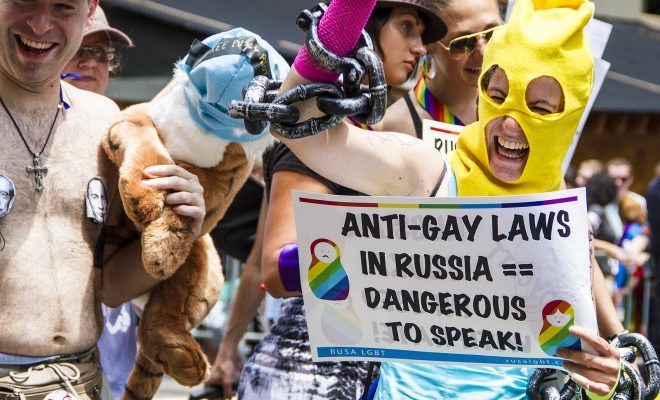 Image courtesy of [Kasya Shahovskaya via Flickr]
Entertainment & Culture
Russia's Anti-Gay Laws: The Discrimination Continues
By
|
Russia's treatment of its gay citizens has long been very unforgiving. The country often systematically discriminates against LGBT citizens, has rashes of hate crimes, and has been decried by much of the international community for the human rights abuses against the LGBT community. Read on to learn about the recent history of LGBT abuse in Russia, current issues, and what the future may hold.
---
Recent History of LGBT Rights in Russia
Russia is extremely socially conservative when it comes to LGBT rights. The influence of the Eastern Orthodox Church plays a large part in this, as it consistently stands very strongly against homosexuality.
On June 30, 2013, the upper house of Russia's parliament passed a bill banning propaganda involving non-traditional sexual activity from being given to minors. The law defines propaganda as:
distribution of information that is aimed at the formation among minors of nontraditional sexual attitudes, attractiveness of nontraditional sexual relations, misperceptions of the social equivalence of traditional and nontraditional sexual relations, or enforcing information about nontraditional sexual relations that evokes interest to such relations . . . .
The law sets the penalty for individuals distributing propaganda at 4,000-5,000 rubles ($120-$150). The penalty for groups, such as NGOs or corporations, is up to 1 million rubles ($30,000). There are also harsh penalties for non-Russian citizens who break the laws. Foreigners can be sentenced to 15 days in prison, and possibly even deported from the country.
Around the same time, a much broader blasphemy law came into effect in Russia, which allows for prison sentences of up to three years for those who attend protests that infringe on Russian citizens' religious feelings.