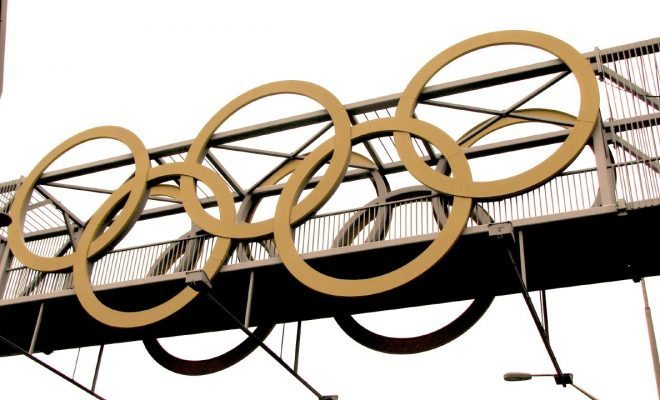 Image courtesy of [nghiem vo via Flickr]
Entertainment & Culture
Is Exclusion Still the Norm? Saudi Arabia and Women in the Olympic Games
By
|
Since the Olympic Games were first opened to women in 1900, female athletes have stunned the world with their athleticism and dedication. Like their male counterparts, they train for years–even decades–to achieve perfection in their sport, pushing their bodies to the breaking point in order to bring home a medal for their country. In 2012, Team USA was comprised of more women than men, prompting USA Today to call London 2012 "The Title IX Olympics."
Yet although we appreciate and applaud our female athletes every four years during the Games, their road to the Opening Ceremony can be significantly rockier than that of their male team members. In fact, 2012 was the first year in which every country in the Olympic Games had female athletes participating–not because not enough female athletes had failed to qualify for the competition but because Saudi Arabia had historically banned female athletes from competing in the Games. After considerable international pressure, Saudi Arabia agreed to send Wodjan Ali Seraj Abdulrahim Shahrkhani for judo and Sarah Attar for the 800 meter race to the London 2012 Games–the first time in history the nation sent female athletes to the games. Qatar and Brunei's female athletes at the London Games were also the first female members in the history of their Olympic participation, but in both of those countries, the policies restricting women in sports are significantly less harsh.
However the battle to include female Saudi athletes was hard fought. There was significant criticism when Saudi Arabia originally didn't include any women–Human Rights Watch called for a ban on the entire Saudi delegation unless it included female athletes. Read on to take a look at the tough fight for gender equality in the Olympics.
---
The Attention on Gender Equality in the Olympics
History of Exclusion and Inclusion
Today we may take our female athletes for granted, as over 44 percent of the participants in the last summer games were women, but they can face a form of discrimination that their male peers rarely encounter. It has taken decades to open certain sports to women–consider that ski jumping in the Winter Olympics only became open to women during the Sochi 2014 Winter Games. It was not until 1991 that the Olympics officially opened all sports to both genders, but that declaration was undermined by the caveat that sports from the inaugural 1924 Games did not have to be open to female athletes. The rationale behind this ban on women's participation is tied to the idea that women are at greater risk of physical harm when competing or that they do not have the same physical stamina as male athletes.
Equality?
Even when women are allowed to compete in their sport, there is no guarantee they will have the same privileges that male athletes receive. When the U.S. Women's National Soccer Team filed their EOEC complaint regarding salary earlier this month, they threatened to boycott the Olympic Games unless they received comparable pay to their male counterparts. Under the 1978 Amateur Sports Act, the United States Olympic Committee and its National Governing Bodies are required to operate in a non-discriminatory fashion but not all nations have dedicated the same legal attention to gender parity.
However, no matter what a country's domestic policy is on women in sports, the International Olympic Committee (IOC) has seemingly gone the extra mile to ensure that women can compete at the Olympic level. The "universality clause" states that athletes who do not qualify for an event during the trials can still compete if they are considered critical to the national team "for reasons of equality." It was under this clause that both female Saudi athletes were able to compete in London 2012.
---
Case Study: Saudi Arabia as a Last Holdout
Saudi Arabia has effectively placed a blanket ban on women's sports, even though there is no law preventing women from participating in organized sports (just as there is no official law preventing women from driving). But in order for women to train, they must attend a gym with separate women's facilities–and only a handful of gyms across the country possess a separate women's building. Community centers and schools almost never offer women's training spaces so most women wishing to exercise, let alone train for an organized sport, may have to travel outside of the country to do so. Girls attending government schools are prohibited from taking part in sports. There were discussions in 2014 about allowing physical education programs in public schools but that conversation has stalled and come to naught. Besides being a policy that prevents women from competing in athletics, it can be seen as an incredibly dangerous public health maneuver, considering that 34 percent of Saudi Arabian women are obese and Type 2 diabetes is prevalent throughout the Saudi population.
There is not necessarily a lack of interest in sports among women in Saudi Arabia. In July 2012, a group of citizens requested to organize a women's sports tournament including volleyball, soccer, and basketball, promising that it would comply with a dress code and would not involve the mixing of genders, yet that request was denied by Saudi officials at the sports ministry. The ministry gave no reason for denying the request. Beyond preventing women from playing sports, the government also generally prevents them from attending sporting events as spectators.
The 2012 Competitors 
Wojdan Shaherkani, the 16-year old judo competitor from Mecca who came to the Games in 2012, lasted less than two minutes on the mat during her first bout at the London Games. Whereas virtually all competitors at the Olympic level have a black belt, Shaherkani had only a blue belt when she entered the Games, having only practiced the sport for two years. Shaherkani was granted no financial or media support from the Saudi delegation. Her match was broadcast on a handful of cable television channels in the Kingdom but was otherwise ignored.
Like Shaherkani, Sarah Attar failed to develop popularity or receive respect from the populace. Attar is from San Diego and holds dual Saudi and American citizenship. Attar is training for the Rio Games at training facility in California, where she is sponsored by Oiselle, a subsidiary of Nike that looks to promote women in sports, and runs without a hijab. She dons the hijab when she races as an Olympian out of respect for Saudi Arabia, a country she hopes to keep representing for the foreseeable future. She may be wearing the colors of Saudi Arabia when she races in the Olympic trials, but some of the population she represents either refuses to watch her run or has labeled her a "prostitute." She is funded by an American company, not a Saudi one.
---
Conclusion
As we approach the Rio Games, female athletes around the world are competing in Olympic trials, hoping to represent their nations on the world stage.  Yet not all female athletes compete on the same footing as their male counterparts. Nations such as Qatar and Brunei still have relatively restrictive policies on women's sports, but at least young girls are given the opportunity to compete and exercise within the borders of their homeland. Qatar is even striving to take more female athletes to the Games in Rio than they ever have before.
However Saudi Arabia still lags behind. Studies have shown that young women who play sports have higher self-esteem, are more likely to do well in school and graduate, and less likely to suffer from depression or have an unplanned pregnancy. Qatar and Brunei have set a positive example by integrating female athletes into their teams, and Saudi Arabia now has the opportunity to follow that example in Rio.
---
Resources
CNN: Olympic First as Saudi Arabia Names Two Women in London 2012 Team
Feminist Majority Foundation: Equality for Women in the Olympics
The Week: The Olympics' Longstanding Gender Gap
GOOD: The Women's National Soccer Team Threatens to Skip the Olympics 
The Huffington Post: As Rio 2016 Draws Closer, When Will Discrimination End For Sportswomen In Saudi Arabia?
Institute for Gulf Affairs: Killing Them Softly 
The World Post: Saudi Arabia's Olympic Paradox: Insulting Women, Islam and "Prostitutes"
Running.Competitor.com: Q&A with Sarah Attar
The Gender Report: Women Making History in 2012 Olympics
The Guardian: Saudi Arabia's Judoka Strikes Blow for Women's Rights at Olympics