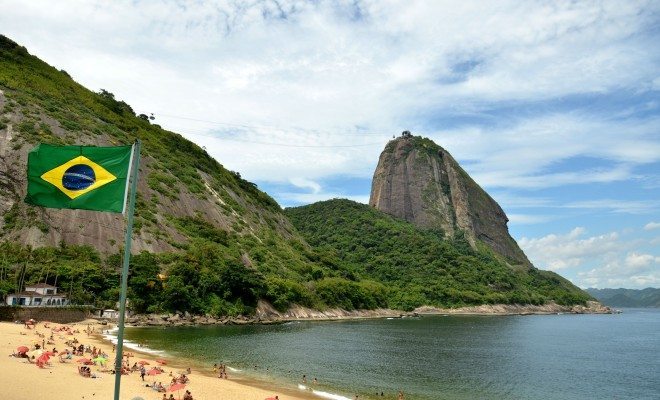 "Morro do Pão de Açúcar" courtesy of [Rodrigo Soldon via Flickr]
Entertainment & Culture
How to Get Away with Steroids: Doping on the Eve of Rio 2016
By
|
Abeba Aregawi is one of the world's fastest women. She is the reigning world champion in the indoor 1500m, and competed in the 2012 London Olympics, the 2013 Moscow World Championships and the 2014 World Indoor Championships in Sopot. However, it is not her athletic accomplishments that have put her in the spotlight this month–it is her suspension from running after testing positive for a banned substance. Aregawi has stated that she did not take drugs and has asked for a separate sample to be taken and tested in order to clear her name.
But as we draw closer to the 2016 Rio Olympics, professional athletes are pushing themselves harder and harder in order to compete at the highest level of their sport–even if that means bending the rules on performance-enhancing drugs. Aregawi is only one of dozens of Olympic athletes who have been accused of using banned substances in the lead up to the summer games. Just this month, a senior Ethiopian official admitted that nine of the country's elite runners have been placed under investigation for doping. Take a look at the current state of Olympic drug regulation and what it means for Rio 2016.
---
Changes to Doping Regulations
This month, the International Olympic Committee (IOC) announced a major shift in the oversight of doping for future Olympic games. The IOC has agreed to remove itself from the oversight commission and to instead hand authority over to a group of independent sports arbitrators. The Court of Arbitration for Sport (CAS) is forming a new committee of one to three doping "specialists" to oversee cases presented by athletes and officials who wish to contest charges of doping brought against them.
This transition is designed to make doping cases more equitable and independent, but the logistics involved in handing this responsibility off to a different organization are proving challenging for the IOC. The CAS is setting forth new guidelines which countries may not be able to adapt to with ease. As of now, the Brazilian anti-doping agency is not in line with CAS regulations.  If the agency can not reform its drug testing facilities by the end of the month, samples will have to be sent to facilities outside of Brazil for testing–a cumbersome task that will delay processing for athletes and could increase the risk of contamination or tampering with samples.
Banning Non-Compliant Countries
The World Anti-Doping Agency recently proposed banning Kenya from the coming Olympic games after Kenyan officials missed a deadline to implement new, stricter regulations. In the last three years alone, approximately forty Kenyan athletes have been banned from their respective sports because of doping. The threat of a ban has been looming over Kenya for months but recent talks have set April 5 as the definitive deadline to reform its doping policy if it wants to partake in the Rio Games. Lord Sebastian Coe, president of the International Association of Athletics Federations (IAAF), has made it clear that he is comfortable cutting Kenya from the Olympic roster. Wilson Kipsang, president of the Professional Athletes Association of Kenya and a former marathon world record holder, said in a recent statement that:
If we are banned, Kenya will never be the same again.  This is a country which has made its name as an athletics giant. We have done well in the Olympic and world championships and therefore, we should not miss out complying with the doping directives…Since the formation of Adak [the Anti-Doping Agency of Kenya], the agency has never been formalised and most importantly given powers to deal with doping. It also needs legislative will from government.
Although Kipsang claims that a ban would destroy Kenya's athletic reputation, Russia was banned from world athletics in 2015 but its expulsion has been lifted in time for the country to send its best athletes to Rio this summer. A brief hiatus from Olympic competition would be a blow to Kenyan athletes who have been training to compete this year, but it would not necessarily be as strong a punishment as the IOC and the IAAF might think. If the ban only includes a single Olympics, national teams can make minimal adjustments to their training programs and then return to doping again in the future, once they are not being scrutinized so closely. Only a long-term ban may carry sufficient enough weight to dissuade athletes from doping at the Olympic level.
---
Bribery in the IAAF
Despite the IAAF's efforts to reign in corruption, there are problems within the organization itself that have tarnished its credibility. A January report on the IAAF suggests that Russia was only able to sustain its doping practices thanks to widespread corruption embedded within the organization . Former IAAF president Lamine Diack has been accused of taking bribes from Russian athletes and of planning to blackmail marathon runner Liliya Shobukhova.
There are further accusations that the IAAF accepted bribes during the bidding process for hosting the 2017 World Championships. Papa Massata Diack, the son of former President Lamine Diack, has been accused of soliciting a five million dollar payment from Qatar in exchange for securing its bid. There is no evidence that he received this payment but the fact that he asked for it reveals potential the corruption within the bidding process. Unforunately, Papa Massata Diack is currently in Senegal and cannot be formally held accountable for his actions until he is extradited back to Europe.
These scandals within the IAAF have prompted major companies such as Nestle and Adidas to withdraw from their sponsorship deals, pulling millions of dollars of funding away from world athletic events. As sponsors jump ship, Lord Sebastian Coe is left in charge of an allegedly inefficient and corrupt organization that is gradually losing its control over the athletic industry it exists to regulate.
---
American Icons
The United States has a grand tradition of athleticism on the world stage. Michael Phelps, history's most decorated Olympian, is currently trying to qualify for his fifth Olympics. Yet at the same time, we have a consistent tradition of doping among our elite athletes. In 2004, cyclist Tyler Hamilton lost his gold medal after it was discovered he had been blood doping–receiving blood transfusions to improve his abilities. In 2007, gold medalist Marion Jones admitted to doping and was stripped of her medals before serving six months in jail. Just last spring, the U.S. men's sprint relay team was stripped of their medals after the IOC discovered team member Tyson Gay had been using a product containing a banned substance.
The most famous American doping scandal to date broke in 2013, when Lance Armstrong finally admitted to sustained use of performance enhancing drugs after a 2012 investigation that resulted in a lifetime ban from professional sports and the removal of his Tour de France titles. Yet instead of fading into anonymity, Armstrong's doping–and more specifically, how he got away with it–has become a topic of fascination for reporters and filmmakers. Athletes who are caught doping don't always fade from the public sphere, they simply shift from the heroic narrative of the champion to the notoriety of the rule breaker. As American athletes train for Rio, it is important to remember that Kenya and Russia are not the only countries where athletes have sustained a program of performance enhancing drugs during championship events.
---
Conclusion
Monitoring banned substance abuse within the Olympic games is a daunting task that involves coordination between dozens of governments, sports organizations, and individual athletes. The possibility of a false positive can never be ruled out until comprehensive testing is completed but long-term doping is not a myth. Recent overhaul of the doping regulations and efforts to be stricter on countries that violate them are a step in the right direction but this progress has been undermined by the scandals within the IAAF. The United Kingdom has stepped up to the plate, requiring its athletes to agree to never represent their country if they take drugs and proposing a life-long ban on athletic competition after even a single drug offense. Other countries have yet to institute such stringent anti-doping policies, which raises troubling questions about how much national teams care about sportsmanship and equality in international competition. The Rio Olympics have already been fraught with problems, from a failure to sell tickets to fears regarding the Zika virus. A failure to address and rectify doping scandals within the competition could both disrupt the logistics of Rio 2016 and permanently destroy the reputation of the Olympic Games as an institution.
---
Resources
BBC: Abeba Aregawi: World 1500m Champion Fails Drugs Test
BBC: Senegal 'Won't Extradite' IAAF Bribery Suspect Papa Massata Diack'
ABC News: IOC to Remove Itself From Handling of Doping Cases in Rio
The Sidney Morning Herald: Rio Olympics 2016: Independent Body to Take over Judging of Doping Cases
The Telegraph: Kenya Edges Closer to Olympics Ban over Doping
The Telegraph: Wada Report on Doping: This Scandal is not Just a Russian Problem, it is an Issue Worldwide
The Guardian: Sebastian Coe: IAAF Could Ban Kenya from 2016 Olympics in Rio
The Guardian: IAAF in Crisis: a Complex Trail of Corruption that Led to the Very Top
The Washington Post: WADA's New Report Cites 'Embedded' Culture of Corruption in IAAF
Sky Sports: Former IAAF President Lamine Diack Investigated in Doping Bribery Probe
Sky News: Qatar Athletics Bids Investigated For Bribery
The Richest: 10 Most Shocking Doping Scandals In Sports History