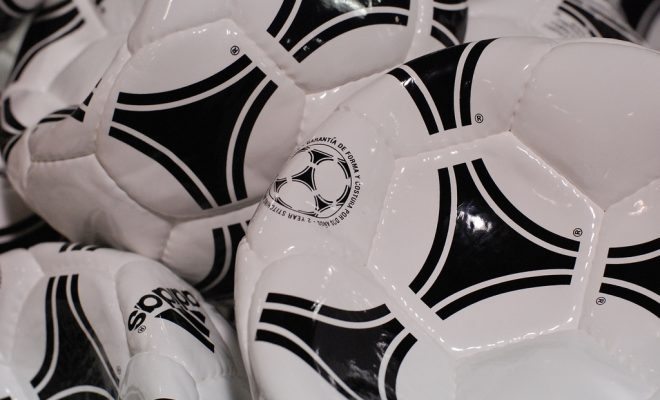 Image courtesy of [Josh Hallett via Flickr]
Entertainment & Culture
The Dark Side of the World Cup: Corruption, Bribery, and Civil Unrest
By
|
As soccer fans around the globe eagerly tune in to the FIFA World Cup in Brazil, it is important to take a hard look at the world's most beloved tournament and its impact on the host countries. It may initially seem that host country selection is a tremendous honor and will result in an economic boom; however, systemic corruption and bribery suggest that not all money is good money.
---
The Benefits and Impacts of Hosting
Following the announcement on October 30, 2001 that Brazil would be the Host Nation of the 2014 FIFA World Cup, the developing country was propelled into a state of pride and eager anticipation. Five-time world champions and birthplace to an abundance of soccer legends such as Pelé and Ronaldinho, Brazil initially viewed hosting the 20th World Cup as an honor. The sport is not only revered at a near religious sacredness in Brazil, but additionally, the perceived economic benefits would be tantalizing for any nation.
Tourism
The final match of the 2010 World Cup between Spain and the Netherlands drew in at least 1 billion viewers, with the 2014 games expecting to surpass that number.
3.7 million tourists will descend upon the country during the tournament's four-week run.
A projected $11.1 billion will be spent on hotels, airlines, advertising, and various other expenditures.
Job Creation
Brazil estimates that 380,000 jobs were created because of the World Cup.
The preliminary sense of privilege, however, began to wear away as obstacles continued to emerge and speculation of Brazil's inability to host the tournament could not be alleviated.
---
World Cup 2014: Brazil
How is it Financed?
The country's original plan claimed that private donors would finance the development and renovation of stadiums. Much to the dismay of Brazilians, this plan has greatly diverted. According to The Wall Street Journal's John Lyons and Loretta Chao, taxpayers have paid $3.6 billion for the stadiums. São Paulo will be the arena for the opening game, a brand new stadium with 62,000 seats that came with a  $550 million price tag. The stadium will go to the Corinthians soccer team after the Cup, but since the team was unable to provide enough private lenders, the stadium's financing ended up coming from $200 million in tax breaks and government loans. The 2014 World Cup has accumulated a cost of $11.5 billion, which is twice the amount of the previous two World Cups in South Africa and Germany.
Reported by the Pew Research Center, 72 percent of Brazilians are dissatisfied with the way things are going in their country. Additionally, 61 percent of citizens believe hosting the event has been damaging for Brazil because it takes funding away from schools, heath care, and other public services.
Location
Manaus Stadium is another example of poor planning. The 39,000-seat stadium was constructed in the capital city in the state of Amazonas while its greatest local games scarcely attract 1,500 spectators. Since the city lacks a notable soccer team, the stadium will be rendered useless after the Cup — a significant reason as to why private lenders once again did not contribute and the blunt of the cost fell on to the citizens.
Corruption
Following the historical trend, many corruption allegations have surfaced in the lead up to this year's World Cup. One such example, according to a report by a city auditor, is that the cost to build a stadium in Brasília was $636 million, a 68 percent increase compared to the initial projected cost. Andrade Gutierrez S.A., the builder of the stadium, chose not to comment on the "grave irregularities" found in the report. These abnormalities, such as transportation being over-billed and a 12.1 percent loss rate on steel, were a source of the distended budget.
With $4 billion spent on stadiums and an insufficient amount of funds allocated to public services, the people of Brazil have taken to strikes and protest to promote their needs.
Civil unrest
Movimento Passe Livre (Free Fare Movement), which advocates for free public transportation, gained attention on June 13, 2013 when police turned a peaceful protest into a place of terror. Officers fired rubber bullets and firing grenades at bystanders and fleeing protesters. Those who were trapped in the mayhem were subjected to inhaling pepper spray and tear gas. The movement quickly spread across a dozen state capitals. These protests occurred simultaneously with the Confederations Cup matches. BBC Sport's Ben Smith reported that throughout the June 6, 2013 match between Uruguay and Nigeria, "the deep rumblings, loud bangs and the crackle of police weapons could be heard in the streets nearby," leaving many with questions if the social problems Brazil is facing would hinder its ability to host the Cup a year later.
Subway Strikes
Close to the opening ceremonies, subway strikes erupted in Sao Paulo. Approximately four million people a day use the subway. The workers hoped that the strike would lead to increase in pay and better working conditions; however, the São Paulo court ruled that striking over pay was illegal.
The Homeless Demand Answers
In May 2014, the Movimento dos Trabalhadores Sem-Teto (Homeless Workers' Movement, or MTST) and the Fronte de Resistência Urbana (Urban Resistance Front) — both organizations representing homeless citizens — protested 20,000 strong in São Paulo. The protesters demanded answers about how the government spent public funds on the World Cup. The protesters were able to garner international attention and disrupt traffic for more than 150 miles.
---
---
World Cup 2010: South Africa
Match fixing
The New York Times' Declan Hill and Jeré Longman investigated incidents of match fixing that took place in five exhibition matches during the South Africa 2010 World Cup. Football 4U International was the Singapore-based company that arranged the match rigging.
"At least five matches and possibly more" were manipulated, while "as many as 15 matches were targets." The exhibition matches were exploited for betting purposes, especially in underground Asian markets. In a report obtained by The New York Times, it is estimated that the illegal betting markets in Asia total hundreds of billions of dollars annually.
Football 4U International
The South Africa-Guatemala friendly was one of the matches fixed by Football 4U International. Ibrahim Chaibou was the referee supplied for that game, receiving $60,000 for manipulating a 5-0 South African victory.
Steve Goddard, the acting head of refereeing for the South African Football Association at the time of the 2010 World Cup, was offered a bribe by Football 4U International executive Wilson Raj Perumal. The bribe of $3,500 was for the organization to supply referees for the exhibition matches.
These revelations have spurred FIFA to work closely with law enforcement officials to patrol potential match fixing during the 2014 games.
---
World Cup 2022: Qatar
Appalling Living and Working Conditions
While Brazil's hosting capability has been in question, it is nearly unanimous that Qatar hosting the World Cup in 2022 is a treacherous affair. In an interview with Swiss broadcaster RTS about if choosing Qatar to host in 2022 was a mistake, Sepp Blatter, FIFA's president, said "Yes, it was a mistake of course, but one makes lots of mistakes in life." Journalists, fans, and officials directly connected to FIFA are calling for a new vote if it is confirmed that Qatar won because of a corrupt system. The BBC reported that Football Association chairman Greg Dyke would support a new vote.
In an interview with ESPN published June 1, 2014, Sharan Burrow of the International Union Confederation (ITUC) was asked, "How do Qataris view the people who are there building this vast infrastructure for a country with only 200,000 citizens?" Her response came as a chilling summation of the hostility,  "I don't think they see them as human."
Reported by Richard Conway of BBC, "Almost 200 Nepalese men are reported to have died last year working on construction projects in Qatar," and "up to 4,000 workers could die by 2022 if current laws and attitudes persist."
According to the ITUC Special Report "The Case Against Qatar:"
Employers are demanding deposits of $275 paid by workers before they are allowed to leave for holidays.
191 Nepalese workers died in 2013 and 169 in 2012.
218 Indian nationals died in 2013, 237 died in 2012 and 239 in 2011.
On average 20 Indian migrants died per month in 2013.
Qatar follows a 'kefala' employment system, which ties migrant workers to their sponsor companies. Human rights groups and trade unions are highly critical of this system as it requires exit visas that do not allow workers to leave without their employer's permission.
With eight years left until Qatar is set to host the World Cup, these numbers are frightening to both human rights activists and soccer spectators.
How Bribery Gave Qatar the World Cup
In addition to the current welfare of the workers, allegations that Qatar won the bid due to fraudulent measures have also surfaced. Qatar's former top football official, Mohamed Bin Hammam, stands at the center of it all.
The Sunday Times obtained numerous leaked e-mails stating how bin Hammam paid off and lobbied numerous senior officials to support Qatar's bid.
According to Mike Singer of CBS, "Regarding former FIFA VP Jack Warner, Bin Hammam was accused of paying him more than $1.6 million in order to garner his support. Warner eventually resigned in 2011 to avoid an investigation connected to Bin Hammam's failed attempt to become FIFA president."
Bin Hammam is also said to have paid up to $200,000 to multiple African soccer associations through ten slush funds in his company. In turn for receiving the money, the associations persuaded the top four FIFA officials in Africa to vote how Bin Hammam desired.
Corruption is nothing new to Bin Hammam as he has been banned for life by FIFA twice. In 2012 following a natural gas deal with Thailand (home to Worawi Makudi who is a FIFA board ally), Bin Hammam was expelled based on financial wrongdoing. Supplementing the public's disdain for how events are transpiring thus far in Qatar, FIFA's top sponsors have vocalized their displeasure. Visa has requested FIFA to "maintain strong ethical standards and operate with transparency." Adidas, FIFA's longest-standing sponsor and ball provider for the World Cup said, "The negative tenor of the public debate around FIFA at the moment is neither good for football nor for FIFA and its partners." Meeting opposition by six of FIFA's sponsors — who will pay $700 million collectively over four years toward the 2014 games — are sure to influence how FIFA handles the situation.
---
Resources
Primary 
The New York Times: Referees Exchange Letter 
Additional
International Trade Union Confederation: "The Case Against Qatar"
FIFA: Brazil Confirmed as 2014 Hosts
Wall Street Journal: Hopes Fades in Brazil for a World Cup Economic Boost
Soccerly: World Cup Expected to Bring 3.7 Million Tourist Invasion
Pew Research Center: Brazilian Discontent Ahead of World Cup
Wall Street Journal: São Paulo Subway Workers to Strike
International Business Times: No to the Cup: Homeless Workers' Association Leads 20,000 People in Sao Paulo to Demonstrate Against World Cup Costs
The New York Times: Fixed Soccer Matches Cast Shadow Over World Cup
BBC: Qatar World Cup 2022: FIFA Vice-President 'Would Support' Re-Vote
BBC: Qatar 2022: Plans to Protect World Cup Workers Unveiled
CBS: Report: Former FIFA Exec Paid $5 Million to Support Qatar WC Bid
Guardian: World Cup 2014: Brazil Still Facing Issues With 100 Days to Go