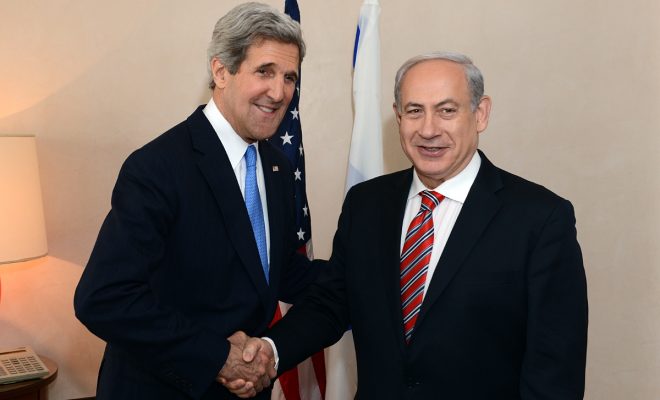 Image Courtesy of Matty Ster; License: 

(CC BY-SA 2.0)
World
The Investigations into Israeli PM Benjamin Netanyahu: What You Need to Know
By
|
Israeli Prime Minister Benjamin Netanyahu is officially a suspect in two criminal cases, Israeli police officials said last week. Netanyahu, head of the conservative Likud party, has been under investigation for months. His alleged crimes: accepting illegal gifts from wealthy friends, and floating a quid pro quo deal with a newspaper publisher in a bid for more favorable coverage.
Netanyahu's fortunes appeared to turn last week, when his former chief of staff Ari Harrow agreed to become a witness for the prosecution. Harrow, according to police, revealed damaging information about his former boss, who is suspected of bribery, fraud, and breach of trust.
The probes into the prime minister, known as "Case 1000" and "Case 2000," deal with two separate instances. In "Case 1000," Netanyahu is accused of accepting cigars and bottles of champagne from wealthy and powerful friends, including a Hollywood producer.
"Case 2000" concerns a phone call Netanyahu allegedly had with the publisher of the Yedioth Ahronoth newspaper, Arnon Mozes. Netanyahu reportedly asked Mozes for more favorable coverage. In exchange, Netanyahu would curtail the circulation of Israel Hayom, a competitor that is traditionally pro-Netanyahu. Israel Hayom is backed by an American casino magnate, Sheldon Adelson.
On Monday, Israel's Supreme Court said Netanyahu must reveal the dates of his phone calls with Adelson and Amos Regev, the former editor-in-chief of Israel Hayom.
According to legal analysts in Israel, it is likely Netanyahu will face charges, potentially forcing him to end his fourth term as prime minister years before scheduled elections. An indictment, which could still be months off, does not necessarily mean Netanyahu will step down, according to analysts and those familiar with Israeli law. And though Israeli prime ministers have been taken down by corruption investigations, a sitting prime minister has never been indicted.
Netanyahu's predecessor, Ehud Olmert, was released from prison last month after serving a 16-month sentence. Olmert was forced from power in 2008, leading to early elections in 2009, when Netanyahu was elected to the premiership.
For his part, Netanyahu has called the investigations as "background noise," vehemently denying any wrongdoing. "We cannot go without a 'weekly affair', so I want to tell you, citizens of Israel, I'm not referring to the background noise, I'm continuing to work for you," Netanyahu said in a video published on his Facebook page last Friday.
But according to a recent poll by Israeli broadcaster Channel 10, Netanyahu's popularity might be dwindling. According to the poll, 66 percent of Israelis say Netanyahu should resign if he is charged.