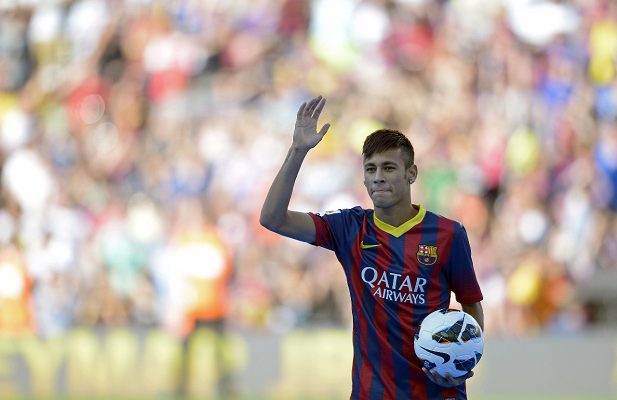 "Neymar" Image courtesy of Elena Polio; License: (CC BY-SA 2.0)
Sports
Could Financial Fair Play Rules Force Neymar to Stay in Barcelona?
By
|
Wednesday night at FedEx Field in Washington D.C., Spanish soccer giant Barcelona played a friendly match against the English football club Manchester United. The game ended in a 1-0 victory for Barcelona, with the only goal coming from Brazilian forward Neymar, who was able to put pressure on the ball and escape multiple defenders in order to score a beautiful goal. Neymar has been a catalyst for his team since arriving in 2013, bringing nine trophies in just three years to Barcelona. But it appears that the superstar striker may be on the move.
Over the past week, there have been multiple reports that Neymar is interested in joining French football club Paris St.-Germain (PSG). The team plans on activating Barcelona's €222 million release clause, as well as a potential transfer payment of €196 million. PSG would also pay Neymar's wages of €30 million a year for the next five years, as well as a €40 million fee to his father, who acts as his agent. The entire deal could amount to €450 million, which would obliterate the previous transfer payment record, set by Manchester United, which payed €105 million for French midfielder Paul Pogba last summer.
However, some sources say that a decision has not been made yet because Neymar and his associates are concerned that the deal may violate the Financial Fair Play rules. Before he signs the deal with PSG, Neymar reportedly wants assurances that he will not be investigated by the Union of European Football Associations (UEFA), European soccer's governing body.
Financial Fair Play is a financial reform established by former UEFA President Michel Platini in 2010, in response to the growing number of teams running huge debts and declaring bankruptcy.
The rule requires clubs to balance spending with revenue. The end goal is for a club to break even for every three-year assessment period. However, clubs are allowed to spend more than they take in if the excess expenditure "is entirely covered by a direct contribution/payment from the club owner(s) or a related party." Under FFP regulations, players' wages are not allowed to exceed 70 percent of the club's income.
If a soccer club is found to be in violation of FFP regulations, the consequences can be severe. Teams and individual players can be banned from participating in major UEFA competitions, and the UEFA can withhold a club's revenue. PSG was previously found to be in violation of FFP rules, and was fined €60 million.
During the 2015-16 season, PSG made €105 million, and players' wages made up about 54 percent of the club's income. But even if PSG absorbed Neymar's massive contract, the club's total wages would be 65 percent of its income, which would put them in compliance with FFP regulations.
The overall problem posed by the transfer would be the addition of €100 million in expenditures just from adding Neymar this year alone. But PSG is confident that bringing in a player of Neymar's caliber and popularity would dramatically increase merchandising sales for the club, which would help offset his massive fee. Neymar is one of the most marketable and recognizable sports figures in the world–he has 78.6 million Instagram followers.
To make up for their Neymar-related spending, PSG can offload some of its more expensive players. But so far, according to Andrea Traverso, the head of UEFA's club licensing committee and financial fair play, PSG has been following the FFP regulations. As long as the club is able to break even on the deal, the UEFA has no problem with it spending €450 million for one player.