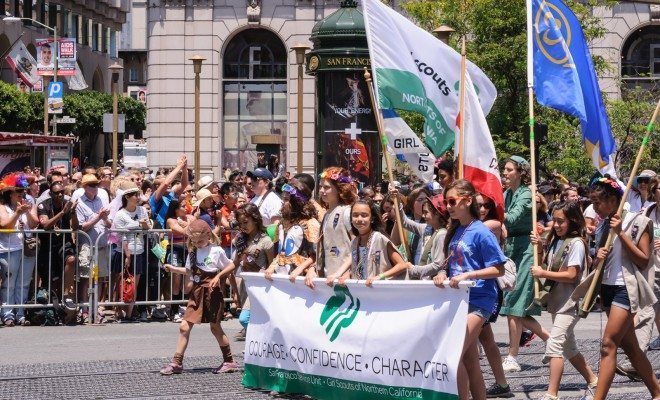 Image courtesy of [InSapphoWeTrust via Flickr]
Entertainment & Culture
Boy Scouts and Girl Scouts Take Different Paths to LGBT Inclusion
By
|
The Boy Scouts of America (BSA) and the Girl Scouts of the USA (GSUSA) are staples of American society that have each been around for more than 100 years. Although they are separate organizations, as each has its own congressional charter and upholds its own membership rules, they both promote leadership and civic duty. It is inarguable that the two organizations instill many important values in their young troops; however, they have had radically different approaches to modernization, particularly when it comes to LGBT acceptance. While the Girl Scouts accept girls and women of all different backgrounds, the Boy Scouts still discriminate against gay adult leadership. Read on to learn how and why the BSA and GSUSA have gone down such divergent paths.
---
 Who are the Boy Scouts of America?
The BSA was established in 1910 and it has four fundamental groups: Cub Scouts, Boy Scouts, Varsity Scouting, and Venturing. There are more than 2.6 million youth members and over one million volunteers involved in BSA. Boy Scouts aim to earn merit badges, awards given by demonstrating mastery of a skill or field of study, including camping, citizenship in the community, and first aid.
Mission Statement: "The mission of the Boy Scouts of America is to prepare young people to make ethical and moral choices over their lifetimes by instilling in them the values of the Scout Oath and Scout Law."
Scout Oath: "On my honor I will do my best to do my duty to God and my country and to obey the Scout Law; to help other people at all times; to keep myself physically strong, mentally awake, and morally straight."
Scout Law: "A Scout is trustworthy, loyal, helpful, friendly, courteous, kind, obedient, cheerful, thrifty, brave, clean, and reverent."
---
BSA Stance on Homosexuality
The BSA affirmed its position against admitting gay scouts and leadership in 1991. The release included the following statement:
We believe that homosexual conduct is inconsistent with the requirements in the Scout Oath that a Scout be morally straight and in the Scout Law that a Scout be clean in word and deed, and that homosexuals do not provide a desirable role model for Scouts. Because of these beliefs, the Boy Scouts of America does.
In 2007, the BSA confirmed, "we do not grant membership to individuals who are open or avowed homosexuals," although the organization claimed to not actively seek out a person's sexual orientation.
Opposition to Those Policies
In 2012, Merck & Co pulled funding because of the BSA discrimination policy. The prior year, Merck had donated $30,000 to BSA. Other companies that followed suit included Intel, UPS, Ernst & Young, IBM, Levi Strauss & Co., J.P. Morgan, American Airlines, Medtronic, Portland General Gas and Electric, Hewlett Packard, Textron, Fleet Bank, CVS/Pharmacy Stores, and Carrier Corp.
Even President Obama advocated for the BSA to lift the ban.
In house, the BSA sent a survey to one million of its members regarding their position on gay members. The results said "overwhelming majorities of parents, teens and members of the Scouting community felt it would be unacceptable to deny an openly gay Scout an Eagle Scout Award solely because of his sexual orientation."
Policy Change
At a meeting in Grapevine, Texas in 2013, the BSA voted 61-38 to overturn the standing rule regarding BSA youth. The ruling officially came into effect January 1, 2014 stating "no youth may be denied membership in the Boy Scouts of America on the basis of sexual orientation or preference alone." However, the ban was not lifted for scout volunteers and leaders over the age of 18. Lifting the ban for leadership was never under consideration.
Backlash From Both Sides
The ban lift resulted in a wave of criticism from both ends of the spectrum. In an interview with ABC, the President of the Southern Baptist Convention executive committee, Frank Page, stated, "I think I can say with pretty strong accuracy that the vast majority of Southern Baptists are very disappointed in the latest change in policy…deeply disappointed."
The Southeast Christian Church, located in Louisville, Kentucky, publicized a move to sever ties with the Boy Scouts, forcing the BSA to lose approximately 300 families. The Assemblies of God, the world's largest Pentecostal group, also withdrew support.
On the other hand, according to Rich Ferraro, a spokesman for the gay-rights watchdog group GLAAD, "Until every parent and young person have the same opportunity to serve, the Boy Scouts will continue to see a decline in both membership and donations."
In accordance, Tony Perkins, president of the Family Research Council, called the rule "incoherent," claiming, "The proposal says, in essence, that homosexuality is morally acceptable until a boy turns 18 – then, when he comes of age, he's removed from the Scouts." He claims that it sends a message that gay adults are somehow inadequate to lead and mentor troops.
Disney also announced it would pull all funding from the BSA starting in 2015 because of the ban on gay leadership.
---
How is BSA not breaking anti-discrimination laws?
As a private, religious organization, the BSA is shielded from federal and state discrimination laws based on the freedoms of speech and association. They can legally exclude atheists, agnostics, and people in the LGBT community.
The American Civil Liberties Union is one organization that has ceaselessly attacked the BSA for this policy. For example, it was present in the 2000 Supreme Court case of The Boy Scouts of America v. James Dale. Dale, a former Assistant Scout Master, was kicked out of the BSA for his sexuality. In New Jersey, there is a law preventing discrimination based on sexual orientation. The New Jersey Supreme Court ruled in Dale's favor, but the opinion was overturned a year later by the U.S. Supreme Court in a 5-4 decision.
Chief Justice William Rehnquist stated in the majority opinion:
The Boy Scouts' right to express their views against lesbians and gay men would be hampered if the organization was forced to admit openly gay people as leaders…lesbians and gay people, if they are honest about their sexual orientation, make a statement in their very existence, and groups like the Boy Scouts therefore have a right to exclude them."
The ACLU called it a "damaging but limited" defeat as the "ruling is limited to groups that exist for the purpose of expressing views and ideas." So, any nondiscriminatory progress the BSA has made or will make in the future will be made from within. Legally, its hand cannot be forced.
---
Leaders Kicked Out
Jennifer Tyrrell was a former den mother of her son's Cub Scout chapter. In April 2012, she was told she could no longer hold her position due to sexual orientation. She had served in the position for over a year. When she was kicked out, she started her advocacy against the BSA to end its discrimination of the LGBT community and launched a petition, stating, "the Boy Scouts are once again forcing me to look my children in the eyes and tell them that our family isn't good enough."
In the following video, Tyrell talks about the BSA's policy change and her petition.
Geoff McGrath, a former Scout leader from Seattle, Washington, is often considered one of the first leaders removed after the policy change. BSA stated they did not know about his sexual orientation when his chapter was approved, although McGrath reported that he never hid his gay identity or support of gay rights. In an interview with NBC News he stated, "They are complaining that the problem is a distraction to Scouting and they don't seem to understand that the distraction is self-inflicted." McGrath's brother and nephew rode their bikes from the Northwest to Boy Scout headquarters in Texas in order to raise awareness of the policy.
---
Who are The Girl Scouts of the USA?
Juliette Gordon Low founded the Girl Scouts in Savannah, Georgia in March 1912. Currently, there are approximately 2.8 million Girl Scouts and volunteers affiliated with the organization. GSUSA aims to encourage healthy living opportunities, promote economic opportunities, foster global citizenship and a global voice, and support a strong nonprofit community and girl scout experience for girls. A core value and key component in GSUSA is diversity. It strives to reach girls from all different backgrounds.
---
GSUSA's Position on Sexual Orientation
A GSUA document entitled Girl Scouts Beyond Bars, explains its policy.
Regarding sexual orientation, Girl Scouts of the USA holds fast to a commitment to embrace diversity and has in place a policy that prohibits discriminatory treatment of any kind, including on the basis of sexual orientation. This policy which applied to interactions with girls and adults, must be honored by every person working in the Girl Scout movement. Keep in mind that it is not appropriate to ask or assume what a girl's sexual orientation is.
How has GSUSA supported the LGBT community?
GSUSA's inclusion policy allows transgender children to be Girl Scouts. Girl Scouts of Colorado stated, "We accept all girls in kindergarten through 12th grade as members. If a child identifies as a girl and the child's family presents her as a girl, Girl Scouts of Colorado welcomes her as a Girl Scout."
In 2007, GSUSA honored 18-year-old Girl Scout Madeline as a National Young Woman of Distinction for her project promoting awareness to the intolerance shown to the LGBT community. This is the highest award given by GSUSA.
GSUSA has featured additional resources on its website for Girl Scouts to research, such as the Global Fund for Women and Tolerance.org. Each of these sites provides information and supports LGBT initiatives.
At a 2011 Convention, GSUSA held a seminar called "Moving Beyond Diversity to Inclusion," which discussed some LGBT issues. At this same convention, GSUSA honored Annise Parker, Houston's first openly gay mayor, as a guest speaker.
LGBT Activists/Leaders of GSUSA
Unlike the BSA, GSUSA welcomes leaders who are members of the LGBT community. Debra Nakatomi, GSUSA Board Member, is an LGBT activist who provides training in advancing LGBT rights. Lynn Cothren, former GSUSA Director of Administration from 2005-12, is a gay-rights advocate, speaker, and former board member of the National Gay and Lesbian Task Force. Timothy Higdon, former GSUSA Chief of External Affairs from 2010-12, is an LGBT activist, employee of Amnesty International, and a leader in the National Gay and Lesbian Task Force.
---
Conclusion
Whether the BSA's lifted ban on gay membership will ultimately extend to adults is up in the air. Hopefully, its first step toward tolerance will not be its last as there are more hurdles to overcome. There are ramifications for the BSA only lifting its ban on youth members, as many worry that the message sent is that gay leaders are somehow inadequate. The policy also tells Scout youth that being an openly gay adult is unacceptable. Critics of the policy are concerned that a gay scout who has upheld the Boy Scout code during his entire career is stripped of his titles when he reaches 18, and condemn the policy as unfair. However, many see  the Girl Scouts of the USA as trailblazers who exemplify the civil freedoms America represents. Two similar organizations have ended up on significantly different paths–while modernization is always a slow process, it seems as though GSUSA will end up on the right side of history.
---
Resources
Primary
Boy Scouts of America: About the BSA
Boy Scouts of America: Current Policy
Girl Scouts: America's Top Girl Scouts Named 2007 National Young Women of Distinction
Additional
100 Question for Girl Scouts: The Girl Scouts and the LGBT Agenda
ABCNews: Some Churches Say They'll Cut Ties to Boy Scouts Following Its Lifting Ban on Gay Scouts
ACLU: U.S. Supreme Court Ruling That Boy Scouts Can Discriminate is Damaging but Limited
CNN: Disney to Pull Boy Scouts Funding by 2015 Over Policy Banning Gay Leaders
DiversityInc: Merck Condemns Boy Scout Gay Ban, Halts Funding
FoxNews: Transgender Girl Scout Controversy Sheds Light on Organization's 'Inclusive' Policies
GLAAD: Boy Scouts of America: Reinstate Cub Scout Leader Who Was Removed For Being Gay
Huffington Post: Geoff McGrath, Gay Boy Scout Troop Leader, Allegedly Kicked Out of Organization
Scout and Pride: BSA and Homosexuality
WNDMoney: Look Which Companies Dumping Boy Scouts