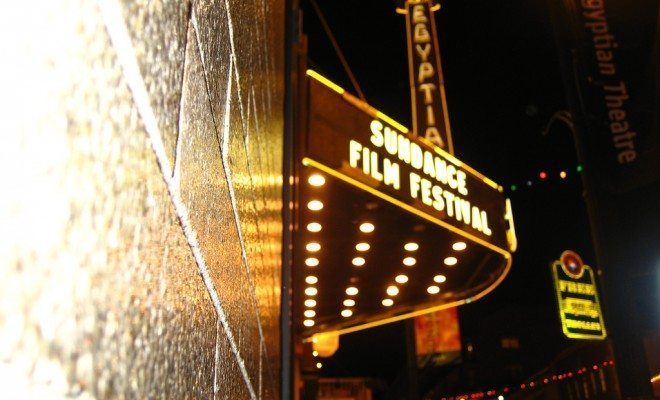 Image courtesy of [Barnaby Dorfman via Flickr]
Entertainment & Culture
Beyond Sundance: What's Next for "The Birth of a Nation?"
By
|
"The Birth of a Nation," Nate Parker's biopic of Nat Turner that examines the slave rebellion Turner led in 1831, had a week that was nothing short of epic at Sundance. Not only did the film snap up the grand jury prize and receive the audience vote for best film at Sundance, Parker sold his project to Fox Searchlight for a record-breaking $17.5 million. Parker was offered an even larger sum for the film from Netflix, but ultimately turned it down because he dislikes the passive nature of Netflix viewing and hopes to engage audiences more actively through traditional cinema. Parker's decision to go with Fox Searchlight is no doubt financially savvy but it requires him to sacrifice control over his film. Take a look at what happens to an independent film after it is purchased from a film festival lineup:
---
Why Fox Went Shopping at Sundance
When the Sundance Film Festival began in 1978, indie film-making was an open and amorphous genre that welcomed directors and casts from all walks of life. The one thing the films at the festival had in common was that they were built outside of the traditional studio "system." Sundance was built on an outsider identity, and, as Joe Reid points out, that created a brand for Sundance that is simultaneously gratifying and limiting. Directors who present their films at Sundance may be operating outside of conventional studios, but by bringing their films to the festival, they hope to gain access to the resources that only a large studio can provide.
As the festival became more popular, studios became increasingly interested in plucking films from the theaters of Park City. "Birth of a Nation" is not Fox Searchlight's first purchase at Sundance, nor will it be the last. Only a handful of Sundance films have reached the commercial and critical success of movies produced and released by large studios, but companies like Fox Searchlight are hoping to recreate the enormous success of that elite group of movies. In addition, several film critics have debated whether Fox Searchlight picked up "Birth of a Nation" in response to this year's #OscarsSoWhite trend, aiming to correct the lack of diversity in the prestigious film awards for next year.
---
What This Deal Means for Nate Parker
After selling "Birth of a Nation" to Fox Searchlight, Parker is not removed from his role as director, writer, and lead actor but he will have to relinquish some control to the buyer. According to Lawyers for the Creative Arts, when a film is purchased by a studio, a deal is struck over the control, financing, liability, and tax involved in producing the film on a larger scale. Sundance directors are usually allowed to retain control over the film, protecting their intellectual property, but they may not take such an active role on the business side of the venture. Parker will likely not have to make adaptations to the script or the length of the film but Fox Searchlight will now take control of distribution and marketing of the film. The studio will control when the film is released to general audiences, how the film is advertised in the media, and how the cast and director should promote the film in the run-up to its large-scale release. In short, Fox Searchlight will decide how and when non-Sundance viewers will see Nate Parker's creation.
The Fox Searchlight deal has already made Parker a household name and the release of the film to the general public should only cement that image. However, Sundance founder Robert Redford has publicly cautioned Sundance directors not to get swept up in the large studio system. In a 2002 interview with the Harvard Business Review, Redford said that
For beginning filmmakers at Sundance, the devil's bargain is very tempting, and it's easy for them to strike it the wrong way. If they go straight for the stardom, glamour, and money, they run the risk of sacrificing their artistic integrity. So at the beginning of the festival, I spend a few minutes talking to all the filmmakers. I remind them that Sundance is for them—and 'them' means the films. I outline the bargain very clearly for them: 'What will you do when a studio offers you a tidy sum in return for control over your next project?' I remind them that they have to decide how to negotiate this question, and I ask them if they are strong enough to stand up for their art.
The fame and connection to a traditional studio that Parker's Sundance deal brings may be the type of devil's bargain that Redford cautions against but Sundance organizer Geoffrey Gilmore has argued that the commercial success of Sundance films is not a negative for young directors–on the contrary, it sets them up for profitable, sustainable careers.
---
Why Does Film Marketing Matter?
Parker's film has been hailed by the Sundance crowd as a triumph but it could be a commercial flop if Fox Searchlight does not market it appropriately. Parker created the film hoping to create conversation and incite action but if Fox Searchlight emphasizes certain aspects of the film over others, it could lose that message.
"Birth of a Nation" has been labeled a risk for the studio because of its violent content, which will most likely necessitate an R rating. Fox Searchlight is still riding high on the success of "12 Years a Slave," which also portrayed the brutality of slavery realistically and received an R rating. However, even the most professional marketing teams can do a poor job promoting a film if they don't target the correct audience, as evidenced by numerous commercial flops in the past several years from Hollywood's biggest studios. The film's trailer alone can influence the success of the film, and as there is currently no official trailer for "Birth of Nation," Fox Searchlight will have to take on that responsibility. The studio will have to decide what scenes it should publicize, where it should place its advertisements, and which actors should go on press tour during the film's release.
The rise of social media has drastically altered the film promotion landscape and Fox Searchlight will have to adjust its marketing strategy accordingly. All the positive feedback that "Birth of a Nation" has generated this month is going to die down as moviegoers shift their attention from Sundance to the Oscars, and the studio will have to recapture that positive attention if it wants the movie to perform successfully once it is released.
---
Conclusion
The Sundance Film Festival has gradually transformed from a space for outsider film to a hunting ground for major studio representatives. "Birth of a Nation" is just one of the films picked up by major studios and online content providers at this year's festival but the Fox Searchlight's major investment in the film puts an incredible pressure on it to perform well. Nate Parker's film performed well in the festival environment but it will be subjected to a much broader audience once it is released to mainstream cinema, where its success will hinge largely on the marketing campaign that Fox Searchlight will lead in the coming months. If Fox Searchlight can drum up significant interest in the film, it could be the frontrunner for next year's awards season but if Fox Searchlight bungles the marketing campaign, "Birth of a Nation" may sink into obscurity. It is a common tale that a critically acclaimed film performs poorly at the box office, not because audiences weren't interested in its content, but because audiences did not even realize it was there. Independent filmmakers who sell their movies to major studios may be cashing out but they are also taking on a significant risk by allowing an exterior party to take control of the business aspect of the project.
---
Resources
The New York Times: 'The Birth of a Nation' Sweeps Top Awards at the Sundance Film Festival
Deadline: Bart & Fleming: The Big Sundance Deals
BBC Culture: Is Sundance a Victim of its Own Success?
The Atlantic: The Power of the Sundance Brand
Hollywood Foreign Press Association: The Brisk Business of Sundance 2016: Let It Snow, Show Me The Money
New York Daily News: 'Birth of a Nation': Why Sundance Fave is a Big Deal Amid the #OscarsSoWhite Controversy 
Forbes: Nate Parker's 'Birth Of A Nation' Cannot Be Allowed To Be An All-Purpose Solution To #OscarsSoWhite
Harvard Business Review: Turning an Industry Inside Out: A Conversation with Robert Redford
The Nation: Long Live Indie Film
Lawyers for Creative Arts: Legal Issues in Film Production
Variety: Sundance: The Math Behind Fox Searchlight's Record-Shattering 'Birth of a Nation' Deal
The Telegraph: 2015's Biggest Box Office Flops
University of Wisconsin-La Crosse: The Effectiveness of Film Trailers: Evidence from the College Student Market
California Polytechnic State University: Current Trends in the Marketing and Promotion of Movies Using Social Media
WIRED: How The Birth of a Nation Became Sundance's Biggest Sale Ever