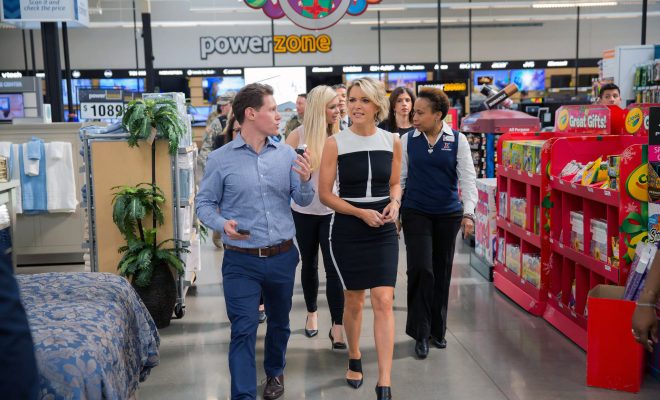 Image courtesy of Exchange Associate; License: (CC BY 2.0)
Entertainment
What Should We Expect from Megyn Kelly at NBC?
By
|
Megyn Kelly has announced a move from Fox News, her home for over a decade, to NBC, where it is rumored she will join the morning talk shows. Her Fox program, "The Kelly File," was ranked consistently as one of the most popular cable news programs, with over 2.7 million viewers last year. Sources have stated that NBC is giving Kelly a daytime show that will fill the slot currently running the third hour of the "Today" show, as well as an anchor spot on a Sunday night news program. Kelly's departure leaves a seat open in a critical late-night time slot, and there is already a flurry of speculation over who will replace her. There are also questions about whether her move will inspire Bill O'Reilly, Fox's most profitable anchor, to jump ship when his contract ends later this year. Fox currently has no female host in prime time, which bodes ill for a network still reeling from a massive sexual harassment lawsuit.
Kelly has stated her decision to leave Fox is focused around the work-life balance available at NBC. Yet it is impossible to ignore her clash with Donald Trump in the wake of his incendiary comments about her after the Republican primary and the environment created by Roger Ailes, who Kelly called out for sexual harassment. In the wake of Trump's inflammatory comments questioning her journalistic integrity, Kelly became symbolic of a righteous crusade against Trump. She was profiled in numerous magazines, gained more attention for her show and became a symbol of strength in the face of sexism.
However, the positive press that Kelly received after the debate can be largely categorized as beneficial to her personal brand rather than beneficial to women in journalism as a whole. In the rush to lift her up to icon status, the public seemed to forget the often blatantly racist tone of "The Kelly File" and the fact that, until the Republican primary, she produced the same rhetoric that the rest of the Fox News team does. Kelly was a frequent target of "The Daily Show" under Jon Stewart's reign and was lambasted for holding shouting matches rather than interviews on her show.
So which version of Megyn Kelly did NBC sign up for: the pundit who railed against the "War on Christmas," and defended racist emails in the Ferguson police department, or the heroine who was, according to some, the only Republican woman to stand up to Trump? Unfortunately, Kelly's inflammatory statements from her Fox years will probably come with her to NBC–after all, Kelly claiming that Michelle Obama promotes a culture of victimization will get more clicks and comments than a clip of her calmly reporting the news or interviewing an actor on a press tour for their latest film. Kelly may have moved to a new network and a new time slot, but her star power is wrapped up in the persona she built at Fox News–and that persona demands drama.