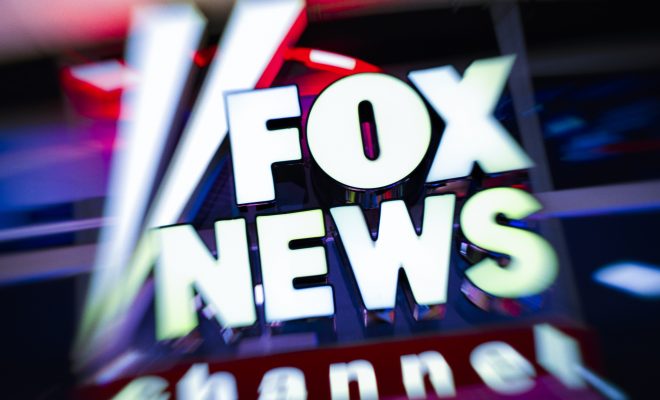 "Fox News" Courtesy of Johnny Silvercloud: License (CC BY-SA 2.0)
Entertainment
Fox News Hit With a New Lawsuit Alleging Racial Harassment
By
|
You might have thought that Bill O'Reilly's exchange with Maxine Waters was the most racist thing to come out of Fox News yesterday. But, details from a new lawsuit filed by two of the network's black female employees may have overshadowed O'Reilly's horrific moment.
According to a report from the New York Times, the two employees–Tichaona Brown and Tabrese Wright, both of whom worked at the network's payroll department–filed a lawsuit in the New York State Supreme Court, citing that they were subjected to "top-down racial harassment," from Judith Slater, the Fox comptroller who had worked for the network for almost two decades. Slater was fired after an internal investigation, according to a story first reported by The Wrap. The timeline of Slater's firing is unclear, but a statement from the network obtained by the Times claims that Slater was fired at the end of February.
Brown and Wright's lawsuit targets Slater, Fox News, and 21st Century Fox, which owns Fox News. The lawsuit claims that Slater repeatedly made racist and disparaging comments about black people that played into egregious stereotypes, and that the network did not do much to address Slater's behavior, which made for a hostile work environment. Here are some of the lawsuit's details as reported by the New York Times:
The women . . .  accused Ms. Slater of making numerous racially charged comments, including suggestions that black men were "women beaters" and that black people wanted to physically harm white people.

They also said that Ms. Slater claimed that black employees mispronounced words, such as 'mother,' 'father,' 'month' and 'ask,' and that she urged Ms. Brown to say those words aloud in a meeting. Ms. Wright said Ms. Slater once asked if her three children were all 'fathered by the same man.'

[…]

The suit also includes allegations that Ms. Slater made disparaging comments about Ms. Wright's hair and credit score. She and Ms. Brown said Ms. Slater had mocked the Black Lives Matter movement and referred to their majority-black department as the 'urban' or 'Southern' payroll department.
According to the New York Daily News, the suit also alleges further details of Slater's racist behavior, including, but not limited to responding to Brown's goodbyes at the end of the day by raising her hands up in the "Hands Up, Don't Shoot" movement, referring to her commuter train to New Jersey as the "Bombay Express, expressing her belief that Chinese men have small penises, and asking Brown and Wright to teach her how to beat box.
In a statement reported by the Times, the company said that "there is no place of inappropriate verbal remarks like this at Fox News," but were disappointed that Wright and Brown filed the lawsuit because the company believes it already took swift and appropriate action to remedy the situation.