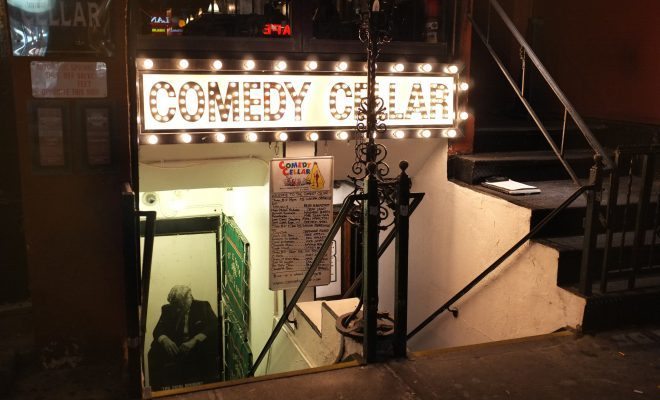 Image courtesy of [Antonio Rubio via Flickr]
Entertainment & Culture
Already Heard That One? Problems in Comedy Plagiarism
By
|
Thousands of people try to make it big in the comedy world each year. Whether you are making YouTube and Vine videos or you are working the comedy club circuit, what rights do you really have to your own material? Successful comedy builds on the human experience, so many jokes seem to be about similar topics, but what are the chances that the wording two comedians use will be the same?
Accusations are thrown from one comedian to another over who really "created" a bit, causing problems for everyone from the late Robin Williams to Jimmy Fallon. It's important to keep in mind that jokes are in essence little stories or songs–it takes time to perfect the verbiage, and then it takes even more time to perfect the delivery. These jokes, theoretically, are the creative property of the person who initially tells them, but it's a little more complicated than that. Read on to learn about different rights and controversies in comedy plagiarism.
---
Protecting Comedy
Legally, it can be very difficult for comedians to protect their content–much harder than it would be for writers, singers, or even actors. Most comedians don't record their shows, especially when they are just starting out in the business. They also may change up their routines each night depending on the way they read the crowd. They might tell the same joke, but use different words or a different delivery, which makes it hard to prove that it was "their" joke. Many comedians are now recording their sets (made easier with the proliferation of smartphones) as a way to publicize their acts, but also in anticipation that there will be some way to copyright what they do.
Copyright in the Internet Age
Comedians who post material on YouTube, Vine, or other social media sources face an even higher risk of being infringed upon because often the videos get buried in the plethora of material found online. In the video below, check out the reactions of YouTubers who watch Jimmy Fallon sketches that many claim have been stolen from famous YouTube comedians or video-bloggers. The comments come toward the end of the video.
The Independent recently published a piece highlighting the trouble with plagiarism within the comedic community. In an article titled "Plagiarism is No Laughing Matter for Comedians," Gary Delaney, a British comic, spoke about his own interactions with the internet and his material:
It used to be the case that a comic's set would last decades. But now I've got jokes I wrote in May, June, and July that aren't working by October because they've been absolutely trashed around the Internet.
There are some products currently available to comedians, including a piece of software called iThenticate, which is often used by students to check papers for plagiarism; however, it could also be used to help comedians determine if their jokes have been duplicated online. The catch is that it can only find jokes that have been plagiarized in someone else's writing, not in another format such as audio or video.
YouTube is able to find duplicate content through a system called ContentID; however, this system only works for videos that are similar–so it won't do anyone any good if it is someone different telling the jokes or doing a funny scene. It just catches people who re-upload someone else's videos.
YouTube itself has plagiarism rules, but they tend to focus more on the "big" companies or figures. For instance, reposted videos from Jimmy Kimmel's "Celebrities Read Mean Tweets" series are more likely to be found and deleted than someone finding and re-posting a make-up tutorial from Gigi Gorgeous–even though she has well over a million followers. It all has to do with who brings in the most money, and that tends to be powerhouse comedians with television followings.
YouTubers, especially famous YouTubers like Jenna Marbles, Grace Helbig, Tyler Oakley, and Shane Dawson–have taken to doing "challenges" where they credit the original idea, but the question remains as to whether or not those will catch on.
---
So, can you steal comedy?
What exactly would the stealing of jokes entail? Since we are all living in the same world, it is important to note that the best jokes are often rooted in current events. This means that many jokes will have similar tones or topics, but the punchlines will be different. Take a look at this video of the late night hosts making similar jokes about ObamaCare.
Each one has a similar topic and each one has similar points–but they all tell the jokes a little bit differently with unique styles and takes on the topic.
Famous comedians, including Patton Oswalt, have admitted that sometimes jokes can be similar, even if someone has never heard the joke before. He also says that sometimes the joke slips out without thinking, saying: "Sometimes someone else's joke sneaks into one's brain without attribution, leading to an accidental instance of punch-line thievery. But the correct thing to do in that case is apologize and not do it again." In fact, some of our most famous comedians have "stolen." Milton Berle is a classic comedian, and even he has admitted to borrowing a joke or two.
But what is it that makes a joke original and someone's property in the first place? That's another problem that comedians have to identify and contend with. For example, "SNL" was recently accused of ripping off a "tiny hats" sketch. The two sketches in question here actually aren't that similar, save for the fact that characters in them wear tiny hats as part of the punchline. Tim and Eric, the comedians doing the accusing, essentially claimed ownership over the comedic idea of tiny hats–but how could someone determine if that's true? There's no easy answer to these kind of controversies, or any real body of law to help comedians make these judgments.
---
Case Study: Carlos Mencia
One of the most reviled comedians of the last few years is Carlos Mencia, who was confronted at one of his shows for stealing jokes. A video of the confrontation is found here. It contains graphic language, and most likely is not appropriate for work, but shows the argument between the comedian and his accuser.
Mencia has been accused of stealing jokes from George Lopez, Ari Shaffir, and Bobby Lee. One of his more famous accused thefts comes from Bill Cosby.
Though there was really nothing that any of the comedians could do about the theft, Mencia still felt the repercussions after the accusations. His fanbase shrank and a comedian who once had a bright career now struggles to pick up the pieces.
But Mencia is just one example of comedians who have been accused of stealing jokes. "South Park"  came under fire over an "Inception" joke that was already written for College Humor. Future "Daily Show" host Trevor Noah was accused of stealing jokes from Russell Peters. In another instance, Howie Mandel was accused of stealing a  joke from an "America's Got Talent" hopeful.
---
Conclusion
So is there a reason to create laws around jokes and the rights of comedians? The United Kingdom already has some select laws, including one that says that any joke that is recorded is the sole property of that person. In an age where almost everything is recorded, we might be getting there worldwide. Until then, it is up to comedians to hold him or themselves accountable for the material they deliver–it ought to come straight from them and their own mind. While the laws may not quite be there yet, public reception is still something for comedians to worry about.
---
 Resources
Independent: Plagiarism is No Laughing Matter For Comedians
Time: Patton Oswalt on the Unsavory Business of Joke Theft
Center for Journalism Ethics: Comedian Daniel Tosh Calls Out ESPN For Plagiarism… With a Bit of His Own
Comedy Clinic: BUSTED! Comedian Caught Stealing Another Comic's Material During 'America's Got Talent' Taping?
Cracked: Six Ways to Not Suck at Stand-Up Comedy
Mediaite: Comedian Russell Peters Claims Trevor Noah Steals Jokes: 'You Don't Borrow in This Business'
Mental Floss: Stop Me if You've Heard This Before: A Look at Comedy Plagiarism
Plagiarism Today: YouTube's Copyright Problem
Plagiarism Today: The Copyright Frustrations of a YouTuber
Slate: For Sale: Milton Berle's Complete Joke Files
Split Sider: Is There Ever a Justification for Joke Stealing?