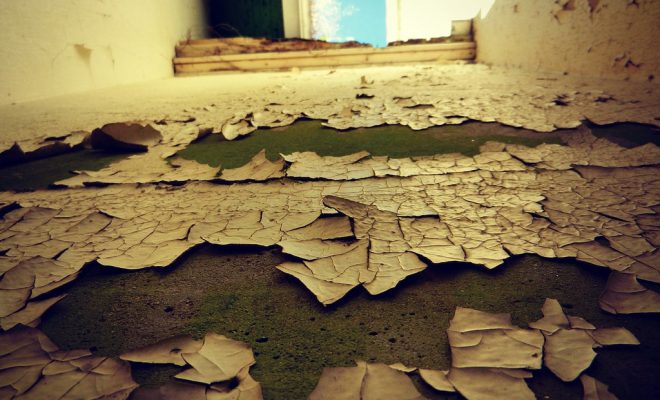 "Lead Paint" Courtesy of M R : License: (CC BY-ND 2.0)
Energy & Environment
Why is the Trump EPA Budget Removing Lead Paint Protection Programs?
By
|
In a budget memo released in late March, the Environmental Protection Agency (EPA) proposed eliminating two programs that focus on limiting exposure to lead paint. The suggested proposal would eliminate as much as $16.61 million in funding and over 70 full-time staff members. While the current federal government is looking to get rid of as much federal oversight as possible by transferring powers and responsibilities back to the states, environmental and public health advocates are extremely concerned about the hazardous consequences for citizens–particularly children.
---
History of Lead and Lead Paint Use
Lead is a naturally-occurring metal found in the Earth's crust. As one of the earliest discovered metals in human history, lead quickly gained popularity due to its corrosion resistance and low boiling point. In ancient times, "sugar of lead" was used by Roman winemakers as one of the first artificial sweeteners. Up until the 19th century, white lead pigments were widely utilized in paints by artists, as the durability of lead made it an ideal paint additive. Lead-based paint was also used in the U.S. in the 1920s, though several European countries had already banned the use of it.
Usage of lead-based paint started to decline in the 1940s. In 1971, the Lead-Based Paint Poisoning Prevention Act (LBPPPA) was passed, which aimed to phase out lead paint use in housing built with federal dollars. Lead paint was eventually banned altogether by the American government in 1978.
---
Lead Poisoning
Lead poisoning occurs when you absorb too much lead by breathing or swallowing it. The neurotoxic effects of lead are substantial, and children are particularly susceptible. When the LBPPPA was passed in 1971, a blood lead level of 60 micrograms per deciliter was considered safe. It wasn't until 1991 that the Centers for Disease Control and Prevention (CDC) lowered the "acceptable" blood lead level to nine micrograms per deciliter or less. That number has since been lowered again, and there is still no known level of lead exposure that is considered safe.
Lead-based paint, which also includes any lead-contaminated dust, is one of the most common causes of lead poisoning. According to a 2011 national housing survey, more than a third of housing units across the nation contain lead-based paint. Risk of exposure is particularly high in older homes with flaked or chipped paint.
Some neurological and behavioral effects of lead poisoning are considered to be irreversible, and it's estimated that 2.6 percent of American preschool children have a blood lead concentration over 5 micrograms per deciliter–the current level at which the government recommends public health intervention. Children may experience developmental delay and learning difficulties as a result of lead exposure. Most lead poisoning in children occurs from eating chips and flakes of deteriorating lead-based paint. Children with pica, a disorder which leads to a compulsive appetite to consume non-food items, are especially at risk of ingesting lead.
---
Lead Paint Programs
In October 1992, Congress passed the Residential Lead-Based Paint Hazard Reduction Act (Title X of Public Law 102-550). Title X amended the Toxic Substances Control Act, and was designed to develop a national strategy to address lead-based paint risks in all housing. Congress promulgated Title X after concerns that low-lead poisoning was widespread amongst American children, particularly those under six years old and minority and low-income populations.
---
EPA's Proposed Budget Cuts
On March 31, 2017, a 64-page budget memo covering the EPA's  2018 fiscal year was released by the Washington Post. The memo showed that officials within the EPA want to eradicate two programs that reduce children's exposure to lead paint. One of the programs at risk is the Lead Risk Reduction Program. The new budget would slash $2.56 million from its funding and lay off about 73 full-time equivalent employees. This program requires professional remodelers to participate in training to learn safe practices for stripping away lead-based paint in homes. The program was created through an EPA regulation in 2010, which mandated federal certification for renovators.
Lead-based paint programs run by the EPA are also potentially at risk of losing $14.05 million. The EPA has been offering financial assistance to states and tribal jurisdictions, under Section 404(g) of the Toxic Substances Control Act, since 1994. States and tribal programs are given federal money to address lead-based paint risks. Money is granted to develop or carry out authorized lead-based paint activities programs; authorized lead pre-renovation education programs; or authorized renovation, repair, and paint programs.
While a spokeswoman for the EPA stated that the cuts are intended to give local and state governments the authority and responsibility to fund their own entities, the vast majority of states are unable to do so. Only fourteen states are actually able to operate programs which train contractors in removing lead paint. The rest depend on the federal government to successfully run their programs.
These changes come after a Trump Administration order to reduce the EPA's overall budget by 31 percent. The EPA has proposed eliminating 25 percent of its employees and scrapping 56 programs including: lead reduction programs, water runoff control, and pesticide safety.
---
Environmental Racism?
Between 1997 and 2001, the CDC found that 60 percent of children who were reported with confirmed high blood-lead levels were black. Children living and playing in inner cities are more likely to be exposed to lead blowing across playgrounds. A 2015 analysis by the Huffington Post uncovered a strong correlation between high percentages of black populations and high lead poisoning rates. Between 1999 and 2004, black children were 1.6 times more likely to test positive for lead in their blood than white children. In Detroit, where 84 percent of the population is black, eight percent of children tested had elevated blood-lead levels in 2013.
Low-income and minority populations are far more likely to live in neighborhoods with dilapidated homes, thereby elevating their risk of exposure to lead paint. Other legal and environmental advocates note that the cuts to these programs will set the U.S. back decades in preventing lead poisoning and only stifle revenue streams. In other words, the government is likely dooming low-income and minority citizens to toxic living conditions.
---
CDC Lead Poisoning Prevention
The CDC still has programs to help study and eliminate childhood lead poisoning in America. The Lead Contamination Control Act of 1988 authorized the CDC to initiate these efforts. As a result, the CDC Childhood Lead Poisoning Prevention Program was created which helps to develop policies to prevent childhood exposure and poisoning, educate the public and health care providers, provide funding to state and local health departments, and support research to determine the efficacy of prevention efforts.
To date, the CDC has funded nearly 60 childhood lead poisoning prevention programs; developed the childhood blood lead surveillance system, which allows states to report their data to the CDC; expanded public health laboratory capacity; and provided training to public health professionals. The CDC, U.S. Department of Housing and Urban Development, EPA, and other agencies have created a federal interagency strategy to achieve the elimination of childhood lead poisoning as a public health issue by 2020.
---
Conclusion
While lead-based paint was banned almost forty years ago, its persistence in homes across the country is still alive and well to this day. Pre-1980 American housing contains upwards of three million tons of lead in the form of paint. If the EPA strips these lead reduction programs of funding, this nation will continue to have a high risk of lead exposure for children and adults. Since 36 states rely on federal money to keep programs running, the EPA's proposed budget is establishing a permanent lead-based environment for the country's most vulnerable populations.