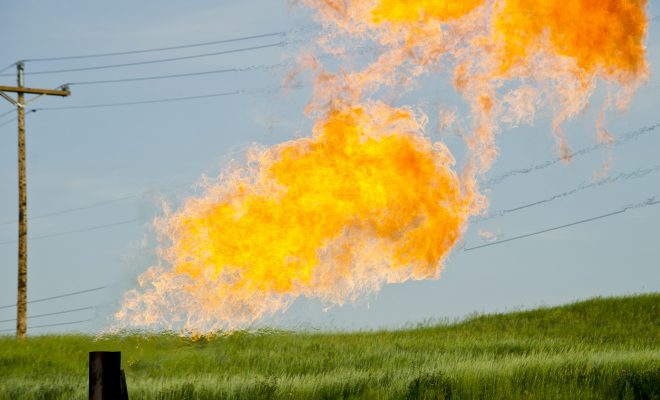 "Orvis State natural gas flare 02." Courtesy of Tim Evanson : Licence (CC BY-SA 2.0)
Energy and Environment
Conservationists Sue EPA over Delay of Obama-era Methane Rule
By
|
On Monday, six environmental conservation groups filed a lawsuit against the Environmental Protection Agency (EPA) after the agency suspended portions of an Obama-era legislation intended to limit leaks of methane and other harmful toxins during oil and gas production.  
The regulations surrounding these leaks were detailed in the 2016 New Source Performance Standards (NSPS) passed by the Obama Administration last June. They were meant to go into effect last weekend. The new rules would require oil and gas companies to invest in resources to regularly detect leaks in their well equipment and make repairs as needed.
The groups behind the lawsuit–which include the Clean Air Council, Environmental Defense Fund, Environmental Integrity Project, Natural Resources Defense Council, Sierra Club, and Earthworks–are now calling on the District of Columbia Circuit Court of Appeals to stop the EPA's move and reverse it altogether. They claim that the 90-day stay of the rule, issued by EPA Administrator Scott Pruitt, failed to give the public prior notice or the opportunity to comment on the action. This information, they say, is required by the Clean Air Act, one of the country's first modern environmental laws.
"In its haste to do favors for its polluter cronies, the Trump EPA has broken the law," said Meleah Geertsma, senior attorney at the Natural Resources Defense Council. "The Trump Administration does not have unlimited power to put people's health in jeopardy with unchecked, unilateral executive action like this."
Scientists say methane is more dangerous than we think. The Energy Defense Fund estimates that methane is up to 84 times more potent than carbon dioxide, making it more efficient at trapping heat. 
"By emitting just a little bit of methane, mankind is greatly accelerating the rate of climatic change," said Energy Defense Fund chief scientist Steve Hamburg.
Pruitt wants to ensure that businesses have an opportunity to review these requirements, assess economic impacts, and report back to the agency, even though the original rule had already given companies a year to do so before it took effect. The EPA argues its right to issue the 90-day stay is also included in the Clean Air Act under section 307, which allows it to reconsider the law as long as "the reconsideration does not postpone the effectiveness of the rule." But environmentalists argue any delays in implementation would indeed hinder its effectiveness. 
Industry groups like the American Petroleum Institute argue that many companies are already checking their equipment for leaks, making the methane rule redundant and unnecessarily costly.
This lawsuit is now one of many actions taken against the Trump climate change policies. Environmentalists sued the administration after the controversial Keystone XL pipeline was approved in March. Just last week, a number of school, companies and states have rallied around Michael Bloomberg to uphold the Paris Agreement on climate change, defying Trump after he announced on Friday that the U.S. would pull out of the deal.