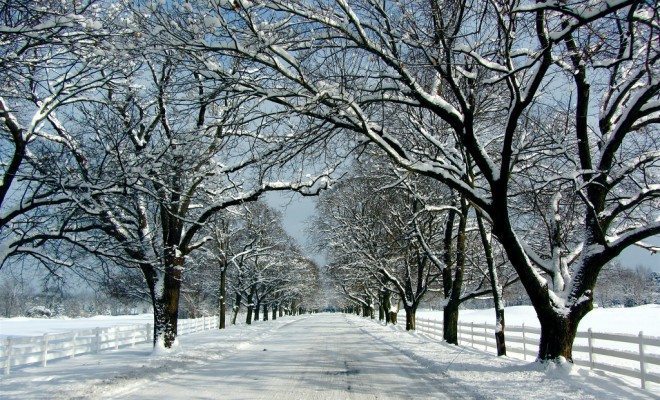 Image courtesy of [Rachel Kramer via Flickr]
Education
Snowmen or Textbooks: The Debate Over Virtual Snow Days
By
|
Students have always loved snow days as an excuse to play in the snow and forget about their schoolwork, if only for a day. However, snow days are a logistical headache for the administration and teachers who already have a difficult time cramming 2,500 years of world history or all of the basic principles of chemistry into a school year. As a result, some education reformers are suggesting that we should have "virtual" school on snow days. Read on to learn about what exactly that means, and the debate on virtual school days.
---
What's the logic behind virtual snow days?
Snow days disrupt the academic schedule at a critical time in the year when students are least distracted and are preparing to take any number of standardized tests that come in early Spring. Additionally, administrators have to decide whether to add days lost because of snow to the end of the year, which is expensive and adds days at a time when students are mentally checked out and ready for summer.
After this past winter, one of the coldest on record and with an immense amount of snowfall, school districts are looking for ways to cope with a large amount of snow days. On February 13 the Pascack Valley Regional High School in Hillsdale, New Jersey tried holding a virtual school day after schools were closed due to snowfall. All students in the district had been assigned a laptop to bring home at the beginning of the year, and while remaining at home, teachers and students engaged in discussion, completed assignments, and continued progress on coursework. Students even had their physical education class, in which they were instructed to measure their heartbeat before and after going outside to shovel snow for 15 minutes. Though innovative, the New Jersey Board of Education has yet to decide whether they will accept this "virtual" day as an official school day.
While advocates hail this experiment as a success that will usher in a new era of productive snow days, opponents argue that technological barriers and a myriad of other problems prevent this idea from becoming a widely recognized solution.
---
What's the argument for virtual snow days?
Advocates see virtual school days as a progressive way to prevent academic disruption and to provide students with as much education as possible prior to the standardized tests that have become so important in the era of "No Child Left Behind." Standardized tests are often scheduled for February, March, or April regardless of how many snow days a school has had, and days added on in June do not benefit students on these tests that end up determining school funding and grade progression. It would be beneficial to have students continue to progress on coursework, as it not only takes away time from standardized test preparation but is disruptive to a teacher's academic schedule to have to push back lessons, reviews, and test days.
It is also costly for school districts, which often have an already-tight budget, to keep school open at the end of the year, which involves extending building costs and staff salaries, while also disrupting the schedules of families that may have scheduled a vacation or have signed their children up for day camp during the regularly scheduled summer vacation. Virtual school days would eliminate these logistical problems and provide students with education during the time of year when they are most focused, and not daydreaming of being outdoors.
Advocates point to the success of online college courses and the growing number of individuals who work remotely from home via their computers as an indicator that this system could be adapted for use at the grade-school level. Additionally, advocates argue that virtual school could be adapted for such cases as when students are recovering from an illness but not quite well enough to return to school, which could prevent sick students from falling behind their peers.
---
What are the arguments against virtual snow days?
Despite being a useful method for keeping school on track and preventing disruption in academics, there are several logistical problems that would make virtual school days difficult to implement. First, snowfall often brings about power outages due to falling tree branches or car accidents, and without power a virtual school day cannot happen. Also, the technology required is not accessible to all school districts or all families that have school-aged children. While more affluent districts may be able to provide laptops for their students, most districts such as those in inner-city neighborhoods do not have the resources to make this happen. While beneficial, many opponents argue that the cost of providing each and every student with virtual school technology is simply not worth the benefits of productive snow days. In areas where all families have their own internet access, a situation in which a family has multiple children but only one computer, as is common, would create problems with virtual school. (Remember how difficult it was to share the TV with your siblings? Try sharing the resource you need in order to complete your schoolwork for the day.)
Another logistical problem faced by virtual school is the teachers who are parents themselves, and so have to watch their children on snow days. Many teacher-parents do not relish the thought of having to teach a full school day via computer while looking after their own children. Teachers of younger children also argue that virtual school would be difficult for children in elementary school, who often need more hands-on guidance with their schoolwork and find it more difficult to sit still and focus for long periods of time. Without the presence of a teacher in the same room as them, many feel that virtual school would not succeed in providing a quality educational day for younger students.
Many professionals are also against using e-learning technology to hold virtual school because many say teaching in this method requires a widely different skill set than those used for in-class teaching. Very few teachers have any type of training in using this technology or this method, and so opponents argue that while virtual school days would have students completing assignments on snow days, the quality of education the students would receive on these days would be dramatically different on days they are in the classroom.
---
Conclusion
With the state of American education where it is, every chance that we have to provide quality education to our children is valuable. That being said, creating make-shift learning opportunities from home may be more trouble than it would be worth. For those of us located in snow-prone climates, it will be a debate that many school districts will have to have for themselves in coming years.
---
Resources
Primary
Pascack Valley Regional High School School District: Virtual High School
Additional
NorthJersey.com: Make Snow Days Into Virtual School Days
NJ.com: Schools Offer 'Virtual Classes' to Keep Lessons on Track During Snow Storms
Accuweather.com: Could Virtual Classrooms Be a Solution For Snow Days?
Washington Post: Gasp! No More Snow Days?
Gizmodo: Terrible News: The Internet May Kill Snow Days
Middletown Press: Poor Elijah's Almanack: Neither Snow Nor Blizzard Bags
NorthJersey.com: Snow Day's Virtual Classroom: Are Lessons at Home the Next Logical Step?
CBS: NJ School District Tries to Get Around Snow Days With "Virtual School Days"
CNN: Students, Say Goodbye to Snow Days–and Say Hello to School at Home
Boston.com: Virtual School Days Replace Snow Days For Some Schools
NBC: New Jersey Students Spend Snow Day in Virtual School