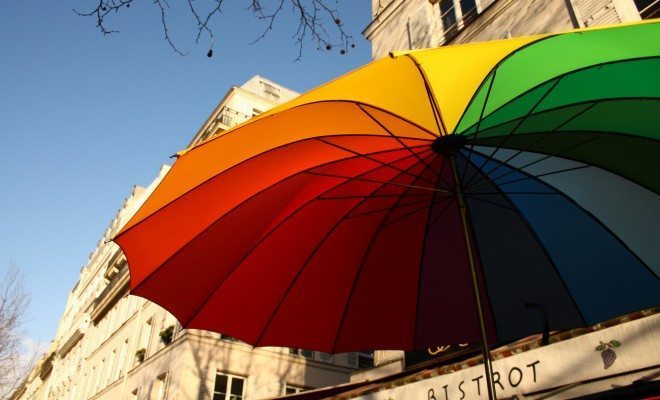 Image courtesy of [Olivier Ortelpa via Flickr]
Education
LGBTQ College Students: Legal Hurdles and Rights
By
|
Before choosing a college or university, many LGBTQ students, staff, and faculty consider how many resources–or the lack thereof–a school has for them. This scrutiny is a necessary part of researching schools because there are many legal barriers to LGBTQ students' safety on college and university campuses. So what are some of these legal hurdles that LGBTQ students face and try to change on campus?
---
Challenges Facing LGBTQ Students
LGBTQ students–particularly LGBTQ students of color–face tremendous (and often violent) barriers on college campuses. Lacking a federal legal incentive to protect LGBTQ students on the basis of their sexual orientation or gender identity, college administrations often allow unsafe conditions for LGBTQ students who are constantly subjected to both everyday microaggressions and harassment on campus. LGBTQ students face threats and harassment from other students on campus at a disproportionate rate, including many gay students reporting the use of gay slurs against them while walking alone on campus. A full third of LGB students and staff on college campuses have considered leaving their institution due to campus environments that perpetuate homophobia. Because of these kinds of hostilities, more than half of all LGBT students and staff hide their identity to avoid discrimination and harassment. Even this measure does not even help, however: online forms of harassment, including public outing, contribute to gay students committing suicide, often embodied by the famous case of Tyler Clementi at Rutgers several years ago.
Obstacles for Transgender Students 
Transgender students face a series of unique challenges. Due to the immense legal obstacles (which vary state by state) to obtaining the legal name changes that allow transgender students' identities to match the names on their ID cards, class rosters, certificates, and school email addresses, many colleges leave transgender students open to being outed on their first day of class as professors read out rosters with students' incorrect name listed. Without implementing streamlined policies that allow students to enter their preferred name instead of their legal name on all public campus documents, colleges subject transgender students to the kind of unsafe conditions that lead to all sorts of discrimination and harassment.
For transgender and gender nonconforming students in particular, the administrative and legal obstacles to staying safe on campus–even in states that already prohibit discrimination based on gender expression and identity and sexual orientation–are immense, and include daily struggles from consistent misgendering to threats of violence when students simply need to use the restroom. As one transgender student, Zo Anthony Shay, a fourth-year student at UCLA, says, "Every time I took a piss [on campus], I need to look around so I don't have my face smashed into a wall…We're fighting for our lives."
Some states like Kentucky and Texas, are considering criminalizing transgender people who use the restroom that matches their gender identity. This will pose a tremendous problem to campuses in those states, and increases the impetus for LGBT campus activists to ensure that their schools have gender-neutral restrooms to ensure that transgender and gender non-conforming students will not risk severe health issues and violence  for simply using the restroom. This has the potential to be a particular problem for transwomen at women's colleges in states that do not protect people on the basis of gender identity and expression.
According to Genny Beemyn, the director of the Stonewall Center at the University of Massachusetts at Amherst,
Trans students and allies have been working now for a number of years at many schools to create gender-inclusive bathrooms and gender-inclusive housing options, because those are pretty basic – to have a place to sleep and a place to pee…They're looking now to address other important issues, and so gender in name documentation, hormones and surgeries are coming up more and more frequently for schools that have really begun to address transgender issues.
The hormones and surgery coverage that Beemyn refers to brings into question the kinds of health care plans that colleges provide to students and college employees. While only 63 colleges and universities across the country cover transgender-related health care for students, including therapy, hormones, and gender affirmation surgery, even fewer (39 schools) offer these necessary health resources to college employees. These resources are not only vital to the health of many transgender people, but things such as therapy and hormone treatment are generally mandated by state law in order for a transgender person to obtain legal documentation that reflects their proper name. By not granting insurance coverage to students and employees for these medical costs, most colleges and universities across the United States actively bar transgender students and employees from receiving necessary health care.
---
Lack of Legal Protections
According to a 2010 survey conducted by the Q Research Institute for Higher Education (an initiative of the advocacy group Campus Pride), LGBTQ students–especially all transgender and gender nonconforming students and particularly students of color–face discrimination and harassment on college campuses at more than double the rate experienced by straight, cisgender students. The Chronicle of Higher Education summarized the report as such:
About a quarter of lesbian, gay, bisexual, and queer students and employees said they had experienced harassment, as did more than a third of transgender and "gender nonconforming" respondents, compared with 12 percent of heterosexuals.
Seventy percent of lesbian, gay, bisexual, and queer students and employees felt comfortable with the overall campus climate, the report says, a rate that was higher than that among transgender and gender-nonconforming respondents but lower than that of heterosexuals. Lesbian, gay, bisexual, and queer students who were also members of racial minority groups felt less comfortable in their classes than did their white counterparts, and faculty members were more likely than were students and staff members to have considered leaving their institutions, the report says.
Currently, federal non-discrimination statutes do not directly protect LGBTQ individuals on college campuses on the basis of their sexual orientation or gender identity.
The Senate recently voted down an amendment designed specifically to protect elementary and secondary school LGBT students from legal discrimination across the country. However, a recently introduced bill might offer a legal remedy to that lack of protection. According to Buzzfeed News, the bill, which Democratic supporters have dubbed the "Equality Act," would expand the Civil Rights Act of 1964 to include protections against discrimination for gender identity and sexual orientation. This would impact higher education by amending Title IV to protect LGBTQ people from discrimination at education institutions receiving federal funding.
Though this Equality Act has the potential to provide legal protections for people using public restrooms that match their gender identity–a huge and dangerous obstacle for students on college campuses–it is unlikely that the bill would be able to provide any immediate relief for students who experience violence and discrimination. For example, even though the NYC Commission on Human Rights has already stated that any user of New York City public restrooms cannot legally be stopped and/or asked to present ID for using the restroom that matches their gender identity, this discrimination is still common practice in New York City. However, in terms of legal precedent, this change could potentially go a long way toward securing broad LGBTQ legal rights on college campuses.
---
Conclusion
While many, if not most, college campuses do not have provisions to offer legal and day-to-day structural protections for LGBT students, most if not all colleges do have at least informal, active student groups of LGBT students that offer each other support throughout their college careers. The schools that are the most structurally supportive of LGBT students can be found through Campus Pride's "Campus Pride Index," and state-by-state regulations that affect school policies are listed at Lambda Legal's guide here. While some of these schools do an excellent job of welcoming LGBTQ students, more work needs to be done across the board to ensure that everyone is able to have a safe college experience.
---
Resources
Campus Pride: Q Research Institute for Higher Education
Lambda Project: State Regulations
Buzzfeed: Democrats Plan to Introduce Sweeping LGBT Rights Bill in Congress this Week
Inside HigherEd: Broadening the Transgender Agenda
Chronicle of Higher Education: Gay Students and College Employees Face Significant Harassment, Report Says
Education Week: Senate Votes Down ESEA Amendment Designed to Protect LGBT Students
The Washington Free Beacon: Feds: Transgender Bathroom Choice a Matter of 'Health and Safety'
NASPA Student Affairs Administrators in Higher Education: LGBTQ Issues on Campus: What's Changing?