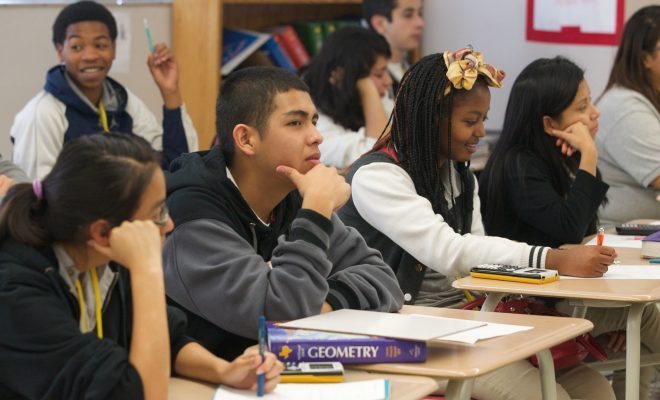 Image courtesy of [US Department of Education via Flickr]
Education
Gifted and Talented Programs: Are They Reaching All Qualified Students?
By
|
The news has been full of stories lately from lower-income schools; stories about teachers cheating to pull ahead, children falling through the cracks, and many schools leaving children completely behind in their studies. But there's another group of students who don't necessarily get a lot of attention–children who are viewed as "gifted" or "talented" but don't have access to the resources that would propel them forward.
The National Society for the Gifted and Talented has a comprehensive definition of what it means to be gifted and/or talented:
This definition of giftedness is the broadest and most comprehensive and is used by many school districts. It speaks of talent, which includes all areas of a child's life: academic, artistic, athletic, and social. Most schools limit their definition and their programs to academics, but it is important to focus on performance and accomplishment. It is not enough to just have the talent; you must be using that talent to achieve at remarkably high levels. However, this definition does also recognize that while all very talented students have the potential to achieve at high levels, some may not have yet realized or demonstrated that potential. Such students may be underachievers, twice exceptional, or represent underserved groups who have not had a nurturing environment to bring out those talents. Finally, this definition is a comparative one; these students achieve or have the potential to achieve at levels way above their peers.
Many of our gifted children aren't getting the attention they deserve because there simply isn't enough money, there aren't enough teachers, and in some cases the curriculum fails students. Read on to learn about the challenges in teaching gifted students at every level of the American education system.
---
Achievement Gaps
Achievement gaps have always existed in schools–especially between those in inner cities and their suburban counterparts. Achievement gaps occur at all ages between lower-income students and those who are better off financially. The methods used to measure a student's retention and knowledge, including grades, classroom testing, standardized testing, course selection information, and drop-out rates all show the problem that exists. The difference between the scores of lower- and high-income students has been plaguing our nation for years, and there has been very little noticeable improvement overall.
There are racial disparities in academic achievement even when the most able students are taken into account. Evidence for this is found specifically among high scorers on the SAT math and reading sections. The National Research Center for the Gifted and Talented has found that "African Americans, Latinos (especially Mexican Americans and Puerto Ricans), and Native Americans are currently severely underrepresented among the nation's highest achieving students, by virtually all traditional academic achievement measures, including GPA, class rank, and standardized test scores." When studies have compared measurements between the two levels (SAT scores and GPAs), they see a huge difference between what a student is capable of (SAT score) and how that manifests itself in schoolwork (GPA).
The Washington Post explained the problem by looking at state testing, stating, "Less than one percent of low-income eighth-graders scored 'advanced' on the 2011 NAEP reading exam; more-affluent students were five times more likely to score advanced. Math was better, but not much: 2.5 percent of low-income eighth-graders scored advanced, compared with nearly 13 percent of more-affluent students."
Poverty also plays a big role in how a student succeeds. According to the Davidson Institute, a report called "Achievement Trap:"
Tracked the performance of high-achieving lower income and high-achieving upper income students and found disparities at the beginning of elementary school that grew larger over time. This means that the students who started off in poorer schools received fewer and fewer opportunities as they approached high school. Disparities between upper income and lower income high achievers also were found in higher education in terms of college graduation rates, and attendance at prestigious colleges.
Overall, there are significant achievement gaps between our students at many different levels and for many different reasons.
---
Gifted Programs
There have been specific programs in the past that have been implemented to help students in poorer school districts reach high levels, including the Minority Student Achievement Network, for example. The problem is that the achievement differences, especially among gifted and talented students, are especially pronounced within the major urban school districts within the United States, specifically in Chicago, New York, and Philadelphia. However, there are also smaller school districts that have similar problems. Many poor minority children and new immigrants reside in these underfunded school districts that are struggling to survive and provide for the children. In many states, gifted programs don't even exist within urban schools.
In-Class Issues
Lower-income students are underrepresented in all aspects of gifted programs. In a recent study, it was discovered that most of the students that qualified or were even tested for gifted programs, even in schools where they were the minority, were Caucasian or Asian students. Another study found that black students were underrepresented by as much as 55 percent nationally in all gifted programs.
The problem isn't always that the students aren't able to qualify for gifted and talented programs, sometimes it is that they aren't even being tested.
Curriculum
Another problem is that gifted programs, if they exist at all in lower-income schools, can lack the rigorous curriculum that other schools have. One of the biggest reasons seems to be the focus on testing. The National Education Association states that:
The law is uniformly blamed for stripping curriculum opportunities, including art, music, physical education and more, and imposing a brutal testing regime that has forced educators to focus their time and energy on preparing for tests in a narrow range of subjects:  namely, English/language arts and math.  For students in low-income communities, the impact has been devastating.
The curriculum now revolvse more heavily around memorization and by-the-book learning. In an area with many lower-income families and students, like Los Angeles, for instance, "one-third of the 345 arts teachers were given pink slips between 2008 and 2012 and arts programs for elementary students dwindled to practically zero."
While testing is one facet, students also struggle because schools lack educational resources they need, such as libraries, textbooks, and technology, and often employ less experienced or less qualified teachers.
In schools where the children do have resources and they do get tested for gifted programs, a whole other problem with the curriculum arises: they may not feel included in the classroom. They aren't present in the literature that so many gifted programs use, and may experience difficulties connecting with it. For instance, classes are often assigned to read books that revolve around white, middle-class families rather than reading books that include minorities like "Parrot in the Oven" or "A House on Mango Street."
Even if schools with high levels of poverty have gifted programs and have the appropriate procedures in place to identify students who need them, an achievement gap may still be present. Gifted and talented programs can't be one size fits all and need to set up as many students as possible for success.
---
Conclusion
So what can we do? Unfortunately, we aren't going to fix these problems overnight. Teachers are trying the best they can, but with so much going on within school hours, it can be difficult for them to get it right. Even more, we do need to focus on getting teachers who live or lived in those areas back into their schools. Teachers who understand the struggles these students face will be able to reach them better.
The answer may also fall to the state and federal governments and their emphases on testing. Even more so, it is going to take parents and students demanding programs for their schools: better gifted programs, better gifted testing, and better curriculum all around. It is going to take all of us banding together to push the gifted and talented ahead.
---
Resources
Primary
National Governor's Association: States Close the Achievement Gap in Advanced Placement Courses
Additional
National Research Center on the Gifted and Talented: Promoting Sustained Growth in the Representation of African Americans, Latinos, and Native Americans Among Top Students in the United States at All Levels of the Education System
National Society for the Gifted and Talented: Giftedness Defined
NEA Today: The Testing Obsession and the Disappearing Curriculum
Washington Post: Gifted students — EspeciallyThose Who are Low-income — Aren't Getting the Focus They Need
Edutopia: How Should We Measure Student Learning? Five Keys to Comprehensive Assessment
ETS: Parsing the Achievement Gap II
Sage Publications: Experiences of Gifted Black Students; Another Look at the Achievement Gap
University of Colorado: Identifying Gifted and Talented English Language Learners
Editor's Note: This post has been revised to credit select information to the Davidson Institute.