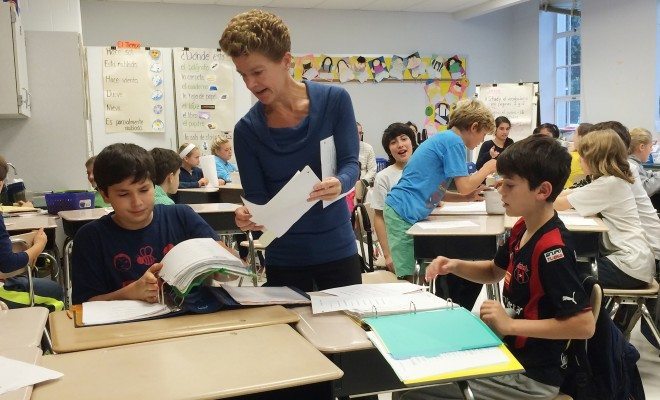 Image courtesy of [woodleywonderworks via Flickr]
Education
Common Core: A Solution to America's Education Problems?
By
|
Common Core State Standards have been a matter of controversy for a few years now, garnering opposition from both sides of the aisle. Common Core in some ways saw its inception in the George W. Bush era and serves as a predecessor to the No Child Left Behind Act. But what exactly is Common Core, why was it launched, and what is the opposition? Read on to find out.
---
What is Common Core?
The Common Core State Standards "aim to raise student achievement by standardizing what's taught in schools across the United States." They include a particular focus on language arts and mathematics. The objective is to universally prepare students from Kindergarten to high school to be successful for entry-level college courses or to enter the workforce. It lays out what students should know and be able to do by the end of each specific grade. The standards are results driven, but the methods used to achieve the set results are chosen by local teachers and facilities.
The History Behind Common Core
The No Child Left Behind Act (NCLB) was first signed into law by President Bush in January 2002. The next decade was spent revising the law's requirements and attempting to create more successful "adequate yearly progress" reports. However, people quickly realized that NCLB was in need of serious reform itself. In November 2007, state chiefs first brainstormed Common Core standards at the Council of Chief State School Officers (CCSSO) Annual Policy Forum. The following year, the National Governors Association Center for Best Practices (NGA), CCSSO, and education nonprofit Achieve released Benchingmarking for Success: Ensuring U.S. Students Receive a World-Class Education. In it they recommended the common standards. In April 2009, the NGA and CCSSO officially invited states to commit to the Common Core standards, and by June 49 states and territories announced commitments. After public feedback, a final draft was released in June 2010.
The NGA and CCSSO  led the development of the standards and actively advocated for their implementation. They also sought input from teachers, parents, school administrators, and various state leaders in "how the standards are taught, the curriculum developed, and the materials used to support teachers." Implementation, however, is completely up to the states. Once a state adopts the Common Core standards, it is delegated to local teachers, principals, and superintendents to introduce the standards into school curriculum.
---
 Why was the Common Core program started?
It has long been a bipartisan view that the U.S. needs education reform. Common Core was started to allow high school graduates to be competitive in college, but also in "the rapidly changing American job market and the high tech, information-based global economy." It is widely believed that U.S. students are falling behind their counterparts in other countries. Standardized tests in countries like China and Singapore have advanced well beyond the U.S. over the last few decades. Bill Gates, a heavy investor in the Common Core, advocated,
Our nation is one step closer to supporting effective teaching in every classroom, charting a path to college and careers for all students, and developing the tools to help all children stay motivated and engaged in their own education. The more states that adopt these college and career based standards, the closer we will be to sharing innovation across state borders and becoming more competitive as a country.
In Gate's interview, he repeatedly noted that the standards are not based on curriculum. They are "solely" milestones for where the students should be at each grade level.
---
How much does Common Core cost?
The cost for implementing Common Core will vary from state to state, but will undoubtedly be expensive. Training teachers and buying new materials will take a substantial amount of money. In 2011, California estimated that replacing its current standardized tests with Common Core standards would cost taxpayers approximately $1.6 billion. In Texas, the estimate is upward of $3 billion dollars.
According to the Common Core Initiative however, the implementation will allow for states to eventually save on resources, materials, and "cross-state opportunities that come from sharing consistent standards." The cost-benefit ratio should end favorably. As of 2014, 43 states, Washington D.C., Guam, the Northern Mariana Islands, and the Virgin Islands adopted the Common Core.
---
What are some characteristics of Common Core?
English and Language Arts
Generally, the standards call for "regular practice with complex texts and their academic language." They demand a steady increase in complexity and progressive reading comprehension. There is to be an emphasis on academic vocabulary, focusing on meaning, nuances, and range. There isn't a required reading list; however, categories of literature are required. Examples include classic myths, foundational U.S. documents, works of Shakespeare, and staples of American literature.
Students should know how to provide evidence from the text when forming analyses and arguments at different levels. The standards call for text-dependent questions on assessments as opposed to questions based on student experiences and/or opinions. The objective is for students to be able to effectively inform and persuade, and for these skills to become stronger as students move up in grade levels.
There is also a larger focus on nonfiction. For grades K-5, there is a 50/50 ratio between informational (history, social sciences, etc.) and literary texts. In grades six through 12 there is substantially increased attention to literary nonfiction.
Mathematics             
In mathematics, the standards call for a "greater focus on fewer topics." The standards aim to narrow and deepen lessons on concepts, skills, and problemsolving depending on grade level. For example, K-2 will focus on addition and subtraction, while grades three through five will focus on multiplication and division of whole numbers and fractions.
There is an overriding theme across grades of linking topics and thinking. A standard at any grade level is designed to build upon the standard of the previous grade and act as an extension. This consistently reinforces major topics, which are used to support grade-level word problems that need mathematical applications to solve.
Finally, the mathematics standards aim to pursue conceptual understanding, procedural skills and fluency, and application with equal force. The idea is to deepen the understanding of concepts as opposed to memorizing rules. If the building blocks of complex math concepts are completely understood by students, that will eliminate degrees of future difficulty. Speed and accuracy are both to held in high importance.
---
What are the arguments against Common Core?
The goals of the Common Core seem to have U.S. students' best interests at heart. So why is there so much opposition? Here's a look at some of main challenges.
National Standards
First, some argue that the name "Common Core State Standards" is misleading. Since they have been adopted by 43 states, they are truly national standards. Detractors worry that states didn't necessarily adopt the Common Core by choice, but were strong-armed by conditions ascribed by federal Race to the Top grants and the No Child Left Behind programs. Prior to the implementation of Common Core, all 50 states–whether on board or not–adopted NCLB or revised standards under the threat of losing federal funding.
More of the Same
Many see the Common Core as round two of No Child Left Behind. NCLB failed in both "raising academic performance and narrowing gaps in opportunity and outcomes." This propagated the notion that American schools need to be fixed. Test results from NCLB did not meet expectations. After the first ten years, more than 50 percent of the nation's schools were categorized as failing. Many of these same schools never received the support or resources necessary to stand a chance. In the same respect, will all schools be supplied with the needed computers required to take the Common Core tests?
Too Curriculum Based 
There are also worries that Common Core has become more curriculum based than originally intended. In the video below, a seven-year public school teacher discusses why the Common Core is not good for kids and dictates curriculum. She argues, "when the standards are tested that's what you are going to spend your time on…[there is] no room to teach anything else."  Her job security is based on meeting the standards. As a result, she's concerned that the standards must be taught 100 percent of the time, and don't allow flexibility or creativity.
She continues to argue that the material is not condensed, using the 93 elements of the third grade reading standard as an example. Her largest problem with Common Core is its age appropriateness. Although she advocates pushing students, she doesn't believe seven year olds should be expected to master the difference between an adjective and an adverb. She labels the standards as a  "race to the middle" with "mediocre teaching." Using a uniform approach, the faster learners are bored, while the slower learners are under immense pressure.
There is plenty of concern on the length and difficulty of the assessments as well. In the first round of distribution of the Common Core tests in New York, students, parents, and teachers strongly voiced their concerns. Many students felt immense pressure and were scared of failing, and teachers complained about the atmosphere the tests created.
Opting Out
Some children have started to opt out of the tests, often with parental support. The "opt out movement" has grown in popularity–thousands of students nationwide have chosen this route. Opt-outs protest the Common Core standards and the overemphasis on testing in public schools. There is even a National United Opt Out group comprised of parents, educators, students, and social activists. The legality of opting out seems to be a gray area, varying from state to state. In an extreme case, the Illinois State Board of Education sent a letter stating students opting out would be breaking the law and teachers refusing to administer the test would face legal consequences.
There are a variety of other arguments as well. One other concern is that corporate businesses are behind the standards to create a marketplace for Common Core resources. Others argue that electives like music and art will be sidelined. Finally, many teachers and parents don't approve of the "one-size fits all" approach to teaching children.
---
Conclusion
It's hard to say what is in store for U.S. education reform. We do need a change, but is Common Core the right one? There aren't any studies regarding Common Core's success to fall back on. Only time will tell. There are convincing arguments on both sides. Ultimately, everyone involved wants the same thing: U.S. students to be as educated and prepared for the world as possible.
---
Resources
Primary
Common Core State Standards Initiative: About the Standards
CCSSO: National Governors Association and State Education Chiefs Launch Common State Academic Standards
U.S. Department of Education: No Child Left Behind
Additional
Washington Post: The Common Core's Fundamental Trouble
EdWeek: Ensuring U.S. Students Receive a World Class Education
U.S. News & World Report: Who is Fighting for Common Core
Truth in American Education: State Costs for Adopting and Implementing the Common Core State Standards
U.S. News & World Report: The History of the Common Core State Standards
U.S. News & World Report: The History of the Common Core State Standards
U.S. News & World Report: Opt-Out Movement About More Then Test, Advocates Say
U.S. News & World Report: Who is Fighting Against the Common Core
Why Science: A Historical Timeline of No Child Left Behind