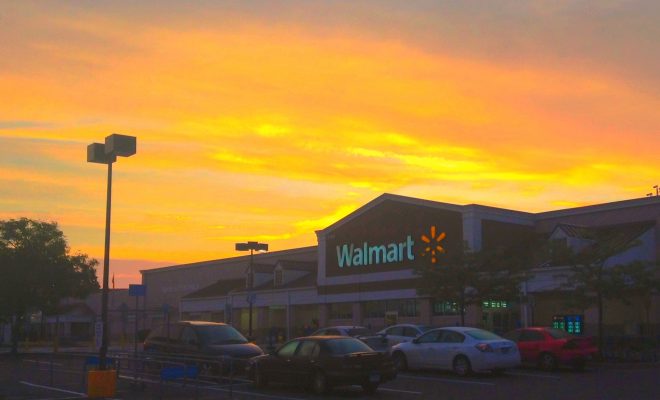 "Walmart" courtesy of [Mike Mozart via Flickr]
Business & Economics
What Walmart's Purchase of Jet.com Says About the Retail Industry
By
|
In August, Walmart purchased the online-only retail website Jet.com for $3 billion. Before the sale, Jet.com forecasted that it would be losing money until at least 2020, as it attempts to establish itself prior to becoming profitable. That raises the question of why the world's largest retailer, with an online presence of its own, would decide to buy a fledgling retail site that didn't plan on making money for several years. Read on to find the answer to that question and how it is influenced by the changing retail marketplace, where online presence is more important than brick and mortar stores and is necessary to compete against online behemoths like Amazon and Alibaba.
---
Walmart and Jet.com
Walmart bought Jet.com for $3 billion in cash and $300 million worth of shares for people high up in the company. Although Jet.com CEO Marc Lore will take over the online business of both retailers, they will remain separate entities. This is partly to retain Jet.com's potential appeal to new users, such as millennials, who might view the site differently than they would Walmart. Jet.com's business model was originally similar to its major competitors such as Amazon, which charges annual fees for membership while offering special deals and services. However, that plan was scrapped in October 2015 when Jet.com's discounts became available to everyone at no additional cost.
The hope for many at Jet.com–including its CEO, who also founded another online retailer startup that was purchased by Amazon–is that with Walmart's economy of scale it can ramp up sales and turn a profit sooner than expected. The company also hopes to expand beyond the United States, where it currently operates.
The video below looks at Jet.com's initial business model and how it sought to compete with Amazon:
---
The Why
While Jet.com has the potential to improve Walmart's e-commerce presence and its overall sales, why did it decide to make this move and spend $3.3 billion on a startup that is years away from making a profit? The answer is that the retail market itself is rapidly shifting. In January, Walmart announced that it will be shutting down 269 stores, including 154 in the United States. The Walmart downsizing was just a precursor to a bigger change within the retail industry. In June, another wave of major retailers, including the likes of Macy's and J.C. Penny, announced huge layoffs of their own. In total, as many as 38,000 jobs have been lost in retail so far this year, second only to the crude oil industry.
All these layoffs point to the fact that the way Americans buy their goods is shifting from brick and mortar stores to an online marketplace. Indeed, last quarter the nationwide e-commerce market in the United States grew by 15 percent. Walmart is certainly part of this growth, as its online sales grew by 7 percent during that period but that was slower than the industry as a whole and considerably slower than competitors like Amazon. The pace of Walmart's online growth has slowed for nine consecutive quarters while its competitors continue to post large gains.
Although Walmart managed to make $14 billion in 2015 through online sales, that was only a paltry 3 percent of its total revenue. While Walmart has made efforts to improve its own online sales–such as expanding the number of products listed and allowing merchants to provide descriptions of their goods–the move to incorporate Jet.com may make sense as it tries to keep up.
While Jet.com's revenue doesn't come close to the amount of money made by Walmart's e-commerce efforts, it has grown relatively quickly with about 400,000 new customers each month. It has sustained this growth by offering lower prices than Walmart and others like Amazon, by linking the buyers directly with the sellers while not accumulating a massive warehouse of inventory. Jet.com's different style of business and the demographics that it caters to are likely why Walmart found the company so attractive. The following video looks at why Walmart purchased Jet.com:
---
Competing Against Amazon (and Alibaba)
Walmart's overall goal is to compete or at least challenge Amazon's dominance in the American e-commerce market. While Walmart made more in total revenue, Amazon made far more in online sales, pulling in $107 billion (including the web-services component) to Walmart's previously mentioned $14 billion. Not only did Amazon make more in total, its growth in sales increased at a far greater rate, 31 percent to Walmart's 7 percent last quarter. Amazon's growth was also twice as much as the industry as a whole.
Walmart has already taken shots at its online retail rival. On top of recent investments, like its purchase of Jet.com and other efforts to improve its own e-commerce presence, Walmart has also been mimicking some of Amazon's best practices. Namely, in response to Amazon's Prime's free two-day shipping for members, Walmart announced its own Shipping Pass promotion. Shipping Pass provides Walmart shoppers with the option to buy free two-day shipping for a year at about half the price of an Amazon Prime membership. However, unlike Amazon, this deal does not also include a wide range of other benefits like video and music streaming.
One thing that Walmart is unlikely to copy is Amazon's new strategy of opening physical stores. Seemingly running counter to the emerging conventional wisdom, Amazon recently opened a brick and mortar store in Seattle and plans to open another in San Diego. While the exact rationale behind this decision remains unknown, Amazon founder Jeff Bezos told the Wall Street Journal that the company is experimenting with a lot of new ideas to maximize its revenue. As of now, it looks like Amazon is alone in its decision to open additional physical stores.
International Competition
Although Amazon has established itself as the big fish in the U.S. e-commerce industry and in much of the rest of the world, an even greater threat may be emerging in China. There, a company known as Alibaba controls about 80 percent of the market. Walmart has already taken steps to counter this threat with 400 locations in China and it recently partnered with JD.com to expand its influence in the Chinese market. The accompanying video looks at Alibaba's business model:
Alibaba is slightly less of a threat to Walmart now because it is primarily focused on China. Additionally, its first foray into the U.S. market failed. However, it does hold a stake in other American companies, namely Groupon, and at one point it even owned a stake in Jet.com. The company's focus in the near term seems to be learning the nuances of the American market, which could make it a serious challenger in years to come.
---
Conclusion
Walmart's purchase of a company that planned to lose money for at least the next four years is indicative of the changing reality of the retail industry. Namely, while retail has long been the domain of brick and mortar physical stores with Walmart leading in sales, things are changing. While physical stores still account for a large proportion of all sales, retailers continue to put an emphasis on e-commerce.
While Walmart is still one of the largest if not the outright largest retailer in the world, in the e-commerce sphere, it lags behind. When it comes to online sales, it finds itself behind the reigning heavyweight Amazon and up against other stiff competitors, such as Alibaba, in developing markets. This explains Walmart's recent purchase of the fledgling startup, Jet.com, and partnership with other e-commerce sites operating only in China. While $3 billion may seem like a lot, if it gives Walmart an edge online it could be worth much more. But most importantly, this purchase provides more evidence that the future of the retail industry is in online sales. This purchase reflects this trend and illustrates some of the challenges that traditional companies with physical stores may have as they try to adjust.
Currently, none of these three retail titans seems to have outright control over the online market. Walmart appears to be trying to figure out how to fully tap this market like it has the traditional retail industry. Going forward, whichever company is able to most effectively harness these trends will likely be the most successful. Walmart's purchase of Jet.com may reflect its desire to succeed in a market where it has, so far, fallen behind.
---
Resources
Tech Crunch: Confirmed: Walmart Buys Jet.com for $3B in cash to Fight Amazon
USA Today: List of the 154 stores Walmart is Closing
CNN Money: Layoffs in Aisle 4! Retailers are Big Job Killers
Wall Street Journal: Wal-Mart to Acquire Jet.com for $3.3 Billion in Cash, Stock
The Street: Walmart's New Alliance to Take on Alibaba and Amazon
USA Today: Walmart vs. Amazon: Walmart offers Free Trial of 2-day Shipping Program
Wall Street Journal: Amazon Plans More Stores, Bulked-Up Prime Services
Forbes: How Alibaba is Working Toward Establishing Itself in The U.S.?