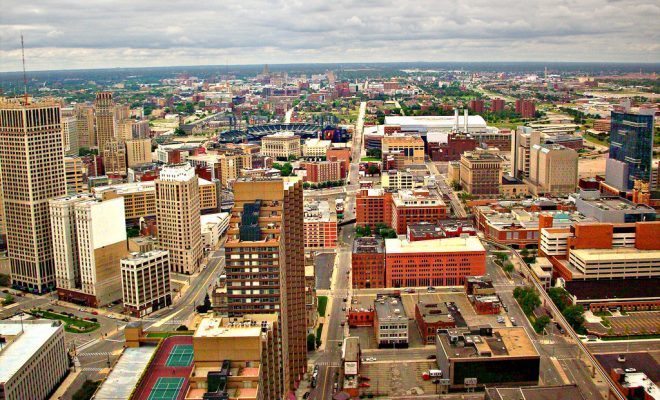 "Detroit Overcast" courtesy of [James via Flickr]
Business & Economics
Municipal Bankruptcy: The Steps, Scope, and Consequences
By
|
The once-thriving Motor City now stands as a collection of vacant lots, unused industrial sites, and abandoned homes–the poster child for the decline of the Rust Belt. Detroit's population peaked in 1950 at 1.8 million but has since dropped to a mere 700,000. Poverty, crime, and unemployment plague the city. 911 response times hover around 58 minutes. Detroit's residents blame the woes on corrupt mayors and years of mismanagement. The question is now how to move forward. The city is undergoing the painful bankruptcy process, but what will this mean for the future of Detroit?
---
How can a city declare bankruptcy?
Declaring bankruptcy is a last resort for any indebted entity. The case of a city going bankrupt is no different from a person: expenditures exceed revenue to a point that is beyond repair. Chapter 9 bankruptcy allows municipalities to declare bankruptcy, and in many ways it is similar to bankruptcy by a person or company. Unlike a company, however,  a city cannot be broken up and sold for its parts. Municipal bankruptcies are rare because 23 states do not allow cities to file for Chapter 9. Further, it is difficult for a city to convince courts it cannot pay debts since cities have the power to tax. When a city cannot repay its debts, it has to find new ways to negotiate and restructure its debt. Watch this video for greater explanation of Chapter 9 bankruptcy:
In 2011, Jefferson County, Ala. became the largest municipality to declare bankruptcy until it was surpassed by the city of Detroit declaring bankruptcy on July 18, 2013. Detroit's liabilities have been estimated at a whopping $18 billion. Problems with poverty, crime, and blight still plague the city. A recent report claimed there were 84,641 vacant structures and lots in the city, all of which require significant money for the city to fix. Despite increases in recent cases, municipal bankruptcies are nothing new. There have been fewer than 700 cases since the Chapter 9 provision was added in 1937. What is unprecedented is the size of the cities now declaring bankruptcy.
There are four main criteria for Chapter 9 bankruptcy that must be proven in court:
The state must approve the city's motion to file for bankruptcy.
The city must be insolvent.
The city must desire a plan to adjust its debts.
The city must attain an agreement with the majority of creditors or at least attempt to negotiate with creditors.


---
How does bankruptcy impact the city?
Declaring bankruptcy allows a city to find ways to cut costs and increase revenue that would otherwise be off limits. Before the filing, Detroit's hands were tied. The city had almost completely lost the ability to borrow due to its bad credit rating and had difficulty increasing tax revenue as its population plummeted. Municipal bankruptcy brings all affected parties to the table to negotiate while allowing a judge to preside. Unlike a person or business declaring bankruptcy, a municipality declaring bankruptcy gives courts a less active role in determining the restructuring plan. A court can only approve a plan set before them. Detroit's bankruptcy has allowed the city to reduce pensions that would otherwise be protected under the state constitution, which is significant since nearly half of the city's debt comes from pensions and retiree healthcare costs. Watch for some of the implications of municipal bankruptcy:
Beyond the physical effects on a city, declaring bankruptcy can have a significant psychological effect. People come to see the city as dysfunctional and problem-ridden, even if bankruptcy may prove more beneficial in the long run. This impacts the city's population, attractiveness, and future ability to borrow.
Frank Shafroth, director of the Center for State and Local Government Leadership at George Mason University, recognizes the necessity of bankruptcy. "Everyone thinks it's so terrible, but if a violent storm or flood or tornado happens, we understand something outside the control of politicians happened to the city. If you have a financial storm that does the same to a city, you have to find a way to recover to ensure that essential services are provided."
---
What is Detroit's restructuring plan?
On March 14, 2013, Michigan Governor Rick Snyder appointed bankruptcy lawyer Kevyn Orr as emergency manager of Detroit. On December 3, 2013, Detroit was determined legally eligible for bankruptcy. Listen to Orr discuss the process below:
Orr, in conjunction with various other groups, has outlined a plan to slash Detroit's liabilities and increase future revenue, mainly through deep pension cuts and cuts to bond insurers. Thirty-two thousand people are entitled to a pension from the city, 22,000 of whom are retired. Another major problem addressed includes what to do with massive swaths of uninhabited land. The plan includes:
A 4.5 percent cut to pensions of general retirees if they accept the plan, and a 27 percent cut if they reject the plan.
Elimination of cost-of-living adjustments for the pensions of general retirees and a lesser cost-of-living adjustment for police and fire department retirees.
Up to 20 percent repayment from employees who received excess interest.
Providing $1.25 billion over ten years to improve safety and remove blight.
Paying 74 cents on a dollar for unlimited tax bonds.
$25 million for a Department of Transportation security force.
$90.6 million to improve outdated software and servers.
New structure for the General Retirement System and Police and Fire System pension boards.
Until recently, plans involved deeper cuts that would force Detroit to auction works from the Detroit Institute of the Arts (DIA). The recently-appraised city-owned pieces of art were valued at $454-$867 million. Instead, a "grand bargain" was struck where foundations, the State of Michigan, and the DIA will collectively provide $816 million to reduce pension cuts and to allow the art to be transferred to an independent nonprofit. Auto companies General Motors, Ford, and Chrysler have already pledged $26 million for the deal. Michigan's legislature passed a measure to provide $195 million to Detroit upfront.
A yes vote by July 11, 2014 is needed to secure the $816 million in state aid and private funding to prevent further cuts. Even If pensioners reject the deal, Bankruptcy Judge Steven Rhodes could still decide to force deeper benefit reductions. So far Orr has the bankruptcy process moving with unprecedented speed and bipartisanship in the hope of wrapping up the deal without further appeals before his term ends September 30, 2014.
---
 Why do people reject Detroit's plan?
Severe cuts outlined in the bankruptcy plan have left many unhappy. Many reject the negotiations on principle, simply refusing to take any cut to pensions that were rightfully earned. Others across Michigan reject the state's provision of almost $200 million in taxpayer money to provide a "bailout" to Detroit. They instead argue that Detroit should be forced to sell its assets.
What should be done with the water and sewage system? The city hopes to privatize the system, which serves more than four million people in Southeast Michigan. The plan has pitted the city of Detroit against its suburbs where residents fear their rates will increase. However, the plan could be a huge boost for the city since the new provider would pay for improvements to the system and provide additional cash flow to Detroit.
Other groups take issue with the cuts proposed for bondholders, claiming the plan improperly treats pension holders better than investors. Bond insurers are still searching for what options may be available to protect themselves. The insurers have forced the city to provide millions of pages of documents and in doing so managed to push back the trial to August 14, 2014.
---
How will this affect Detroit in the future?
With the approval and implementation of a plan, cuts to pensions and bonds can put Detroit on more stable footing in the future. This was the case with Orange County, Calif., which had a triple-A bond rating nine years after its 1994 bankruptcy. However, bankruptcy may lead public employees to rethink their approach to retirement benefits and their decision to work in the public sector. This results in highly educated workers no longer being attracted to public-sector jobs in the city, even in areas like teaching. The scale of the latest municipal bankruptcies has led to greater calls for disclosure and transparency in cities across the country, especially with regard to negotiated contracts.
The severe cuts to bondholders in Detroit will have strong effects on the future of the city and on other cities in the state with regard to the riskiness associated with municipal bonds. The cuts to bondholders makes these usually safe general obligation bonds less attractive to bondholders in the future. As a result, Detroit may have to offer higher interest rates to attract investors when their bonds have lower ratings. This could also negatively impact other cities and investors across Michigan who have seen the insecurity of municipal bonds firsthand.
---
Will more cities be forced to declare bankruptcy?
The case of Detroit has set legal precedent that through bankruptcy cities can renegotiate pension contracts and even cut bond liabilities. Most bonds had previously been protected in bankruptcy due to their legal classification. If the city does emerge stronger it may be used as a blueprint for other struggling cities. Even the threat of bankruptcies in other cities can be a catalyst for serious financial discussions. Cities have been reviewing their assets and moving to protect them, such as museum art, that they do not want to be forced to sell. If anything, the case of Detroit highlights issues with grossly underfunded pensions that exist across America. Money spent on pensions leaves little for spending on education or infrastructure. Listen to a discussion of bankruptcy and pension cuts in Central Falls, RI below:
Several California cities in the process of filing for bankruptcy haven't been allowed to cut pensions since they are considered an arm of the state and exempt from the bankruptcy restrictions. The truth is that bankruptcy is not easy. Legal fees are expected to cost Detroit more than $100 million. The city of Vallejo, Calif. escaped $32 million of debt through bankruptcy; however, it cost the city more than $13 million in legal fees, and a potential second bankruptcy looms on the horizon.
Municipal bankruptcies will likely lead to more state involvement in local government. Despite the increasing size of cities now declaring bankruptcy, there is not an epidemic of cities failing to meet financial obligations. Frank Shafroth points out that bankruptcy does not have to be contagious, but cities have to be cautious. States have a proactive role to play in ensuring the success of their largest cities. Shafroth states, "What we are beginning to see in Michigan is an absolutely bipartisan effort of overcoming opposition from conservatives who said 'Let Detroit burn in hell.' The future of Michigan will very much depend on Detroit's recovery."
The case of Detroit has illustrated what options cities have in declaring bankruptcy, but cities will still use all measures available to avoid the unknown fate of Detroit.
---
Resources
Primary
U.S. Courts: Chapter 9 Municipal Bankruptcy
U.S. Bankruptcy Court: Detroit Bankruptcy Disclosure Statement
Additional
USA Today: Detroit Becomes Largest U.S. City to Enter Bankruptcy
Economist: Detroit's Bankruptcy–Revenge of the 99 Percent
Huffington Post: Detroit Bankruptcy Could Set Legal Precedent for Bankrupt Cities With Pension Obligations
Fox News: Detroit Bankruptcy Case, the Largest at $18 Billion, is Moving Quickly Less Than a Year Later
Washington Post: Here's How Detroit's Bankruptcy Will Actually Work
Economist: Retirement Benefits–Who Pays the Bill?
Michigan Radio: Will Detroit's Bankruptcy Affect Your Hometown?
The New York Times: Michigan Senate Passes Plan to Ease Detroit Pension Cuts