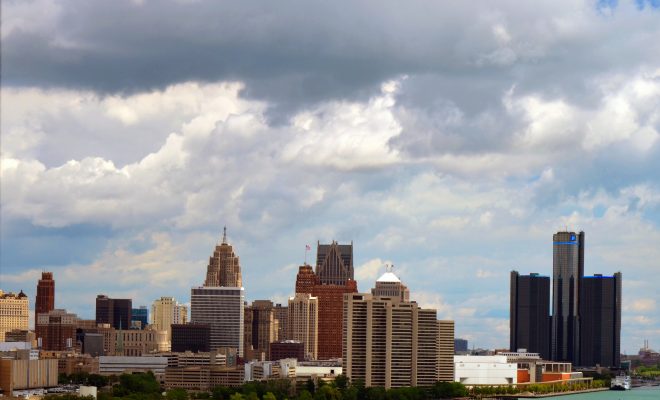 "Detroit" Courtesy of Nic Redhead; License: (CC BY-SA 2.0)
Cannabis in America
Detroit's Medical Marijuana Dispensaries are Closing by the Hundreds
By
|
Detroit city officials have shuttered over 150 medical marijuana dispensaries since last year, with dozens of additional closings expected in the coming months. The closings reflect the ever-shifting regulatory framework surrounding pot legalization, and how businesses that are slow to respond to new rules could find their doors padlocked.
Melvin Butch Hollowell, the Detroit corporation counsel, told the Detroit Free Press that the city has closed 167 dispensaries around the city since last year.
"None of them were operating lawfully," he said. "At the time I sent a letter to each one of them indicating that unless you have a fully licensed facility, you are operating at your own risk." Hollowell also indicated that another 51 closings are in the offing. Detroit is rife with unlicensed or otherwise illegal marijuana establishments; Hollowell said 283 total have been identified, and as of last week, a mere five marijuana facilities in Detroit are fully licensed.
According to the city's medical marijuana ordinances, which took effect on March 1, 2016 (Michigan voters legalized pot for medical use in 2008), dispensaries have to abide by a number of zoning and other regulations in order to qualify for a license. For instance, marijuana businesses must be more than 1,000 feet away from the following areas: churches, schools, parks, liquor stores (and other places where alcohol is sold), libraries, and child care centers. Marijuana businesses are also required to close by 8 p.m.
Hollowell told the Free Press that city officials go through the courts when seeking an order to shutter an illegal marijuana business. Because the public pushed legalization in 2008, he said, his team pursues the closings "in a way that is consistent with keeping our neighborhoods respected and at the same time, allowing for those dispensaries to operate in their specific areas that we've identified as being lawful."
And according to Winfred Blackmon, the chairman of the Metropolitan Detroit Community Action Coalition, complaints from Detroit residents helped propel the recent surge in dispensary closings. He told the Free Press: "People started getting frustrated with the marijuana shops that kept popping up around their houses and schools."
Michigan is also weighing a ballot measure for next November that, if voted through, would legalize marijuana for recreational use as well. Language for the measure was submitted to the Board of State Canvassers earlier this month; it is currently under review.