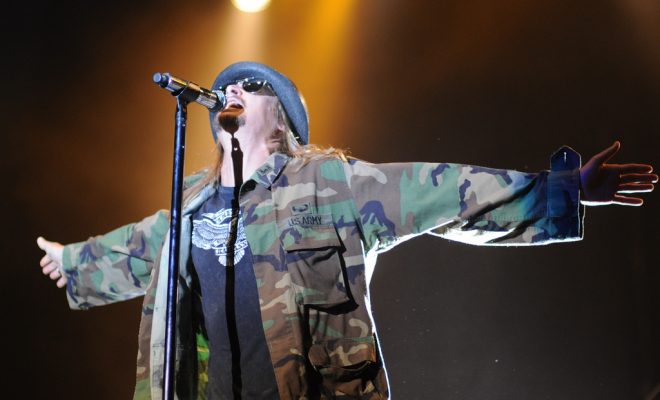 Image Courtesy of U.S. Army: License (CC BY 2.0)
Weird News
Is Kid Rock Michigan's Next Senate Candidate?
By
|
The current political climate has resulted in reminders of celebrities that none of us have thought about in a while. First, there was Scott Baio. Then, there was Aaron Carter. Next, it was Three Doors Down.
The latest celebrity who, through the power of conservative politics, has come out of the woodwork is none other than Robert Ritchie, also known as Kid Rock. You know, the guy who sings "All Summer Long."
According to a report from Roll Call, Kid Rock's name was brought up at a Michigan Republican Party convention as a potential candidate to run for Debbie Stabenow's Senate seat. Stabenow, a Democrat, has served in the Senate since 2000. She is one of 25 Democratic senators on the ballot in 2018.
While Kid Rock has not commented on the possibility nor has he been officially asked, a Michigan GOP spokesperson told Fox News that she "wouldn't be surprised if there was a movement for him to run."
If Kid Rock does decide to run, he might face some competition from none other than Ted Nugent, the hardcore conservative rock musician who was an outspoken Trump supporter during the campaign and appeared at a couple of his Michigan rallies. One such appearance resulted in Nugent grabbing his crotch on stage while he said, "I've got your blue state right here. Black and blue. Each and every one of you have only 24 hours to convince the numb nuts that you know, that you can't vote for criminals, you can't vote for liars, you can't vote for scam artists." Note that this is also nowhere near the most vulgar thing Nugent has done or said.
Speaking to The Daily Caller about a possible Senate run, Nugent said that he "is always interested in making [his] country and the great state of Michigan great again" and that "there is nothing I wouldn't do to help in any way I possibly can."
Kid Rock has proven to be less conservative than Nugent, once telling Rolling Stone in 2013 that he considers himself, politically, to be a "lone wolf" and "more Libertarian," although he tends to vote Republican. In a 2015 interview with Rolling Stone, Kid Rock spoke about his belief in gun ownership as a "sacred right."
This past election, Kid Rock supported Trump, telling Rolling Stone that he would like to see America run like a business because: "it's not really working too well running it not like a business." Early in the 2016 campaign, he spoke of his interest in Dr. Ben Carson as a candidate. Kid Rock's website also began selling pro-Trump merchandise during the election. A sample of this merch: a shirt with America's electoral map on the chest, with the states in blue labeled "Dumbf*ckistan." The shirt sold for $24.99 plus shipping costs.
Kid Rock has been touting his political beliefs for years. During the 2000s, Kid Rock would perform with a Confederate flag behind him, which came back to haunt him in 2011 when he accepted an award from the NAACP's Detroit branch. He was also an outspoken supporter of Mitt Romney during the 2012 election. Romney called his song "Be Free" his campaign theme song and Kid Rock performed it for him at a campaign event. He also appeared at multiple Romney rallies throughout the country.
While he has been an outspoken conservative, Kid Rock did perform at an Obama inauguration event in 2009, telling The Guardian that, despite not voting for Obama, "there was an exciting sense of change in the air." However, Kid Rock has said that Obama helped to create a country that was "more divided than ever." He was, of course, referring to the tension that is rising among people living in red states and those living in "Dumbf*ckistan."
If this past year has taught us anything, it's that we should never say never. This 2018 senatorial race could be one to pay attention to.
VOTE KID ROCK ✔ pic.twitter.com/SwTMgckKbd

— Kid Rock (@KidRock) November 8, 2016