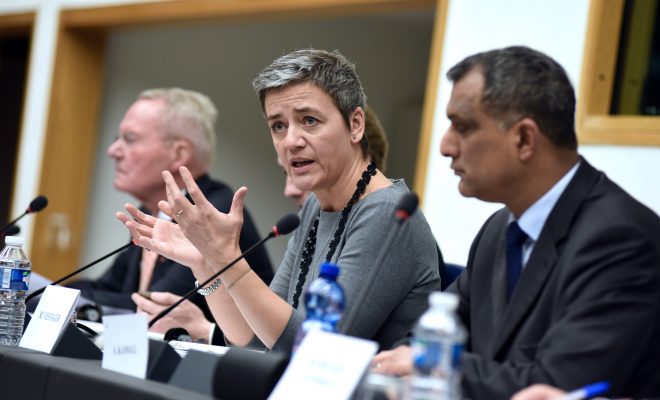 "Margrethe Vestager" courtesy of European Conservatives and Reformists Group Making Europe Work Again; License: (CC BY 2.0)
Business & Economics
The EU's Record Fine Against Google: A New Precedent for Antitrust Enforcement?
By
|
The European Union's antitrust regulators recently levied a 2.4 billion Euro fine on Google for favoring its own shopping service while demoting competitors in online search results. The fine, which amounts to about $2.7 billion, is the largest antitrust penalty in E.U. history and reflects a more aggressive trend in European antitrust enforcement. While the decision will certainly have important consequences for Google, it also illustrates how regulators are increasingly concerned with the rise of large technology companies and how they may affect competition and innovation.
Europe's approach is also decidedly different than the one taken in the United States, which has generally allowed businesses to experiment with new business strategies unless such practices harm consumers. But when it comes to the internet, particularly free services like Google, drawing a line at the point where behavior becomes competitive has been difficult. Read on for a look at the details of Google's case, the arguments on both sides, and its implications for the larger debate about antitrust law.
---
What Did Google Do?
When searching for a product on Google, you've likely noticed a bar at the top of the search results with pictures and links to places where you can buy the product underneath a link to use Google's shopping service. Margrethe Vestager, the Competition Commissioner on the European Commission, looked into Google's practices and concluded in June that the company was promoting its shopping service in a way that violates the law. The case started back in 2015, but Vestager says that Google's anti-competitive behavior dates back as early as 2008. Vestager says that by promoting its own services to the top of search results, while demoting other comparison shopping websites, Google used its market dominance to hurt its competitors in violation of European law.
When announcing the decision, Vestager made note of Google's important innovations but said that the promotion of Google Shopping didn't just seek to improve the service it provided to customers, rather it harmed the overall market. She said in a statement,
Google's strategy for its comparison shopping service wasn't just about attracting customers by making its product better than those of its rivals. Instead, Google abused its market dominance as a search engine by promoting its own comparison shopping service in its search results, and demoting those of competitors. What Google has done is illegal under E.U. antitrust rules. It denied other companies the chance to compete on the merits and to innovate. And most importantly, it denied European consumers a genuine choice of services and the full benefits of innovation.
At the core of the E.U.'s case is its finding that Google has a particularly large share of the market, more than 90 percent in most European countries, and that it has used that market share to reduce the visibility–and as a result, the ability to compete–of its competitors, which Vestager says are alternative comparison shopping sites that function like Google Shopping.
Regulators found that search rankings have profound importance on the attention that a website gets. The vast majority of all clicks go to results on the first page, and the comparison shopping sites that the EU considers to be Google Shopping's competitors are ranked much further down. In her statement, Vestager notes, "The evidence shows that even the most highly ranked rival appears on average only on page four of Google's search results. Others appear even further down." While the full details of the European Commission's report will be released after it reviews it with Google to avoid disclosing any trade secrets, the summarized findings provide a clear look at where the case is going.
Google's Argument
In a blog post after Vestager's announcement, Kent Walker, a Senior Vice President and General Counsel at Google, challenged the notion that its practices are anticompetitive. Walker argued that people tend to prefer direct links to products when searching with Google and that the E.U. undervalued the service it provides its users. Walker also argues that the comparison shopping sites that Vestager is most concerned about are not actually Google's direct competitors, rather major shopping platforms like Amazon and Ebay are a more appropriate comparison–and those sites tend to appear at the top of the first page of results. The company also touts the innovation that was involved in creating and adapting the shopping service, arguing that it creates a better experience for its customers.
Beyond Google, there is also a group that argues that the European Commission may be doing more than just enforcing competition laws by targeting Google. Namely, they note that many of the companies that face E.U. skepticism are located in the United States, and that what Vestager is doing may amount to a form of protectionism. Even President Obama argued that European antitrust regulations have gone too far in that they protect European companies from U.S. competition.
The video below describes the charges against Google in more detail:
What's next?
Now that the European Commission has made its ruling, Google has 90 days to respond or it could face a fine of up to 5 percent of the average daily revenue of Alphabet, its parent company. In Europe, it's the company's responsibility to come up with a plan to ensure it is complying with the law, not the regulator. If Google is unable to get the commission to reverse its decision, it will likely need to change how it provides product-related search results in Europe. There are two additional probes–into Google's Android operating system and its AdSense advertising platform–that remain ongoing and Vestager indicated that the recent findings will provide a model for those pending cases.
---
A New Approach to Antitrust
Beyond the facts of the recent decision, efforts by E.U. competition regulators indicate a broader change to antitrust enforcement–one that is notably different from the approach taken in the United States. In fact, the U.S. Federal Trade Commission actually considered pressing a case against Google for similar behavior several years ago, but decided further action was not necessary. What was particularly striking about that decision was the fact that an unreleased report indicated that FTC staffers thought there was enough evidence to bring a case against the company, but people at the top of the agency decided against it.
The new framework put forth by European regulators–which focuses on the importance of market power and competition, and how they can impact innovation in the longer term–looks a lot like the one that has been rising in popularity among Democrats in the United States. Addressing rising concentration and corporate power is one of the most important components of the new thinking in antitrust law. Proponents of aggressive antitrust enforcement argue that a proactive approach will help ensure that large tech companies like Google and Facebook do not use their market share to harm competition and stifle innovation. While the modern U.S. approach to antitrust, which generally dates back to the 1970s, tends to place a lot of focus on how concentration affects consumers. U.S. regulators have been reluctant to intervene absent clear proof that monopolistic behavior is directly harming consumers, typically in the form of price changes. But the thinking on the left argues that the health of the market, and innovation that comes along with it, can be harmed by concentration without direct consequences for consumers. Whether antitrust regulation should focus primarily on competition rather than benefits to consumers remains open for discussion, but Europe is pushing ahead with an aggressive enforcement as the debate in the U.S. unfolds.
---
Conclusion
The European Commission's decision to fine Google a record-breaking 2.4 billion Euros is a sign of the new direction that the European Union is taking when it comes to regulating competition. As large internet platform companies become the focus of intense debates about market power and concentration, there has been a growing debate over whether existing laws and regulatory frameworks are sufficient to protect the health of the market and the welfare of consumers in the long term.
While political parties in the United States are divided on antitrust enforcement, Europe seems to be forging a new approach to deal with the large internet companies that have become integral components of daily life. For Google, and companies that find themselves in similar positions, this will likely create some problems when doing business in Europe, as the E.U. regulators have indicated that the recent decision will be an important precedent for future cases.