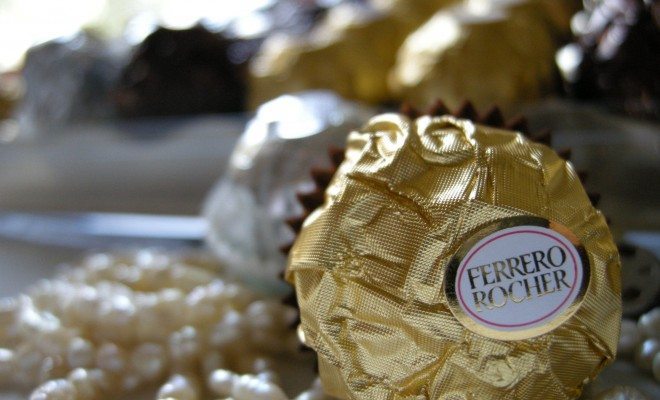 "Ferrero Rocher" courtesy of [Zoha Nve via Flickr]
Business & Economics
Chocolate Company's Growth Puts a Spotlight on Child Labor in West Africa
By
|
Ferrero, the chocolate company that manufactures international favorites such as Nutella and Ferrero Rocher, is on track to reach over $10 billion in profits this year, making it the world's third largest chocolate producer. This growth is especially impressive considering that in 2006, Ferrero's turnover stood at only 5.6 billion. But in light of this news, there is a problem that Ferrero is still working on addressing: child slavery on cocoa farms.
It's important to note that Ferrero is not alone in this issue. In 2001, leading companies of the chocolate world made a collective promise to eliminate child labor from their supply chain by 2005 but the year came and went without an end to abusive labor practices. The deadline was pushed back to 2008, then to 2010. Ferrero appears to be the only one of those companies that set a secondary deadline for the project. In 2012, Ferrero pledged to end slavery on the farms where it harvests cocoa by 2020. Other leaders in the industry followed this pledge, but chose to amend their commitment to reducing child labor in Ivory Coast and Ghana by 70 percent by 2020 (rather than eliminating it entirely). Ferrero made a bold commitment in 2012–but is it one that the company can feasibly deliver on? Read on for a look at the company and the controversy over eliminating child labor in the chocolate industry.
---
What is Ferrero?
History
In 1946, Pietro Ferrero invented a cream of hazelnuts and cocoa. Hazelnuts were a creative addition to confectionery during wartime rationing, which limited the use of chocolate. Together with his brother, he launched a company to sell the product, which was eventually taken over by his son, Michele. Michele re-branded the spread as "Nutella," opening production and sales offices worldwide in the wake of World War II.
Nutella became integral to Italian life, even sponsoring the national soccer team for three years beginning in 1988. Nutella was central to the "Made in Italy" brand but Ferrero also operated the Ferrero Rocher line of pralines, Kinder chocolate bars, and Pocket Coffee chocolates. By the time of his death, Michele Ferrero had unseated Silvio Berlusconi as the richest man in Italy–he had a net worth of an estimated $23.4 billion. In 1997, Michele's sons Pietro and Giovanni took over the company and ran the brand successfully, but after Pietro's death in 2011, sole responsibility fell to Giovanni.
A Media Shy Chocolate Megalith 
The family was, and still is, private to the extreme. Michele Ferrero did not hold press conferences or engage at all with the media, even going so far as to block tours of the company's factories.  Ferrero has cultivated an almost mystical brand reinforced by the control the Ferrero family holds directly over the recipe, the production, and the marketing of their products. Although the company is headquartered in Italy and operates largely from its base in Alba, it is still reliant on West Africa for cocoa. Nutella, interestingly enough, also relies on sugar from Brazil and palm oil from Malaysia, which means West Africa may not be the only place where brutal labor practices have been a concern.
---
Child Labor and Slavery in the Chocolate Industry
The world's largest chocolate producers rely on West Africa–especially the Ivory Coast and Ghana–for cocoa. The combined GDP for both countries is just a fraction of the billions of dollars in sales that international chocolate companies like Nestle pull down annually. Cocoa is generally produced by farmers living in extreme poverty, and child labor is common on the majority of cocoa farms. Children are often sold into slavery by their parents or kidnapped. The average work week can last from 80 to 100 hours and while working on the farms, these children receive no salary or education. The living conditions are brutal, as children are often beaten and rarely well fed.
Tulane University conducted a study in the 2013-2014 growing season that revealed approximately 2.1 million children were involved in objectionable labor practices on cocoa farms in both the Ivory Coast and Ghana. In 2015, three California activists filed a lawsuit against Hershey, Mars, and Nestle for not advertising that their products were made using child labor but the likelihood of that civil action suit coming to fruition is slim. This past September, Nestle commissioned a report from the Fair Labor Association (FLA) which presented the following results:
Researchers visit 260 farms used by the company in Ivory Coast from September to December 2014. The researchers found 56 workers under the age of 18, of which 27 were under 15…Researchers from the FLA, which was commissioned by Nestlé to investigate workers rights on its west African farms in 2013 amid international pressure, found child workers at 7% of the farms visited. Nestlé's code of conduct prohibits the use of child labour in its supply chain.Though researchers found Nestlé had made substantial efforts to inform farmers about its code of conduct, awareness of the code was low among farmers, with farmers sometimes unable to attend training sessions due to either "lack of interest or time". The FLA also found that farms lacked any kind of age verification system for workers.
Ferrero has not commissioned a similar report but because almost all of the major chocolate providers rely on the same farms within Ivory Coast and Ghana, concerns from critics allege that conditions are similar on its farms. Ferrero has called out for an end to child slavery and forced labor, but if farmers are ignoring that call to action, like those interviewed for the FLA report, then the company may not be on track to meet its 2020 goal.
---
 Conclusion
Ferrero has officially displaced Nestle to become the third largest chocolate producer in the world, which means that the company will be centered in the international spotlight like never before. The Ferrero family may have historically been secretive about their business to protect it from corporate espionage but that does not mean they should be allowed to be anything less than transparent when it comes to their labor practices. There are dozens of smaller chocolate companies that have successfully eliminated child and slave labor from cocoa production on their farms, and particular light is being shed on Ferrero (and other leading chocolate companies') practices. The moment may have come for Ferrero's leadership to divert attention and resources to reforming the cocoa farms behind their famous chocolate.
---
Resources
The Local: Italian Chocolate Giant Ferrero to Eclipse €10bn Turnover
Reuters: Michele Ferrero, Owner of Nutella Empire, dies at 89
CNN: Ferrero Sets Date to End Cocoa Slavery
BBC: News; How the World Went Nuts for a Hazelnut Spread
New York Times: Michele Ferrero, Tycoon Who Gave the World Nutella, Dies at 89
Fortune: Was Your Easter Chocolate Made with Child Labor?
The Daily Beast: Lawsuit: Your Candy Bar Was Made By Child Slaves
The Guardian: Child Labour on Nestlé Farms: Chocolate Giant's Problems Continue
The Huffington Post: Chocolate and Child Slavery: Say No to Human Trafficking this Holiday Season