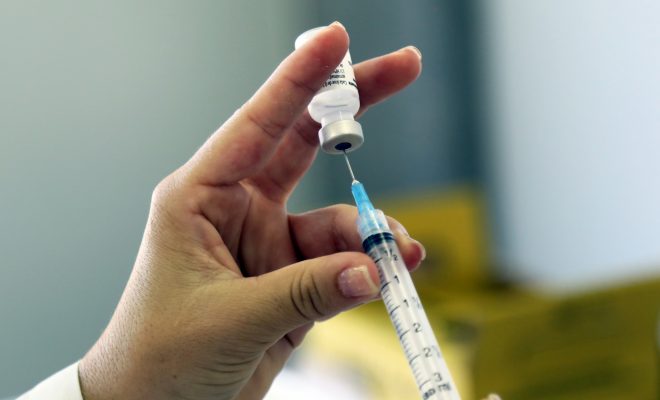 Image courtesy of Pan American Health Organization PAHO; License: (CC BY-ND 2.0)
World
France to Make 11 Vaccines Mandatory for All Children in 2018
By
|
The French government announced on Tuesday that parents will be legally obligated to vaccinate their children starting in 2018.
Currently, French law makes vaccines for three diseases mandatory–diphtheria, tetanus, and polio–while the rest, including vaccines for hepatitis and whooping cough, are only recommended. This change will make all 11 vaccines that are universally recommended by health authorities compulsory.
France has fallen victim to a measles outbreak that the World Health Organization has warned will sweep across Europe. There were 79 cases of measles reported in January and February alone, mostly due to an outbreak of 50 cases in the north-eastern Lorraine region, according to the European Centre for Disease Prevention and Control. From 2008 to 2016, more than 24,000 cases of measles were found in France, according to the country's public health authority. Approximately 1,500 of those cases involved serious complications and 10 people died.
Other European countries have enacted compulsory vaccination measures to combat declining immunization rates. Italy–where cases of measles rose more than five-fold in April relative to the same month last year–recently made 12 vaccines mandatory for children attending school up to age 16 and banned all non-vaccinated children from attending state schools. Beatrice Lorenzin, the Italian health minister, said the legislation was in response to "an emergency generated by fake news."
The "fake news" that Lorenzin refers to is misinformation about vaccinations. Italy's populist Five Star Movement was recently blamed for the outbreak of measles cases in the country because of its outspoken opposition to vaccines. Even as recently as 2012, a court in Rimini awarded damages to a family claiming its son had become autistic because of vaccines, though the decision was eventually overturned on appeal. A recent survey even found that more than three in 10 French citizens don't trust vaccines, and only 52 percent of those vaccinated said the benefits of vaccination outweigh the risks.
Fears surrounding vaccines are typically linked to a discredited study by disgraced former doctor Andrew Wakefield, who claimed to show a link between the inoculation and autism. In the United States, for example, these fears still persist. A 2015 Gallup poll found that 6 percent of Americans believe vaccines cause autism and that the number of people who believe it is "extremely important" to vaccinate their kids has gone down 10 percentage points over the last 14 years.
Recent attempts to put compulsory vaccination into law are the latest developments in what has been a longstanding campaign. In the 20th century, many countries enacted such measures as the first few vaccines became available to the public. In 1905, the Supreme Court ruled in Jacobson v. Massachusetts that states could compel vaccination for the "common good." At the same time, Brazil attempted to enforce compulsory vaccination laws that allowed government workers to force vaccination on citizens in lower income areas of Rio de Janeiro, which ultimately led to the Vaccine Revolt.