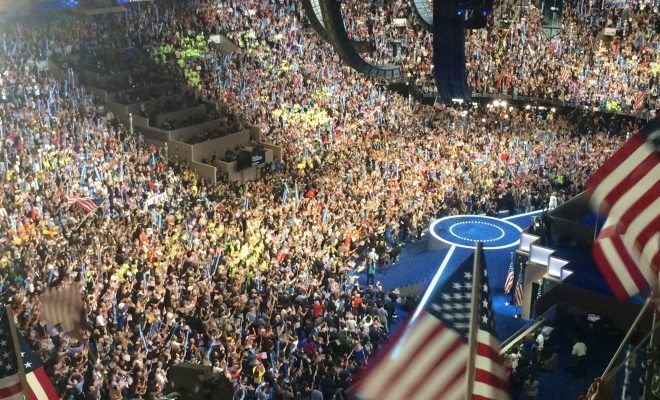 Image courtesy of Alexis Evans for Law Street Media
Elections
What's up at the DNC?: Law Street's Day 4 Coverage
By
|
This year, Law Street Media is attending both the RNC and DNC conventions, and bringing Law Street readers the inside scoop. We'll be doing day-by-day rundowns and exclusive features. Follow us on Twitter, Facebook, and Snapchat for even more content.
Here's a look at the second day of the festivities, courtesy of Law Street reporters Alexis Evans and Anneliese Mahoney:
Protests Continued Around Philly
Given the divisive nature of the Democratic National Convention, protests continued around the city of Philadelphia for much of the time we were there. These events ranged from showing continued support for Bernie Sanders, to demonstrations against Israel, to protests against drone warfare. Here are some pictures from near the Pennsylvania Convention Center, where part of the convention took place:
Was this the Most Powerful Speech of the Convention?
Hillary Clinton was, quite obviously, billed as the headliner for the last night of the DNC. But one of the most powerful speeches came from Khizr Khan, the father of Army Captain Humayun Khan. Captain Khan, a Muslim American, died serving our country in Iraq. Khan's powerful speech was possibly one of the strongest rebukes against Donald Trump yet–everyone particularly loved the moment when he challenged whether the Republican nominee has ever read the U.S. Constitution, and then offered Trump his own pocket version. Put simply: if you want to see one of the best moments of the convention, you need to watch this speech.
A DNC highlight: Khizr Khan spoke as a Muslim father who had lost his son in war. Here's the full video https://t.co/EabNEsIYzX

— Nicholas Kristof (@NickKristof) July 29, 2016
Hillary Clinton's Speech Riled up the Crowd
Clinton's speech seemingly started a bit slow, but quickly picked up gusto. But regardless of what you think of Clinton's politics, it truly was a historic moment. Watching Clinton accept the Democratic nomination on the national stage was a monumental moment for many women (and men!) in the U.S. Here are some of the reactions:
✊ @HillaryClinton we noticed the historical reference in wearing all white. We feminists thank you. #ImWithHer pic.twitter.com/bd78CDaFvb

— Laurel Davila, CPA (@laureldavilacpa) July 29, 2016
A woman's place is in the White House. #ImWithHer

— Nev Schulman (@NevSchulman) July 29, 2016
My great grandmother walked 10 mi from her farm 2B among the first women allowed to vote. Think about that & how far we've come. #ImWithHer

— (((#BoycottTrump))) (@puppymnkey) July 29, 2016
My wife and two daughters watching. My youngest daughter asked, "Is she taking on that bad man?" #ImWithHerpic.twitter.com/SrdkLEwIvw

— Geoffrey Colon (@djgeoffe) July 29, 2016
We Performed a Card Stunt?
When we arrived at the arena last night, there were packages taped to all of our chairs. Was it a present?
No, it was a "card stunt." Here were the instructions:
Then we received instructions about what exactly we were supposed to do–which were unnecessarily long and complicated when the point was just "when we say so, hold up your card."
When it came time to do the "card stunt" it didn't go so well, mostly because a lot of people had opened their cards beforehand, a lot of people didn't try, and also because honestly, trying to get about 50,000 people to hold things up in unison is very tricky.
[P] Analysts are still trying to decipher what that final card stunt at the DNC was supposed to spell.

— Paul and Storm (@paulandstorm) July 29, 2016
But, in case you were wondering, here was what it looked like to those of us who held up our cards: 
THERE WERE SO MANY BALLOONS
After Clinton's speech, a bunch of balloons were released from the ceiling. This was very exciting.
THERE ARE SO MANY BALLOONS #DemsInPhillypic.twitter.com/5kEP5ocDl8

— Anneliese Mahoney (@amahoney8672) July 29, 2016
But we weren't the only ones who were excited. The politicians down on the floor had a wonderful time playing with the massive balloons as well, particularly Vice Presidential nominee Tim Kaine.
Tim Kaine is just lettin' loose! https://t.co/LIFy6wWHVG

— Matt Fuller (@MEPFuller) July 29, 2016