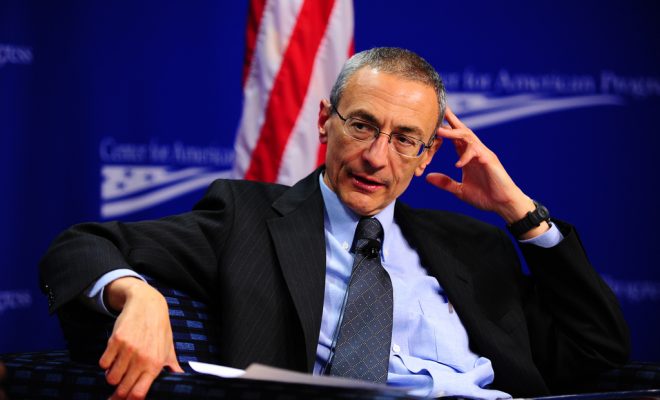 "John Podesta" courtesy of Center for American Progress; license: (CC BY-ND 2.0)
Politics
John Podesta Replies to Trump's Tweets: "Get a Grip Man"
By
|
On Friday morning, President Donald Trump tweeted that apparently "everyone" is talking about John Podesta and why he "refused to give the DNC server to the FBI and CIA" at the G-20 summit in Hamburg. His comment seemed peculiar, given that the world's leaders probably had more pressing issues to discuss, like climate change and international terrorism.
It's not clear whether any G-20 leaders actually did talk about John Podesta. But later in the day, Hillary Clinton's former campaign chairman hit back on Twitter and called the president a "whack job."
1/ On a x-country road trip with my wife;

— John Podesta (@johnpodesta) July 7, 2017
3/ Get a grip man, the Russians committed a crime when they stole my emails to help get you elected President.

— John Podesta (@johnpodesta) July 7, 2017
Podesta wrote that the Russians hacked his email to get Trump elected. It seemed like Trump conflated that hack with the DNC one, although they were two separate incidents. Podesta also pointed out to Trump that he didn't even work for the DNC.
5/ BTW, I had nothing to do with the DNC.

— John Podesta (@johnpodesta) July 7, 2017
7/7 Dude, get your head in the game. You're representing the US at the G20.

— John Podesta (@johnpodesta) July 7, 2017
Other lawmakers commented on the president's tweet as well. Adam Schiff, the top Democrat on the House Intelligence Committee, wrote, "Yes, I'm sure that's the big talk at G-20. Not climate change or trade, but why didn't John Podesta give a server that wasn't his to the CIA."
Others said it was a diversionary tactic, so people wouldn't talk about his meeting with Putin. And some just thought it was a "very 2017" moment.
2017 got Podesta saying dude on the internet https://t.co/LPYpk3OuIQ

— Rebecca Nesi (@rebecca_nesi) July 7, 2017
A lot of people on social media questioned why Trump brought up the 2016 election at all when he is at the G-20, as well as the fact that he tweeted those comments shortly before his meeting with Russian President Vladimir Putin.
Exactly what Trump and Putin talked about during that meeting we don't know, but according to Secretary of State Rex Tillerson, Trump did bring up the hacking of the 2016 U.S. election more than once. The meeting was supposed to take 30 minutes but reportedly lasted for over two hours.