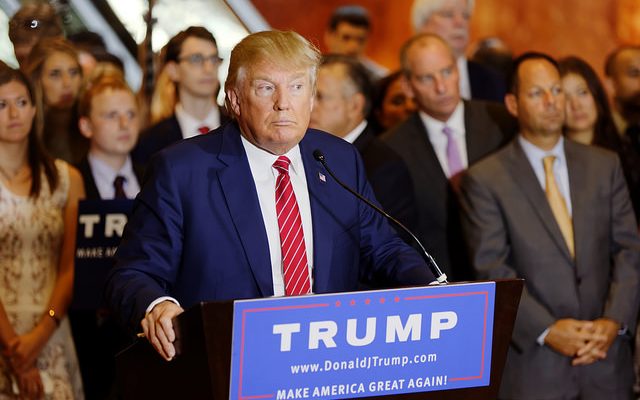 "Donald Trump Signs The Pledge" courtesy of Michael Vadon : License  (CC BY-SA 2.0)
Elections
UPDATE: Trump's Hollywood Walk of Fame Star Destroyed by Man With Pickax
By
|
Donald Trump's Hollywood Walk of Fame Star has been repeatedly defaced since he announced his presidential bid, but early Wednesday morning, one vandal went beyond the spray-painted swastika and mini barbed-wire wall, opting for a pickax instead.
Donald Trump's star in Hollywood vandalized. Witness says, white male w/ sledge hammer, destroyed star over Trump's alleged abuse of women. pic.twitter.com/7agxzUrISi

— Leslie Lopez (@abc7leslielopez) October 26, 2016
A man dressed as a construction worker wielding a pickax and a sledgehammer was captured smashing the iconic plaque while onlookers watched and recorded the incident. Sparks flew as he repeatedly struck the star, fracturing the terrazzo and brass and removing both's Trump's name and the camera icon in the center of the star.
Watch the Full Video Below
The man in the construction getup identified himself as James Otis in an interview to Deadline Hollywood. Otis told the website he was trying to remove the star in order to auction it off then give the funds to women who have accused Trump of sexually assaulting them.
Trump has repeatedly dismissed accusations that he kissed and groped women without their permission. In the final presidential debate, he said, "Nobody has more respect for women than I do" and claimed "those stories have been largely debunked" (when in fact they haven't). He later threatened to sue "all of these liars" after the election is over.
The Los Angeles Police Department is investigating the incident and is asking the public to call (213)-972-2971 with any tips that may help identify the man.
The star will be replaced according to Hollywood Chamber of Commerce president and CEO Leron Gubler. Gubler lamented the vandalism in a statement saying:
The Hollywood Walk of Fame is an institution celebrating the positive contributions of the inductees. When people are unhappy with one of our honorees, we would hope that they would project their anger in more positive ways than to vandalize a California state landmark. Our democracy is based on respect for the law. People can make a difference by voting and not destroying public property.
"The Apprentice" host received the star in 2007 with his wife Melania and sons Donald Jr. and Barron at his side for his contribution to television.
—
UPDATE: 
The man responsible for destroying Trump's Hollywood star turned himself in to the Los Angeles police Thursday morning. As it turns out, James Otis is actually heir to the Otis Elevator Company fortune, and he's "proud" of his act of civil disobedience.
According to NBC, Otis said he's been arrested over two dozen times in the past for protesting various causes. Following his surrender, police arrested Otis on charges of felony vandalism.
"I admitted I've broken the law, I've vandalized, I've stolen, and now I'm going to go get my punishment," Otis said. "And that's something Mr. Trump has never done."