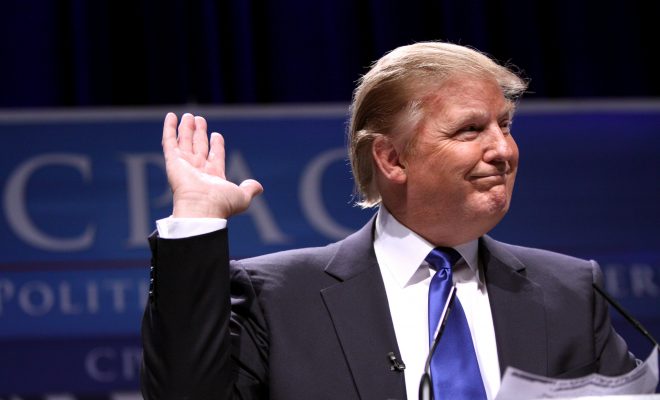 Image Courtesy of Gage Skidmore; License: (CC BY-SA 2.0)
Elections
Trump Unveils "New Deal for Black America"
By
|
During a stop in Charlotte, North Carolina last week, presidential candidate Donald Trump laid out his plans to a predominantly white crowd, for what he is calling a "new deal for black America."
His platform calls for better education, an increased police presence, proposed designation of "blighted communities" with a "disaster designation" to spark change and rebuild these communities with an emphasis on bringing back businesses.
Trump has said previously that black communities are at their worst in history, a comment that didn't sit well with many people of color. At this rally he echoed those concerns, describing the cities as places where "you walk to the store to buy a loaf of bread, maybe with your child, and you get shot, your child gets shot," but discussing it in a way that lumps all African Americans into one group.
He also prefaced his discussion on inner cities and African Americans by saying that "we're going to work on our ghettos."
Help me out there. Did Trump just say "we're going to work on our ghettos" before mentioning inner cities, violence and African Americans? pic.twitter.com/v9KqZSLbh6

— Bradd Jaffy (@BraddJaffy) October 27, 2016
Some of his new proposals included tax holidays used to help cities, arguing for foreign companies to invest in these blighted communities, and bringing in direct funding to urban areas.
While discussing the need for more police patrolling the streets, Trump said that the problem is a lack of police for African American communities rather than too many police, connecting the former to a increase in murder rate in cities.
"Whether you vote for me or not, I will be your greatest champion," Trump said. "We live in a very divided country, and I will be your greatest champion."
Additionally, he blamed Democratic presidential candidate Hillary Clinton for starting a "war on police," but did not discuss the other side, police brutality, an issue that carries importance for black voters.
After 70yrs of ignoring our struggle, Trump's got a "new deal" for African Americans?
Hmm.Let's examine some old deals he/GOP have shared pic.twitter.com/E2YYJ5rvkw

— T. Fisher King (@T_FisherKing) October 27, 2016
In a recent CNN/ORC poll, Trump has attracted just 20 percent of the nonwhite vote. According to Gallup, in the 2012 election, Barack Obama garnered 95 percent of the black vote.