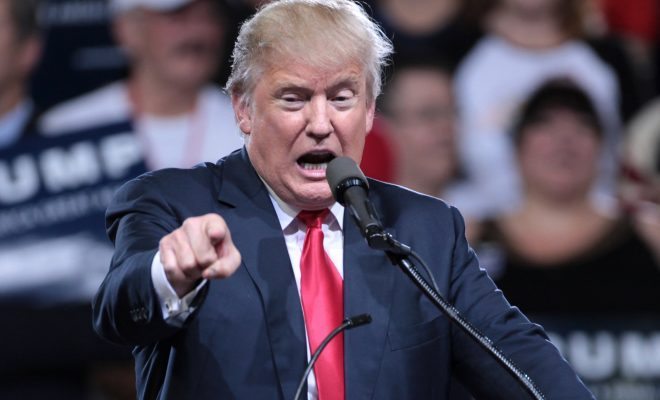 "Donald Trump" Courtesy of Gage Skidmore : License (CC BY-SA 2.0)
Elections
Trump Campaign Sues Nevada For Keeping Early Voting Polls Open Late
By
|
If Trump loses the election tonight, he's definitely not going down without a fight. The Republican presidential nominee has already filed a lawsuit against the state of Nevada over an early voting dispute.
The lawsuit accuses Clark County, Nevada, of keeping the polls open "two hours beyond the designated closing time" Friday night. The polling locations closed at 7 PM; however, some polling locations were kept open until 10 PM to accommodate voters waiting in line.
Nevada state law requires that voters be allowed to cast their ballots if they have entered a polling place, or are physically waiting in line to vote at the time of closing.
As it just so happens, the Las Vegas polling places targeted in the suit happen to be home to large Hispanic populations–and Hillary Clinton has a significant advantage over Donald Trump with Hispanic voters.
The Trump campaign called the extended voting times evidence of a "rigged system," and alleged that Clark Country voting registrar Joe Gloria's actions "very much appear to have been intentionally coordinated with Democratic activists."
According to Business Insider, Judge Gloria Sturman denied Trump's lawyer's request for Gloria to preserve the names of the poll workers who permitted the late voting–mainly because he is already legally required to do so.
"I don't get what you're asking," Judge Sturman told David Lee, a lawyer with the Trump campaign.
"I can't obligate [Gloria] to do something he's already obligated to do," Sturman said. "This is Election Day. He has other things to be doing."
Sturman maintained that she would not expose the poll workers to harassment and an army of Twitter trolls, especially when "they're not here to defend themselves."
Trump's lawyers also requested that the votes cast after 7 PM not be "co-mingled" with the other votes, but that request was shot down as well.
While Trump may not have been successful in what very well may be his first attempt at proving voter fraud, it's very clear that he's steadfast in disputing the election if the results don't swing in his favor.