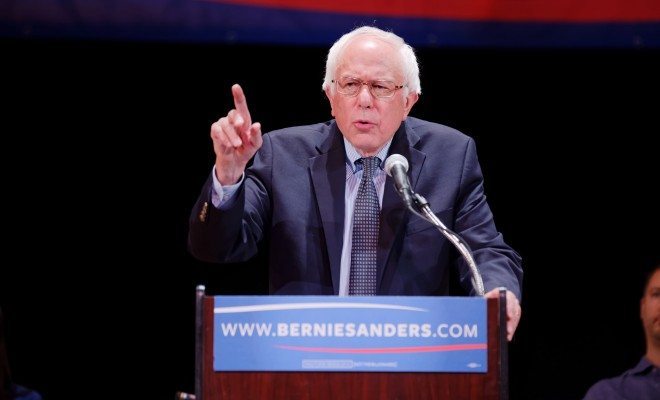 Image courtesy of [Michael Vadon via Flickr]
Elections
Top 5 Moments From the First Democratic Debate
By
|
Last night was the first Democratic debate of the 2016 primary elections. Unlike the Republican field, which had to be split into two parts in order to accommodate the insanely large group, the Democrats have a small collection of political veterans vying for the nomination. There's Hillary Clinton, the frontrunner; Bernie Sanders, the surprise challenger; Martin O'Malley, the other normal candidate that everyone keeps forgetting; Lincoln Chaffee, the weird metric system guy from Rhode Island; and Jim Webb, who probably exists.
In a lot of ways the Democratic debate felt a little flat, and a little too early. While there were some really great moments of legitimate and important discourse, the Democratic field is just a bit more subdued and unified on a lot of key issues than its Republican foil. But, that didn't keep some funny, wtf, and badass moments from sticking out. In fact, here are the top five moments from last night's Democratic debate.
Best Shot on Donald Trump: Martin O'Malley
Donald Trump, the inexplicable Republican frontrunner, received a pretty sharp jab from O'Malley, who called Trump "that carnival barker in the Republican party…"
Given the flashiness and "look-at-me" attitude that Trump has used to gain supporters, this classification isn't that far off, and made a powerful point about his attitude toward immigrants.
Best One Word Answer: Hillary Clinton
It wasn't surprising, but one of the biggest criticisms against Hillary Clinton to stick so far–the kerfuffle over her emails while she was Secretary of State–was a point of contention at last night's debate. Lincoln Chaffee made a not-so-veiled reference to the email scandal, saying "I think we need somebody with the best and ethical standards as our next president. That's how I feel." Clinton was asked if she wanted to respond, and her answer was short, sweet, and made it clear she was tired of political grandstanding over the issue: "No."
Second Most Uncomfortable Moment: Lincoln Chafee and Anderson Cooper
Cooper, who was by all accounts, a strong and fair moderator, went after Lincoln Chafee on his earliest Senate vote–the Glass-Steagall Act. Chafee gave a weird answer: it was his first vote after being appointed to his recently deceased father's spot. Cooper followed up–asking if he wasn't defending his vote because he was saying he didn't understand what he was voting for. That led to really awkward exchange, that certainly could have been handled better by Chafee.
It also wasn't the only moment where Chafee struggled to defend his record as a Senator–questions about his vote for the Patriot Act also seemingly tripped him up.
Most Uncomfortable Moment: Jim Webb's Enemy
Jim Webb, who served during the Vietnam War, was asked what enemy he's the most proud to have made. While his competition gave fun predictable answers such as Republicans and the NRA, Webb focused on his military experience, saying the enemy he's most proud of making was "enemy soldier that threw the grenade that wounded me, but he's not around right now to talk to." While Webb was an incredibly impressive and heroic soldier, sans important context and with awkward delivery, the entire thing came across very strangely.
Best Moment Overall: Bernie Sanders and Clinton's Emails
Sanders said exactly what we were all thinking the umpteenth time that Hillary's emails came up last night: enough is enough. It's time to talk about the real issues. And he was damn right.