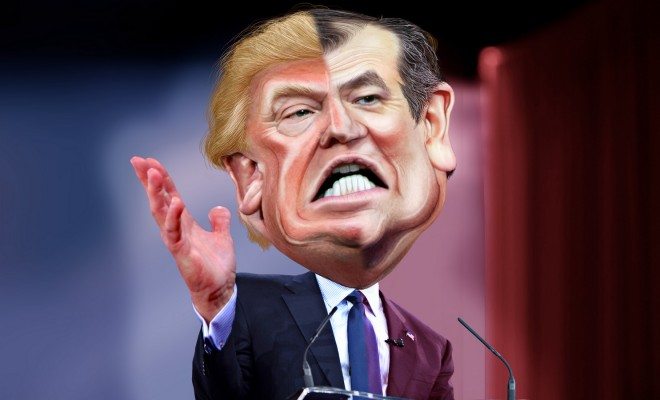 Image courtesy of [DonkeyHotey via Flickr]
Elections
Top 5 Craziest Moments from this Weekend's GOP Debate
By
|
This weekend, the remaining GOP candidates had what felt like the 876th debate of this election cycle (it was actually the ninth). The first two primaries, Iowa and New Hampshire, did their job and made the field much smaller, leaving just Donald Trump, Senator Ted Cruz, Senator Marco Rubio, Governor Jeb Bush, Dr. Ben Carson, and Governor John Kasich. But the smaller field didn't lead to a smaller amount of BS being flung around the debate stage; check out the top five craziest moments of this weekend's GOP debate below:
Everyone Was Confused About Supreme Court Nominations
Saturday's debate was certainly affected by the fact that just a few hours earlier, the death of Supreme Court Justice Antonin Scalia was announced. It's obviously a sitting president's job to nominate a replacement, but that's not what Senator Mitch McConnell said after Scalia's death was announced:
The American people should have a voice in the selection of their next Supreme Court Justice. Therefore, this vacancy should not be filled until we have a new president.
So, naturally, the candidates were asked about what they thought of Obama nominating a replacement. Every candidate on the stage essentially said that Obama shouldn't nominate a new justice–despite the fact that that would guarantee an empty seat on the bench for at least a year, and there's not some footnote in the Constitution that says that a President can only nominate a Supreme Court justice when he's not a lame duck president. That didn't stop multiple Republican candidates from speaking incorrectly about the U.S.'s history when it comes to nominating SCOTUS candidates. For example Ted Cruz incorrectly stated that "we have 80 years of precedent of not confirming justices in an election year," despite the fact that Justice Anthony Kennedy was nominated by President Ronald Reagan in 1987, and confirmed in 1988, while Reagan was a lame duck president.
This Confusion Led to Fact Checking by the Moderator
.@jdickerson tries to correct Cruz on Kennedy appointment, gets booed by audience for facts. #GOPDebate pic.twitter.com/31bdGQoE7a

— Mashable News (@MashableNews) February 14, 2016
John Dickerson, the moderator, even pointed out that Cruz was wrong. The issue was that Cruz was conflating the terms nominating and confirming–and Dickerson sparred with Cruz over that issue, explaining that he just wanted "to get the facts straight for the audience." At this point the audience decided to boo Dickerson, leading to a decidedly messy exchange all around.
But There Was a Lot of Booing on Saturday Night
Dickerson wasn't the only one who got booed–much of the audience's ire appeared to be aimed at Trump. Trump had a theory for why this kept happening–and turns out his theory might not be that off–that the crowd was packed with  "Jeb [Bush]'s special interests and lobbyists." Turns out the crowd had a lot of moderate Republicans, due to the fact that the RNC gave tickets to local supporters, and people actively involved in RNC work are probably less likely to be big Trump fans. So, Trump got pretty heavily booed, but unfortunately it probably won't diminish his still pretty solid poll numbers.
One of the Biggest Boos Was About 9/11
Jeb! Bush and Donald Trump had a pretty tense exchange over 9/11–Trump essentially blamed the terror attack on Bush's brother, George W. Bush. Trump claimed that George W. didn't keep America safe because he wasn't able to prevent 9/11. Bush responded that he was pretty tired of Trump going after his family, and then to complicate things more, Rubio jumped into the mix to exclaim he was glad it wasn't Al Gore in the White House during 9/11. The entire thing turned into a mess–check out the exchange: 
But One of the Biggest (and Weirdest) Fights of the Night was Rubio v. Cruz
Marco Rubio and Ted Cruz got into an interesting spat over their shared Cuban heritage, stemming, as many criticisms of Rubio have, from his role in the Gang of Eight immigration bill. Cruz accused Rubio of contradicting his platform when he appeared on Univision and spoke in Spanish about immigration and amnesty. Rubio fired back by saying: "I don't know how he knows what I said on Univision because he doesn't speak Spanish." So then Cruz responded in Spanish (although a bit shakily) to prove Rubio wrong:
WATCH: Cruz replies to Rubio in Spanish after Rubio said he "doesn't speak Spanish." #SCPrimary https://t.co/xGmJKNSzup — Good Morning America (@GMA) February 15, 2016

For a party that has taken an almost methodical approach to alienating Hispanic voters during this year's election cycle, it was incredibly odd to see the debate devolve into a pissing contest over who speaks Spanish better.
A Final Takeaway
With Scalia's recent death, it's almost certain that the question of who will replace him will probably become cemented on the hot list of 2016 issues–immigration, Planned Parenthood funding, and how to deal with ISIS, among others. Saturday night's debate has been referred to by many observers as the nastiest one yet, and given that the primaries are just starting to heat up, future exchanges will probably follow suit.