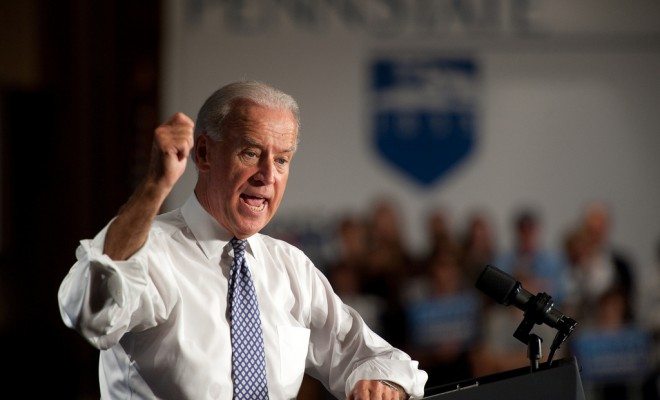 Image courtesy of [Penn State via Flickr]
Elections
This Just In: Joe Biden Won't Be Joining the Presidential Race
By
|
Joe Biden announced in a press conference in the White House's Rose Garden today that he won't seek the presidency. Flanked by President Obama and his wife, Dr. Jill Biden, he announced that the door has closed for him to mount a successful campaign for President.
He pointed out that he won't just be a quiet spectator however–he plans on weighing in on various national conversations as they unfold in the Democratic primary and general election.
"Unfortunately, I believe we're out of time." @VP Joe Biden won't run for president https://t.co/Z8PnoAJ2Hn pic.twitter.com/rXnNv8eOYS

— The Boston Globe (@BostonGlobe) October 21, 2015
In his announcement, Biden spoke strongly about Obama's legacy, of which he said he was proud to be a part, but also emphasized that he didn't want anyone to back away from that legacy–clearly a shot at any Democrats who seek to distinguish themselves from Obama in a negative way.
Biden also highlighted many issues that the Democrats need to focus on moving forward. The bevy of issues he chose to highlight included a need to focus on helping the middle class, combatting the influx of money in politics, the need for affordable college education, upping the childcare tax credit, raising taxes on the very rich, accepting that we can't be the world's police, compromising with the Republican party, and seeking equality for different communities such as immigrants, women, minorities, and those who identify as LGBTQ. He also spoke about an issue incredibly close to his heart–increasing funding for cancer and other medical research–a very understandable sentiment given the recent death of his son, Beau Biden, due to brain cancer.
Overall, the announcement focused more on Biden's hopes and attempts to provide inspiration, rather than his choice not to join the race. He spoke of the central American belief of "possibilities," and reaffirmed his focuses for the next 15 months he will remain in office.
This announcement comes as a huge surprise after political gossip earlier this week indicated that Biden was going to throw his hat into the ring. Top political reporters and news outlets, including Fox News' Ed Henry who broke that story, reported that he'd be announcing his candidacy in the next couple days. Others, including freshman Congressman Brendan Boyle, echoed that sentiment. However, Biden's decision not to run appears to be absolute.
The Democratic field will remain decidedly un-crowded, with the race appearing to boil down to frontrunner Hillary Clinton and her top challenger Bernie Sanders. While Biden may have a voice moving forward, he has spoken, and that word is final: he will not be running for President of the United States.