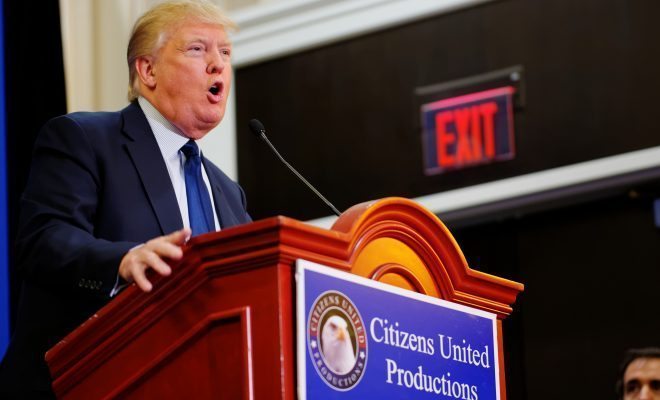 "Donald Trump" courtesy of [Michael Vadon via Flickr]
Elections
Trump University Tactics Revealed: Former Employees Call it a "Scam"
By
|
Trump University was a fraud, a lie, and a scheme. That's what former employees at the school said in testimony revealed on Tuesday; the statements were given as a part of a lawsuit against the so-called university.
But "Trump University" wasn't a real university at all, and the students did not get to learn the secrets behind Trump's enormous real estate success. The now-public documents paint a picture of a money-obsessed and unscrupulous business that used high-pressure sales tactics to attract students.
The ongoing lawsuit was filed by discontented former students, and the documents that were released on Tuesday contain statements from former managers, as well as the handbook salespeople used to entice students. The instructions reveal how they were supposed to sell expensive classes to struggling students using sales psychology techniques, and to lure them in by claiming that Trump would play an active role in their education–but that simply wasn't true.
Salespeople were also told to encourage everyone to pay with their credit cards, and even to open up as many credit cards as possible: "It's O.K., just max out your credit card," a former event manager named Corrine Sommer remembered salespeople telling prospective students.
The entire case has become even more convoluted after Trump attacked and insulted the judge presiding over the case. U.S. District Court Judge Gonzalo Curiel was the one who ordered the release of the documents, as a response to a request by the Washington Post. Trump boiled over and called the judge "hostile," a "hater," and said that he is "we believe, Mexican, which is great. I think that's fine." Curiel, for the record, was born in Indiana.
Hillary Clinton soon jumped in and used the latest development in the Trump University lawsuit to attack Trump on Twitter. She said that the scandal is more proof that Trump is unfit to be President.
Another Trump University practice, according to its own employees: target struggling families to fleece them. pic.twitter.com/VUH18SpBlD

— Hillary Clinton (@HillaryClinton) June 1, 2016
FACT: Trump University identified those most vulnerable and then targeted them with predatory marketing tactics. https://t.co/xDeDI1KqOr

— Hillary Clinton (@HillaryClinton) June 1, 2016
At her rally in New Jersey on Wednesday Clinton said: "[Trump] is trying to scam America the way he scammed all those people at Trump University."
You can see the Trump documents for yourself here.