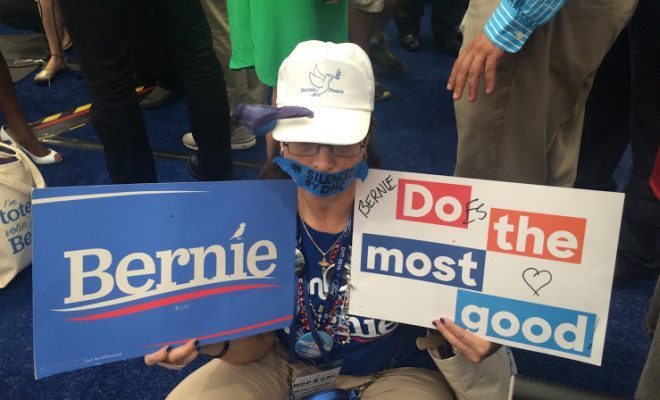 Image courtesy of Alexis Evans for Law Street Media
Elections
Sanders Supporters Take Over DNC Media Tent to Protest Clinton's Nomination
By
|
Here at the DNC, there's a cushy little area for the press. Giant tents, creature comforts like snacks and water, and (most importantly) enough charging stations for our phones/laptops/tablets/obscene amount of technology we lug around. The DNC media tent is, for many, a peaceful workspace, and a quiet respite from the complete and utter craziness that is the Democratic National Convention.
Tonight it was a little less peaceful.
Sanders supporters walked out of the convention in protest after Hillary Clinton became the official Democratic nominee, and ended up staging a sit in inside and around the media tent.
Here are some scenes from the protest:
Many of the protesters were the picture of tranquility, with taped mouths, or cloths wrapped around their faces. Many clutched each others' hands, while others held signs ranging from protesting TPP to outright animosity toward Hillary Clinton.
Fellow Law Streeter Alexis Evans talked to a protester, 20-year-old Caitlin Gladwell, who explained that the protest was arranged via social media, around when the North Dakota delegates were announced. She explained that there wasn't a theme to the protest, saying:  "No it was just meant to be a walkout, saying we are walking out of there, we're not going to lie down and accept this decision by the DNC." When asked if she could ever see herself actually voting for Hillary Clinton she stated:
I don't know. I will have to go home and do a lot of self thought a lot of research and see what her actions are in the coming months. The number one thing she could do is come clean and take responsibility for the email scandals. And then maybe some of us might considering trusting her.
The protest lasted around an hour, but eventually began to be cleared out by Secret Service agents and other police. Outside, protesters continue to mingle with the crowds slowly filing back into the Wells Fargo Center for night 2 of the DNC.
Stay updated on the conventions by following Law Street on Twitter, Facebook, and Snapchat for even more content.