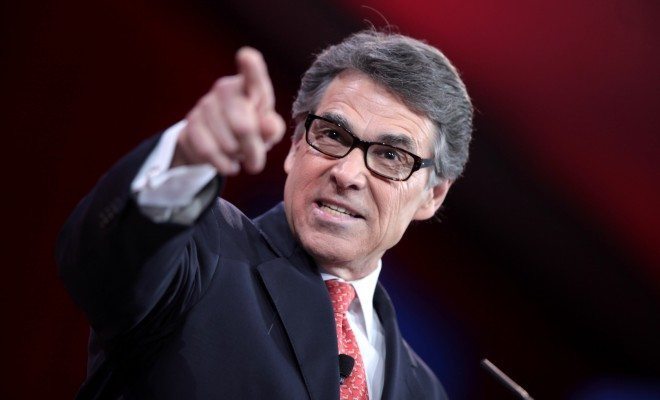 Image courtesy of [Gage Skidmore via Flickr]
Elections
Rick Perry's Hands Are Full
By
|
On Thursday June 5, Rick Perry announced his plans to run for the Republican presidential bid in 2016. Despite his blunder in a Republican presidential debate almost four years ago, Perry decided that reforming his image and enhancing his stage presence will give him a good shot at running for president this time around. But considering Perry's low support among Texans and his indictment regarding his alleged abuse of power as governor, Perry might not be able to rally any support for his bid.
So far, Perry has focused his presidential bid on his experience as a governor who stimulated Texas's economy and on his military experience. His primary tactic is to distinguish himself from the other Republican candidates by being the face of leadership and experience. He's also emphasized his humble background by relaying his childhood upbringing on a cotton farm. But this technique has not quite corrected his previous blunder, nor is it garnering the same support that he had the first time around.
Perry has already lost crucial support in Texas and many Texans don't even support him; in a recent poll he barely polled at 2 percent compared to Scott Walker at 18 percent and Marco Rubio at 13 percent. Many Republican and Tea Party members have flocked to Ted Cruz instead of Perry.
The last piece of the puzzle that is seriously damaging Perry's chances of winning the Republican bid for the presidency is the indictment that accuses Perry of abusing his power as governor when he was in office. Perry allegedly threatened Travis County District Attorney Rosemary Lehmberg to resign after she had pleaded guilty to drunk driving and served a 45-day sentence. She refused and Perry vetoed the funding to her office's Public Integrity Unit, which focused on anti-corruption measures. As a result of the indictment, Perry faces the possibility of 109 years in prison. Perry's defense appeals to the rule of the law, as he stated:
I stood up for the rule of the law in Texas, and if I had to do it again, I would make exactly the same decision.
However, the original complaint was actually filed before Perry vetoed the funding for the Public Integrity Unit. The team who filed the complaint found four other allegations that could point to felonies. The claim for the complaint is focused more on Perry threatening another official and actually has little to do with his vetoes. All of these accusations could spell problems for Perry on the campaign trail.
Perry seems to be taking on a lot as he runs for the Republican presidential bid. The fact that he is accused of abusing his power as governor should put a lot of doubt in voters' minds. And even though his presidential campaign has focused on important issues so far, such as increasing jobs, Perry has not been successful in gaining support in Texas. Some could say it's admirable that he is trying to run for the presidency again, but he should be more focused on his abuse of power charges, which may end up determining his presidential campaign before it even really begins.