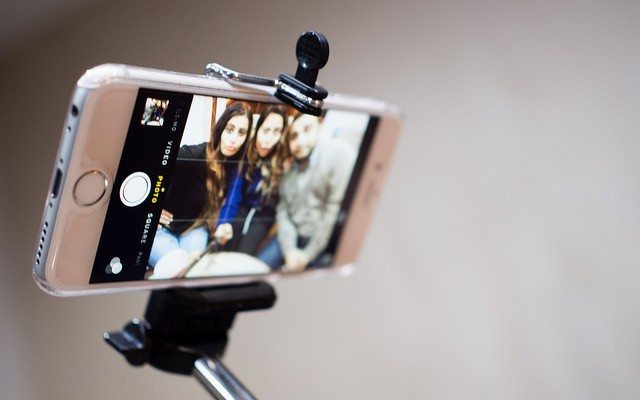 Image Courtesy of [R4vi via Flickr]
Elections
I Wanna Vote For You, But First Let Me Take A "Selfie"
By
|
The "Selfie Campaign." Kind of has a nice ring to it, doesn't it? Well that's the best way to describe what two sisters from New Hampshire are attempting, after vowing to take a selfie with every 2016 presidential candidate.
Presidential candidates are lining up to take a selfie with these teenage sisters http://t.co/aoux92E1ZL (via Twi… pic.twitter.com/pv3cHIAC0Z

— Joseph Abraham (@kjosephabraham) August 1, 2015
Sisters Addy Nozell, 17, and Emma Nozell, 15, are no strangers to politics and presidential campaigns. In fact, the girls have been taking selfies with politicians before "selfies" were even part of popular culture. Emma recalls being exposed to politics at a young age by their parents saying,
We were always in the parades. We were always making signs. We were always helping them [the candidates] with whatever was needed.
While neither of these girls is old enough to vote in the primaries, they are already making a name for themselves with the candidates. In fact, Donald Trump, the current leader of the Republican polls, was seemingly expecting the girls to approach him at a rally at the Weirs Beach Community Center, telling the girls, "oh, alright let's get the selfie."
The "selfie sisters" of New Hampshire can scratch Donald #Trump off the to-do list. #WBZ @PaulaEbbenWBZ @mytv38 pic.twitter.com/HmndYrIkdr

— Liam Martin (@LiamWBZ) July 17, 2015
With a crowded field of 20 plus candidates, the girls' campaign sounds almost impossible. However, they've already managed to snap pics with 17 of the candidates in less than a month since they started their quest on July 2 with New Jersey Governor Chris Christie. The only hopefuls that have yet to "say cheese" with the girls are former Arkansas Governor Mike Huckabee (R), former U.S. Senator Jim Webb (D-Virginia), and currents Senators Ted Cruz (R-Texas), Marco Rubio (R- Florida), and Bernie Sanders (I-Vermont).
Meet Addy and Emma — the "presidential selfie girls" @PrezSelfieGirls http://t.co/ZetxWY3jgW pic.twitter.com/QvVHRdR8MV

— Deena Zeina Zaru (@DeenaZaruCNN) July 13, 2015
More often than not, selfies from teenage girls are duck-faced and distorted, which has led critics of the trend to call the practice superficial and narcissistic. And while for some that may be the case, the Nozell sisters have a different strategy for their "prez pics" at least in part thanks to their mother, Wendy Thomas. The girls practice "selfie etiquette."  "You can't stick your tongue out, you have to be respectful," says Thomas. More importantly, the girls' mother made it a point that selfie sticks are not permitted. "You gotta go with the old-school selfie and use the arm," shared Emma.
Addy and Emma's approach to the "selfie" can be used as a tool for keeping millennials engaged in the presidential race rather than solely for self-promotion. The Nozell sisters are conveying the notion that presidential candidates are generally approachable human beings who can relate to young people, at least when it comes to the preferred method of photo-taking. These girls are becoming increasingly popular and it will be interesting to see if candidates view taking selfies with the girls as a tactful method of gaining publicity among young people.
According to the girls, they have yet to settle on a favorite candidate, but are looking forward to hearing from all of the presidential hopefuls. It's great to see what started as a fun opportunity morph into an example of youth engagement and educational opportunity–and the sisters show no sign of stopping until they've reached their goal.