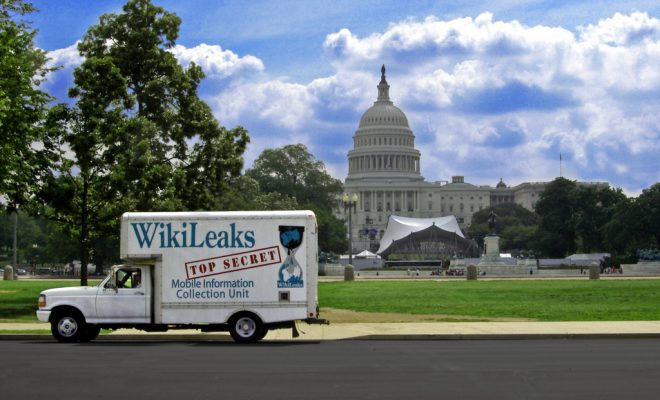 Image courtesy of Wikileaks Mobile Information Collection Unit; License: (CC BY 2.0)
Elections
The Political Fears Surrounding WikiLeaks: What You Should Know
By
|
WikiLeaks founder Julian Assange revealed in early October that he will publish a huge tranche of one million leaked documents before the U.S. presidential election–and over the last few weeks these revelations have caused a stir in American politics.
Julian Assange's whistleblower platform WikiLeaks has published about 20,000 pages of emails illegally stolen from John Podesta, Hillary Clinton's campaign chair. Podesta, a longtime Clinton hand and Democratic party operative, was President Obama's top political adviser before becoming chairman of Clinton's presidential campaign in February 2015.
The hacked emails provide an unprecedented glimpse into the inner workings of the Clinton campaign and its allies.
The U.S. government has said there is mounting evidence to suggest that Russia was responsible for supplying WikiLeaks with the hacked emails.
Clinton condemned the email hack during the third and final presidential debate. Moderator Chris Wallace, of Fox News, pressed the Democratic nominee to clarify her opinion on "open borders." While Clinton rejected that she ever supported "open borders," Wallace pointed to a $25,000 speech to a Brazilian bank, recently exposed by WikiLeaks, in which Clinton said that her "dream is a hemispheric common market, and open trade and open borders."
"You are very clearly quoting from WikiLeaks. What's really important about WikiLeaks is that the Russians have engaged in espionage against Americans," Clinton said. "They have given that information to WikiLeaks for the purpose of putting it on the internet."
Clinton accused the highest levels of the Russian government and Putin himself for the cyberattacks on the U.S. The Democratic nominee called on Donald Trump to reject Russian espionage against Americans.
The Republican nominee criticized Clinton for pivoting the conversation about immigration to Putin. Trump offered his insights on the Russian leader, saying:
I don't know Putin. He said nice things about me. If we got along well, that would be good. If Russian and the US get along well and went after ISIS that would be good.
When asked whether he condemned Russia's alleged interference in the U.S. elections, he said: "Of course I condemn, be it Russia or anybody else."
The emails have raised fears for both political parties. Florida Senator Marco Rubio warned GOP officials earlier this week to stay quiet about the hacks.
"As our intelligence agencies have said, these leaks are an effort by a foreign government to interfere with our electoral process, and I will not indulge it," Rubio said. "Further, I want to warn my fellow Republicans who may want to capitalize politically on these leaks: Today it is the Democrats. Tomorrow it could be us."
The 2016 presidential election continues to remain an unpredictable cycle marked by the leaks of emails, voice recordings, tax returns and classified information.